How To Improve The Interiors To An Old Yorkshire Property
The classic and traditional is always in-style. This is why some ageing properties undergo minimal renovation to keep their old-world charm. There are many old properties in Yorkshire because it lies in a historic region. These properties have been in possession of the same families for generations. One can see how they stay stately.
Sometimes, you don't need to spend hundreds or thousands of pounds to give your old Yorkshire property a fresher look. The right decorating techniques can make the home look spacious and luxurious at a reasonable cost.
Reasons to Renovate Home Interiors
The scale of decorating or remodelling home interiors will depend on the changes you can make to an old house. If you are still in doubt and feel that your property does not need any further improvement, the following reasons may motivate you.
● Improving the Value of Property
Whether it's your home, a rental, or property on sale, a well-put-together home increases in value. Renovations, adding rooms, and even landscaping can top-up as much as £40,000 on the property's current worth. This is also why flipping properties is a successful real estate venture and many are dabbling in this business.
● Change of Atmosphere
Redecorating or renovating can be useful for your mental health. Changing the way a home looks can do wonders if you can accomplish a creative idea. For some, decorating is a way of relieving stress. The renovation also allows you to remove old limitations and add space that you can personalise according to your preferences. When you've got a home that you can truly call your own, it gives you a fresh perspective and a sense of achievement.
● Save on Energy and Resources
Older properties may come with plumbing that is ages old and wiring that pumps up your energy bill. These may be working fine now, but ignoring a proper inspection when due can cause them to stop working when most needed. Calling the right people to inspect and work on your old utilities will help you save money in the long run.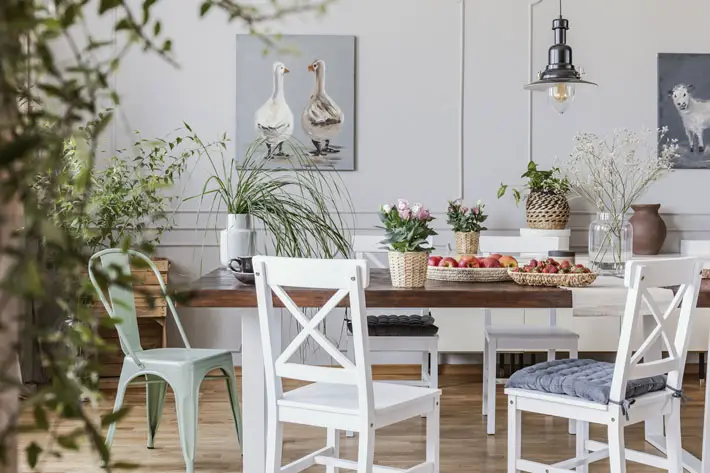 Ways To Improve The Interiors Of Your Old Yorkshire Property
1) Paint Over Wall and Ceiling Imperfections
Older properties tend to have charming wall baseboards and other trimmings. But, like in any other home, the paint chips with age and may require a fresh coat. You can go by a theme, stick to the original colour, or give the interiors a bright, new face.
2) Update or Add Skirting Boards to Your Walls
Skirting boards hide uneven flooring, protect painted walls from dirt and abrasions, and add a decorative touch to any home. Adding one to any wall (save for the bathroom's) can add a layer of protection and aesthetics to a room. You may also replace old and damaged skirting boards with a new moulding that complements the look and feel of the place. If you want to see what difference a skirting board can make to a room, there's a great gallery of before and after room makeovers on The Skirting Board Shop.
3) Replace Damaged or Old Wall Framing
Because walls provide one of the necessary supports for the structure of a home, they must be sturdy. Strong walls enhance the longevity of the structure. If you can't do it yourself, seek out a contractor to replace old frames. A professional contractor will know the right components and the layout appropriate for the type of property. The contractor will also understand what will best support the home from the floor of the pre-made structure.
4) Keep or Add Stained Glass to the Wall
Old Yorkshire properties tend to have lovely stained glass installations. As they're unique and artisanal, it's best to keep them. You can have the stained glass transferred to another room of the home or repaint your walls in nude colours. They will act as beautiful art pieces that are irreplaceable.
5) Make it Blend With its Environment
Property finds in coastal locations make fantastic holiday homes. You can work with colour schemes to match beaches and clear skies. Muted tones like blues and whites on the walls and furniture create an airy feel that you usually get from the outside. Adding branches, seashells, and art can bring in nature to the home. Brick fireplaces or vintage wood burners also create a cozy atmosphere when the weather is cold.
6) Fill Small and Awkward Spaces
Old properties in Yorkshire may have interiors that used to have furniture and are now empty. You can add small pieces such as a loveseat and wall lighting to enliven that part of the house. You can also create a functional space by adding tables or desks.
7) Replace Old Windowsills
If you are wondering about how to replace a windowsill, you can use a caulking cutter to do away the caulk that holds the windowsill to the wall and remove it with a pry bar. You can then choose to widen and place a bigger windowsill to update the look of any room. Choose accordingly because there are many types of windowsills made of wood and metal.
In Conclusion
Styling old properties isn't as difficult as before because you can quickly look for ideas online and in published magazines. Improving the interior does not have to cost so much if the fixtures are in good working order. Painting walls, acquiring decorative but functional furniture, and enhancing the foundation of an old home can extend its life. The spruced-up home will delight its dwellers for many years. Keep the tips mentioned in this article to vivify the interiors of your old Yorkshire property.