Gertrude Jekyll – Gardening as an Act of Love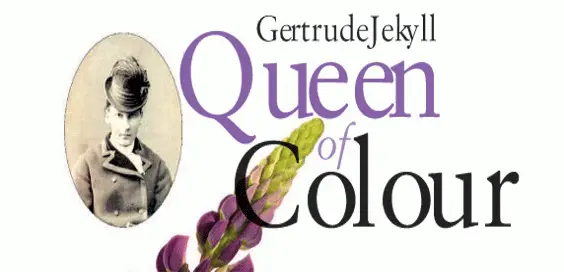 By Barney Bardsley
There is a strong sense of obligation in my subject for this issue. When I trained as a dancer in my twenties, my passion was all contemporary. But we studied ballet, just the same. The shining lights of Diaghilev, Nijinsky, Nureyev and Fonteyn were the far-off beacons to the future we now inhabit. Their struggles are written on our bones. To know the present – study the past.
Now, as a committed, though untutored gardener of ten years standing, it is time to take off the gardening gloves. To sit down and look at the legacy of one particular gardening pioneer. Her name is spoken of in hallowed whispers by all who take this art seriously. Her most famous book, Colour Schemes for the Flower Garden was published in 1908. It is still considered ground breaking and a classic. One hundred years on – her approach remains vibrant, illuminating, influential. I give you the Diaghilev of the gardening world: Miss Gertrude Jekyll.
Born into a wealthy family in 1843 in Mayfair, London – her father, Captain Edward Jekyll, was an officer in the Grenadier Guards – Gertrude did not lack privilege nor opportunity. She studies painting at the Kensington School of Art. Her first love is landscape painting. But her eyesight is painfully poor, and deteriorating fast. Doctors tell her she has to give up her art. So she turns to the garden as an alternative, living canvas. Her loss is entirely our gain.
"A lifelong artistic partnership"
Jekyll inherits the Renaissance sensibilities of Capability Brown, whose eighteenth century landscape designs, all harmony and clean green lines, grace many a stately home up and down the land. He turns nature, in the popular imagination, from a wild and fearful place, to a spiritual sanctuary. The nineteenth century, into which Jekyll is born, sees nature – wild or not – overwhelmed by the might of the Industrial Revolution. Set counter to this is the Art and Crafts Movement of John Ruskin and William Morris.
Their aim is to soften the brutality of the machine age with an elegant aesthetic, in prints, furnishing and interior design. It is this movement which gives Jekyll her personal inspiration – and a lifelong artistic partnership – in the person of English architect Sir Edwin Lutyens. Together they go on to create 400 gardens in England, Europe and America. His eye for design perfectly complements her painter's love of colour, texture, harmony.
"The duty we owe to our gardens", said Jekyll, "is so to use the plants that they shall form beautiful pictures." It was the painter, JMW Turner, who influenced her most in this regard. From him she learned to focus on the three primaries – red (for tone and passion), yellow (for light) and blue (for distance, clarity and perspective). She uses this colour sequence in her famous herbaceous border at her home in Munstead Wood. The cool greys and mauves of lavender and ageratum building, like a complex symphony, to the "strong and gorgeous" oranges and reds of lilies, gazania and salvia. And then back again, through yellow, to the quietness and space of blue.
"Her gardens are an act of love"
Jekyll – remarkably for one whose eyes were so poor – had a powerful and precise understanding of the way flowers could complement and contrast in tone, one to the other. The integrity of the single bloom enhanced by the company of its neighbours. "Planting ground," she said, "is painting the landscape with living things."
I particularly like the tenderness she shows to these 'living things'. When writing of her spring garden, she notes that tree peonies – with their exotic blooms, but tired and drooping necks – like to be protected by other plants. So she grows roses nearby "to comfort and encourage the peonies." And when she describes the creation of woodland, she insists that there must be "no harsh frontiers", but that "one kind of tree (is) to join hands with the next". Her gardens were clearly not just works of art – but an act of love.
Jekyll was no modernist. Were she alive today, there would be no room in her world for the fancy decking, concrete and plastic, extravagant water features and extraneous artefacts which so clutter our gardens in recent history. For her it is simply about the plants: they provide the pyrotechnics in a garden – and the peace.
What remains remarkable, however, is the enduring influence Jekyll exerts over our gardening style. She and Lutyens construct their gardens as a three dimensional landscape painting. The foreground, paved and formal; the middle ground curving with vibrant flowerbeds; the background – wilder woodland, with ferns, tiny flowers, tall trees. As I look out of my kitchen window at the garden I inherited three years ago, I see exactly that template. It works. And her luscious, yet subtle experiments in colour remain foremost in the minds of our most eminent garden designers.
"Wistful eloquence"
Monty Don, during his tenure at BBC's Gardeners' World, was passionate about the Berryfields long border. Its hot colours and cool shades. Classic Jekyll. Green, as a colour complete in itself (off set with just a delicate flash of white, here and there) was something described with wistful eloquence in her writing. Tom Stuart-Smith was the winner of Chelsea's 'Best in Show' with his exquisite Laurent-Perrier garden. Colour theme? Green. With just a hint of white.
Gertrude Jekyll is not easy to read. Go to Christopher Lloyd's Colour for Adventurous Gardeners for a modern master's re-working of her legacy. But her ideas are deep, rewarding and timeless. Because of her, I vow to give more power to both colour and companionship in my planting this year. I thought I knew how to look at flowers. But Jekyll has taught me otherwise. I shall go out and gaze more deeply – and invite you to do the same, in your own garden, and in those you visit. I can guarantee, the influence of Miss Jekyll, a most remarkable Victorian pioneer, will be everywhere you look.
'A Handful of Earth' by Barney Bardsley is published by John Murray
Gertrude Jekyll, the official website, is gertrudejekyll.co.uk