Peonies and Pomegranates: Botanic Illustrations from Asia by Celia Fisher – Review
By Barney Bardsley
Here is a perfect gift for any lover of plants, gardens and beautiful artwork, alike. As part of the British Library's stunning new list of illustrated art books, Celia Fisher has written an elegant handbook, featuring, in words and pictures, over seventy plants – many now commonplace in our gardens – which had their origins in Asia and the Middle East.
She starts with an informed introduction, which lays out the vital function of gardens – and the plants within them – from time immemorial. The healing power and status of the garden was understood well by the ancients: in one Neanderthal burial site the skeleton was garlanded (perhaps in hopes of an afterlife?) with all manner of plants, including the English cottage garden favourite, the hollyhock, which actually has its origins in the Middle East and Persia; and gardens in all their pomp and majesty went on to be carefully replicated in China, India and Arabia.
"Charming"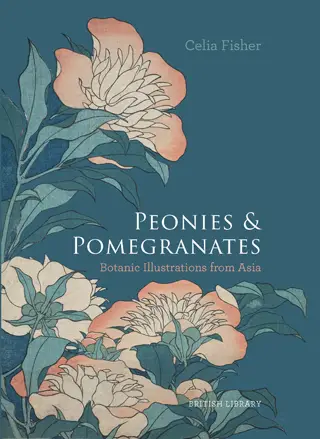 The first Chinese Emperor Qin Shihuangdi (259 – 210 BC) even used plants as propaganda. Not only did he build the Great Wall of China itself, he constructed the first imperial gardens, high up above the surrounding countryside, to instil admiration, respect and obedience in his subjects. Full of citrus, green orchids, magnolia, iris and ginger, these gardens must have been a wonder to behold. And so much more interesting than a wall!
But throughout this charming little book, it is the plants themselves, rather than the gardens in which they have been placed, down through the centuries, which take centre stage. Each plant has its own little biography, accompanied by a beautiful picture and the combination of words and highly coloured illustrations, all from the British Library's own collections, is a winning one indeed.
Celia Fisher has dug out some intriguing facts to ponder. The orange tree, like all citrus fruits, is native to southern Asia. But by the seventeenth century, travellers from China were already bringing the trees over to the west. And apparently Samuel Pepys saw his first orange growing in Hackney in June 1666!
"Artwork remains the true attraction"
Meanwhile, the edible apple, such a staple in our diet, and in our English orchards, is actually descended from a wild apple of Centra Asia, in the valleys of Kazakhstan. The seeds were spread originally by birds – and by natural selection, a juicier and larger fruit emerged, its seed becoming a teardrop shape, "with a hard coat and a dose of cyanide inside, so it would pass undigested through the gut of an animal and once again be transported." It reached Europe by the time of the Roman Empire – and it was the Romans who introduced sweet apples to our shores.
There is a mine of information like this in these glossy pages, on plants from lotus to cotton to mulberry to mango, tulip and ginseng. But it is the artwork which remains the true attraction – with a range of exquisite reproductions packed between the covers, drawing the eye, like bees to nectar, and causing (in this reader at least) soft sighs of pleasure and enjoyment, with every single page turned.
'Peonies and Pomegranates: Botanic Illustrations from Asia' by Celia Fisher is published by The British Library, £14.99 hardback