Il Paradiso at York Place, Leeds – Restaurant Review
When it comes to eating in Leeds, you've got a city centre of variation that leaves your tastebuds spoilt for choice.  But it's not all confined to the very centre of Leeds – there's some good choices slightly outside that hubbub of life and activity.
We'd picked a nice, quiet evening to stroll along to Il Paradiso at York Place, which is just on the edge of the commercial district of Leeds, and on the tip of the city centre social scene.  Being just a stone's throw from Leeds train station on York Street, it's in a great location if you want to leave the car at home and head out for food and a few drinks. And if you want to carry on your night where the lights dazzle and the music pumps a beat, you're only a couple of minutes away from all that too.
"Lovely, welcoming service"
As we arrived at the restaurant, we found a lovely, inviting place complemented by a clean and crisp interior as we wandered in. Bright white walls, dark tables, mirrors and chalkboards. Fuss-free, and some may say a little dated, but for me we were in a nice setting. We were shown to our table by a the friendly team – politeness personified – and throughout our visit, we'd receive this lovely, welcoming service.
Il Paradiso at York Place is an Italian. Sardinian in fact. The Leeds restaurant isn't the first Il Paradiso, and owner Paolo opened his first restaurant ten years ago, and we were presented with his selection of authentic Sardinian cuisine to choose from, much of which sounded tempting. We shared a bottle of the fresh and fruity Ca Nova Trebbiano D'abruzzo, whilst we mulled over what took our fancy.
It took us some time to decide too, but we weren't rushed. In fact, we were helped along very nicely by the team, and my attentions were turned to the specials board.  And up there was Cozze e Arselle (Mussels and Clams) for £9.95 which I'm always a sucker for. So that was my mind made up.  My friend went for the Marinara tomato garlic bread at £6.25.
There's a good selection of specials at Il Paradiso at York Place for fans of meat, fish and pasta – and a main course that kept jumping off there at me was the Porchetta alla Sarda at £19.95. My friend, being a lasagne fan, so opted to go for that at a very reasonable £9.75.
"Winning antipasti"
It was a Tuesday evening and the restaurant wasn't packed. But this was nice, free from any hustle and bustle and we could talk to each other and not over a packed room. The background music was set perfectly, and sometimes a night like this is just what you want. It lets you concentrate on the company and the food.
And it wasn't long before our starters arrived. We decided we'd do a little bit of sharing, and I think we're both glad we did.
The Marinara was huge, but it was light. And the almighty bonus about it was that it was grease free. You know sometimes when you lift a slice off a plate, but it kind of peels away from the porcelain? Well, there was none of that here – and that pleased us. As did the taste. It was light in the mouth, not too powerful, but the tomato and garlic came through nicely. A really refreshing bread, if there is such a thing?
The Cozze e Arselle was the winning antipasti though. I'm so glad the starters were pointed out to me, as the way the mussels had been cooked was delightful.  They sat in a tomato and chilli sauce with white wine, and these I lapped up and savoured.  The kick from the chilli was very apparent, but that only enhanced the dish. There was a good amount of sauce with a greater amount of mussels to plough through. And the portion was probably larger than you'd anticipate for the starter.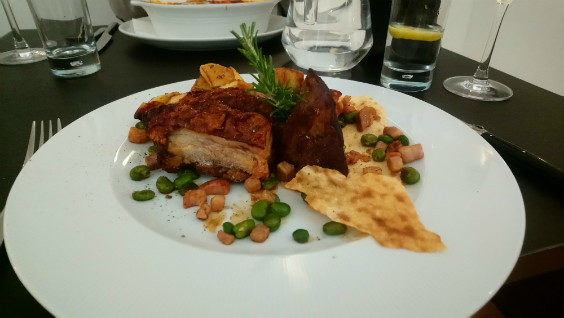 "The best food I've ever eaten in an Italian"
But it was the main course which delivered the obiettivo vincente, and I could feel my face light up when the Porchetta was placed in front of me.  Presentation of the dish was that beautiful I didn't want to disturb it. A free-range young pig, slow roasted with myrte, braised baby broad beans, guanciale and rosemary potatoes. Everything about this dish appealed to all senses bar the ears. Although I'm sure if it could talk, it'd seduce me with its words.
Taste wise, this was THE victory dish. This was a stunning plate; subtly juicy and very tender. A generous amount of meat, with the right balance of flavour. There was a nice combo of soft bite and crunch across the whole of it. And I'm going to throw this out there, and declare this dish as the best food I've ever eaten in an Italian restaurant. It was that good, and if this is the Sardinian way of doing things, then they're doing things right.
For my friend, the lasagne was freshly made and was a level above the lasagne you'd find outside an authentic Italian restaurant. I had a taste and I found it had the perfect consistency, flavoursome and she'd eaten every bit.
"Rich and indulgent"
We were hopelessly impressed with our mains, but then the dessert came. And in keeping with the rest of the meal, it looked and tasted so good. For £4.95 we shared a rich and indulgent Nutella cheesecake. The name itself makes your mouth water doesn't it?  Well wait until you devour it. You get a generous slice for the money, and between us we polished this dessert off in fine fashion.  It was a perfect way to round off a lovely meal in a lovely place.
Because we'd chosen to eat here on a Tuesday night, I'd love to dine here again when the place is full. When it's full, and the service is this good and the food is this special, I can only imagine a lively, excited Il Paradiso at York Place.
But we left very happy. We'd had some incredible Sardinian food, and my main has certainly raised the main-course bar for me when I dine out elsewhere.
Il Paradiso at York Place, 3 York Pl, Leeds, LS1 2DR
Opening times:
Mon – Sat – 12pm – 9pm
0113 234 6666
ilparadisodelciboyork.com/our-new-leeds-restaurant.html