Lamb Tagine with Buttered Herb Couscous – Recipe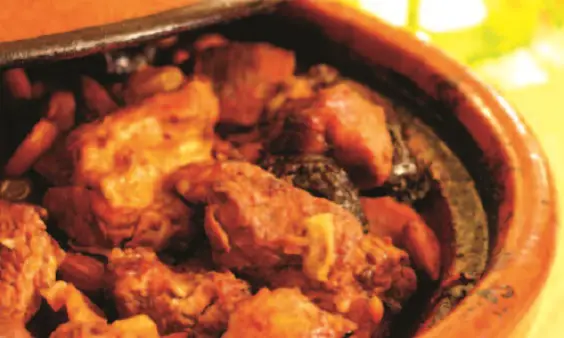 Lamb Tagine with Buttered Herb Couscous
Recipe
This classic North African dish is filling, warming and utterly delicious.
Serves 4, takes 2.5hr
Ingredients:
Small chunk of fresh ginger, peeled and sliced
2 cloves of garlic, peeled
2 tsp cumin
1 large red chilli, halved
1 large bunch of coriander
Zest and juice from a lemon
Olive oil
750g lamb, cut in to chunks, try neck fillets, lean shoulder or leg
500g butternut squash, peeled and cut in to chunks
1 red onion, cut in to wedges
350ml lamb stock (a cube is fine)
1 tin of chopped tomatoes
250g couscous
4 spring onions, shredded
50gbutter
Method
Put the ginger, garlic, cumin, chilli and the roots from the coriander in a small food processor or blender with the lemon juice and 3tbsp of olive oil.
Whizz to make a spice paste. If you don't have a processor just chop the ginger, garlic, chilli and coriander roots as finely as possible by hand and mix with the cumin, lemon juice and olive oil.
Heat the oven to 160C/gas3.
Heat a large casserole dish with a little more oil.
Add the lamb in batches and brown really well all over.
Add the spice paste to the lamb and cook for a couple of minutes then add the squash and onion and stir for a minute.
Pour in the lamb stock and tomatoes and stir well.
Cover then transfer to the oven and cook for 2-hours until the lamb is melt-in-the-mouth tender.
To make the herb couscous, put the couscous, butter and a big pinch of salt in to a bowl with the zest from the lemon and the spring onions.
Pour over 400ml of boiling water then stir and cover with cling film or a plate for 5-mins – stir again to fluff up then chop the coriander leaves and stir half through the couscous.
Serve the tagine with the couscous, scatter over the rest of the coriander to finish.