Garlic Prawns with Parsley, Lemon and Radicchio – Recipe
By Skye Gyngell
With all the flavours of the summer, these juicy prawns drizzled in butter and topped with fresh herbs and leaves make an impressive centrepiece without being difficult to make. It can be prepared ahead leaving you to relax and enjoy a glass of wine with your guests. Served with crusty bread that can be griddled on the barbecue for a smoky flavour – they're a real showstopper dish for outdoor entertaining.
Serves 4 – Ingredients:
2kg fresh raw prawns
100g unsalted butter
1 teaspoon of dried red chilli, crumbled finely
4 cloves of garlic, crushed
1 bunch of flat leaf parsley, leaves only, chopped
The juice of one lemon
1 tablespoon of dry sherry (Fino)
Leaves of radicchio
Crusty bread, torn or thickly sliced
Method: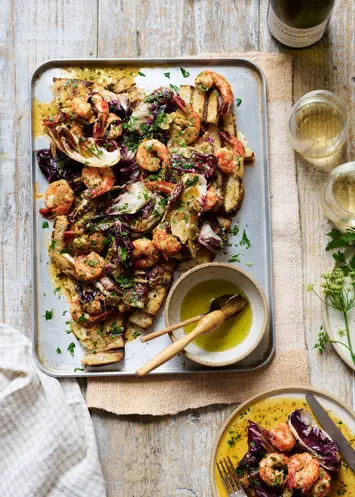 Start by peeling the prawns, discard the shell but reserve the heads.
Place a large, heavy based pan over a medium to low heat. When warm add the butter and allow to melt.
Once the butter is melted and beginning to foam add the prawn heads. When they are bright red squeeze the juice from the heads into the pan (the easiest way to do this is by using tongs).
Remove the heads and discard. You will be left with a beautiful, flavourful sauce that will really enhance the flavour of the final dish. Add the chilli and garlic, reduce the heat slightly and cook for 30 seconds or so, being careful that the garlic does not burn.
Add the prawns and cook for 1 minute or until just translucent.
Squeeze over the lemon juice, add the sherry and parsley and stir well to combine.
Finally add the radicchio.
Meanwhile, griddle on the barbecue or lightly toast chunks of the bread until slightly charred / browned.
To serve
Enjoy al fresco, by spooning onto a warm sharing plate and serving immediately with crusty bread.
Wine Pairing
You don't need to pair with expensive wines; serve with a fresh white wine such as Andrew Peace Signature Chardonnay 2020. It's seriously refreshing and rich white with subtle flavours of tropical fruit and a splash of delicate citrus. And it's £5.50 from selected Co-op stores – apwines.co.uk
Tips
If radicchio isn't available substitute with any fresh greens and it will be equally delicious.
Don't skip cooking the prawn heads as they add so much flavour to this dish.
This also makes a great pasta sauce – simply cook some pasta and once cooked add to the pan with the prawns and toss together well to combine.