How Can Yorkshire Businesses Grow Using Video
With over 50,000 registered companies in Yorkshire, the place has now evolved to be a great business hub. If you too have a business in Yorkshire, you must've probably heard how videos have been an effective way to help with marketing. But, although you may know or know which online video maker to use, do you know what kind of video is best for your business?
Here, you'll get insight into the various videos you can use to let your Yorkshire business grow effectively and efficiently. So, let's start.
1. Introduce Your Brand to the Audience
In Yorkshire, greetings are considered of paramount importance. Likewise, every strong and best business relationship begins with the simple greeting – "hello." And what can be more appropriate than using a short video on your homepage to greet the new or potential customers for making an excellent first impression, right?
You must create a short video and explain what your business is about and who you are. Then, focus on outlining the services offered by your company in Yorkshire or outside while referring to a problem and giving the solution. This type of video creation will be way more effective than stuffing all the ideas into a single catchphrase or sound byte.
For instance, in 2011, when Spotify required only a few lines of text and a tune to make its way into the streaming industry, they came up with an amazing intro video. The 60-second intro video from Spotify lets the audience know who they were, what they offer, and why they are so unique.
2. Make Videos Where You Explain the Business Product
Businesses in Yorkshire may know how challenging it is to sell something online with static images. Here, video marketing for businesses can be an ideal solution. You can use a video to steer your way into the competition mess up and exhibit precisely what makes your product or service different from other businesses.
Customers can enjoy an up-close look at your business products or services with the help of videos. With a short video clip, your business can show what your product looks like, beneficial to the customers, and how it works.
For instance, Training Mask, a Sportswear Company, ensured that things were straightforward with their product video. Their video outlined how the breathing product works in action and its benefits to the specific audience.
3. Use Videos to Make Announcements for Your New Product Launches
Whether you're launching a new website, a new product, or a service, you can use videos to deliver an appealing and stunning introduction to the new thing just like it deserves.
Whether it's the teaser, trailer, or post-release, you can support every stage of the new product launch by using an online video maker. However, the early stages become significantly crucial when it comes to video creation for product launches. That's because you need to establish hype and craze for the product before the actual launch.
Moreover, you can use the live streaming feature on Instagram, Twitter, and Facebook or use the social media channels for making real-time announcements.
For instance, Nintendo used a 3-minute teaser trailer for promoting their Switch Console before the launch. This teaser trailer was shared all over the company's social media handles and even advertised on the Superbowl 2017, creating hype before the launch.
4. Use Videos to Showcase Your Yorkshire Business Culture
Is your business innovative and technology-driven? Is there any great communal space in your company? Customers often want to know who they're buying from, and nothing can be more effective than using a company culture video.
To come across as humans is crucial, and it plays a key role in your buyer's decision. Thus, it becomes vital to give a touch of personalization through your videos. For example, you can enable quick chats with your team members or by using a montage of some company picnic.
It's unnecessary to keep all videos short – at times, you'll have to show the multiple sides of your business.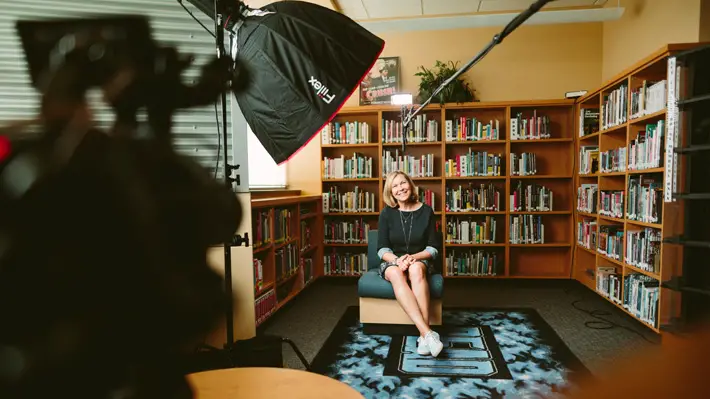 5. Use Videos to Educate Your Audience
Videos are an excellent way to introduce the leaders and experts in your business in front of the camera. In addition, they will share their expertise and knowledge on the videos to educate your audience.
For instance, if you have a hardware business in Yorkshire, you can share DIY tips through the videos. If you're a local bakery store in Yorkshire, sharing cookery tutorials will help. Whether it's tutorials, how-to guides, or product demonstrations, videos will give your business the exposure to make its expertise known.
6. Keep the Spotlight on the Customers in Your Videos
If you use the online video maker appropriately to create the right videos, no one will be your biggest brand supporter and advertiser other than the customers themselves. So, why not ask some of your most dedicated customers to come in front of the camera and explain why your brand or products are so effective.
Instead of going with the one-line advertisement, make video customer testimonials to give a free hand to your customers to share what makes your product and business so likable and beneficial to them. Apart from being highly effective, this video using strategy will help you build trust among the audience for what you offer.
The bottom line is that about 92% of customers go through testimonials and online reviews before making any purchase. So, why not take advantage of that?
7. Use Videos to Make Your Brand Go Viral
Your target audience has been watching, enjoying, and engaging with videos for years. So using videos as your marketing tool to entertain them is a great idea.
One good example is Android. They adopted this concept and implemented it with their "Friends Furever" campaign. This led them to deliver a compilation of multiple viral videos, which became the most-shared video ad in 2015.
However, it's not necessary to be a tech-based business in Yorkshire for gaining such virtual popularity.
For instance, the 2011 video by Chuck Testa went viral as it was eccentric, hilarious, and made no sense. That's all you need to come up with a viral video. This move by Testa was a part of his honest attempt to advertise his company – Ojai Valley Taxidermy. Although it has become a meme, its popularity helped the company grow immensely.
There's no need for fancy animation and a big budget to create a positive impact with your videos. Instead, sharing your personality through the videos will help your business connect with a whole generation who engage with funny video content.
Closing Thoughts
So, with this comprehensive guide, you must have known that regardless of what your business sells or does, it's essential to find compelling ways to tell your brand story to the customers.
With the help of the best online video maker, proper techniques, and making the right buzz, your videos will ensure outcomes that will undoubtedly help your business grow. So, get started to become one of the most successful businesses in Yorkshire today.