6 Festive Eye Makeup Looks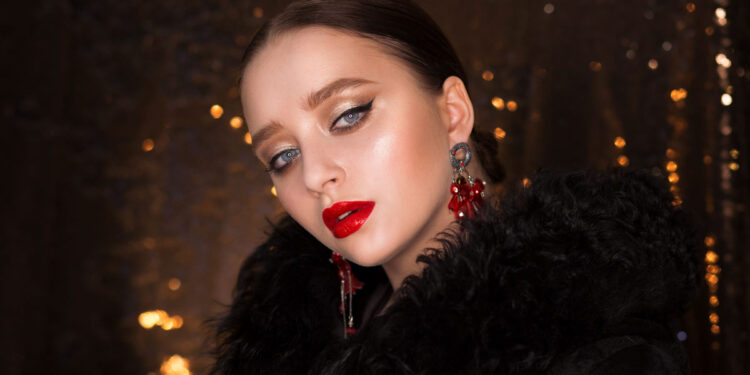 A special occasion calls for a special look, and you certainly can't forget about this at Christmas. While you may not be getting dressed up for a festive work party or a Christmas Eve gathering at the pub this year, you've still got Christmas Day at home to look forward to.
Now, your outfit may be sorted for the 25th, but have you given a thought to how you're going to slay the day with your eye makeup? If you're after some festive inspiration on this, have a read of this fabulous guide brought to you by unisex eyewear retailer Arlo Wolf.
Glitter Gold
'Tis the season to sparkle! When it comes to celebrating Christmas, there is no such thing as having too much glitter. While you may have chosen to wear a sequin dress on Christmas Day, you may as well go all the way and sport some glitter eyeshadow as well.
Want to wear gold loose glitter? Perhaps pair this shade with some cream eyeliner to throw in some colour coordination. You may even want to complement the look further by giving yourself a winged eye finish.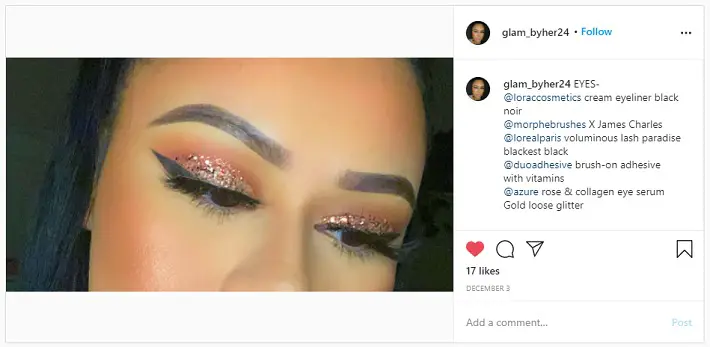 Source: @glam_byher24
Rose Red
It's Christmas, you've got to wear some red! Better yet, why not create a hooded rose red eyeshadow look and top this off with a sprinkle of glitter? To ensure that this eye makeup stays in top tip condition all day, don't forget to apply your primer. The primer that you use will quickly absorb into your skin for comfortable wear and will create a lasting bond for stay-put glitter that holds.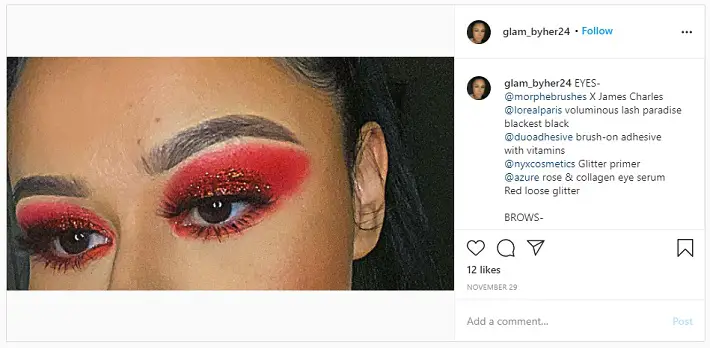 Source: @glam_byher24
The Smokey Eye
If a dramatic effect is more of your style, then perhaps go for a smokey effect with your red eyeshadow? The best thing about a smokey eye look is that it is compatible with pretty much any outfit. However, we all know the struggles of getting this kind of makeup off your face – that's why you should turn to the magic of coconut oil! Not only is coconut oil a great makeup remover, but it also acts to nourish and hydrate your face, enabling you to keep that glow.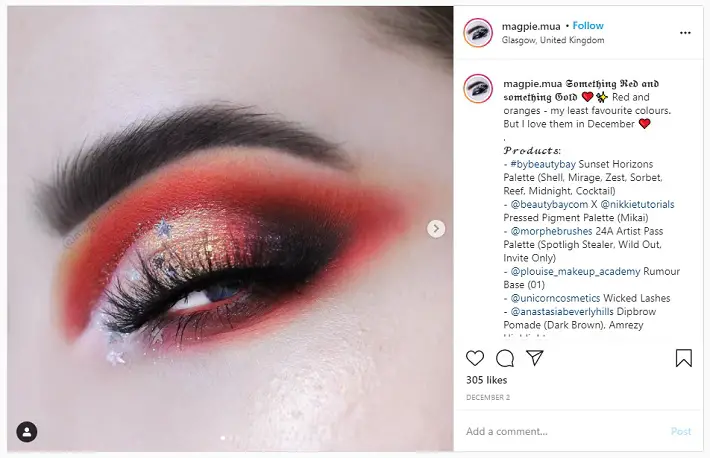 Source: @magpie.mua
Dazzling Green
The festive season calls for a spot of green and we don't mean just on the Christmas tree. When it comes to perfecting green eyeshadow, you've got to start with the brows and eyes and leave the rest of your makeup regime until the very end. Feeling adventurous? You may want to blend your green shade with a mix of white and gold. If you're really up for a challenge, why not also paint a holly leaf on the corner of your eye? It's Christmas, after all!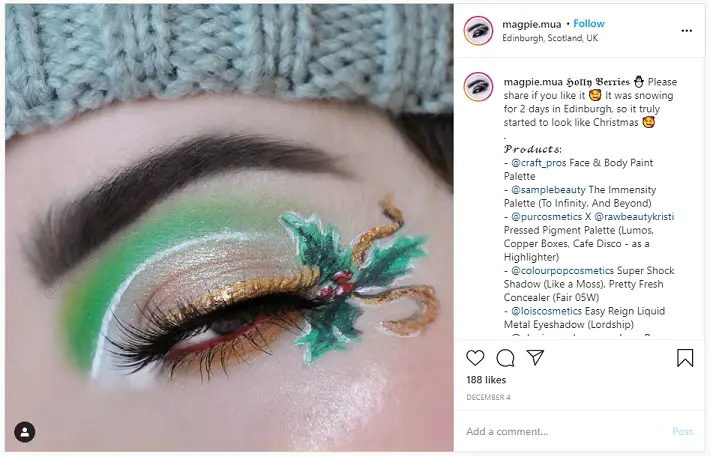 Source: @magpie.mua
Red and Green
If you simply can't choose between green and red, there's nothing to stop you from blending the two colours! To create this 'match made in heaven look', start by applying green eyeshadow to the base of your eyelid. After this, apply a red layer on top to create a hooded effect. You may even opt to complement the look even further by finishing off with a winged eye.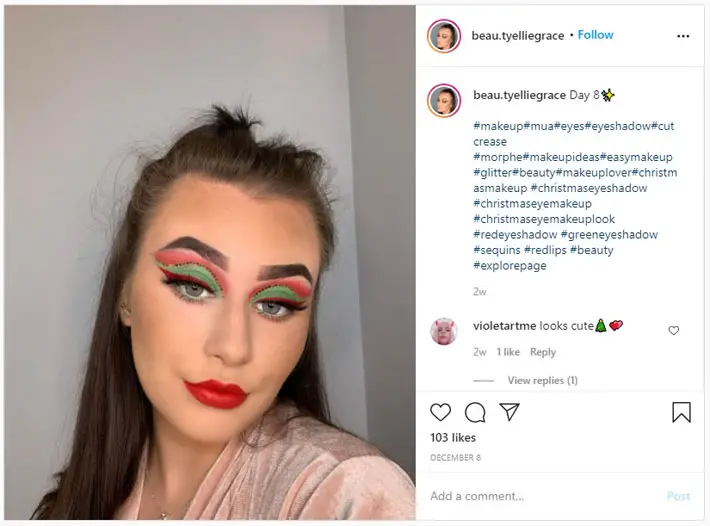 Source: @beau.tyelliegrace
Dark Brown
There's just something about dark eyeshadow. Certain types of shades look so bold and you can always be guaranteed that they'll go with anything you plan to wear. That being said, you can't go wrong with sporting some dark brown eyeshadow this festive season. If you're looking to be extra creative, why not turn those brown lids into two Christmas puddings? Simply unleash the artist within!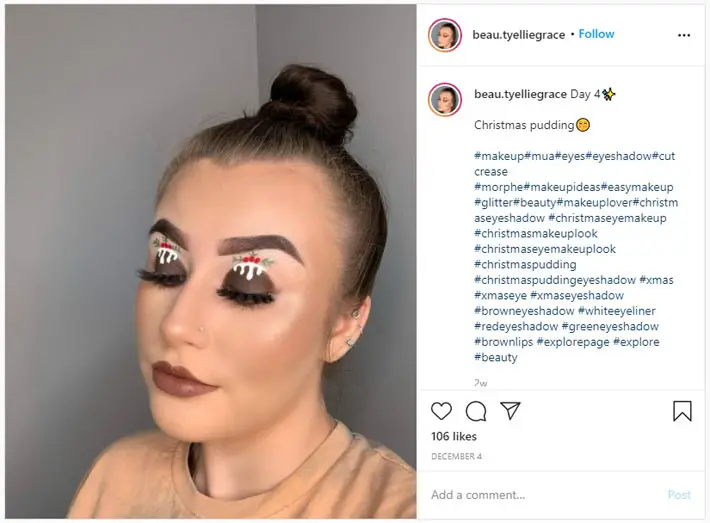 Source: @beau.tyelliegrace
And there you have it – 6 festive eye makeup looks that will make sure you sparkle both inside and out this Christmas. If you want to pair these looks with some stylish frames, then be sure to browse the extensive range available at Arlo Wolf. You'll be pleased to know that each pair is available to try before you buy.