Cabaret – Review – Leeds Grand Theatre
By Gail Schuster, March 2020
Willkommen, it says in large bold letters on the stage as we wait in anticipation for Bill Kenwright's production of Cabaret to start. The 'o' is lit up like a backstage mirror and opens iris-like to reveal Emcee, played by John Partridge who will guide the audience, be our commentator, entertainer and eyes throughout the evening's proceedings.
Partridge, recent winner of Celebrity MasterChef and known for his popular role as Christian Clarke in EastEnders, is excellent as the sleazy manager of the sordid Kit Kat Klub. Bars and clubs of this type sprung up all over Berlin following the Weimar Republic's abolition of censorship. This supported a flourishing arts scene, but also allowed more disreputable establishments to thrive.
We first see Sally Bowles, portrayed beautifully by Kara Lily Hayworth, the female lead in the musical, performing the suggestive 'Mein Herr' at the club. Hayworth makes the role of naïve Sally her own. There were several highlights to her performance including the poignant, 'Maybe This Time' and the eponymous song 'Cabaret'. This starts with Hayworth singing tentatively, as Sally takes her first steps following the latest setback in her life, but then gathers strength as she gets her confidence back to face her next adventure.
A moving aspect of the story is the developing but doomed relationship between landlady Fräulein Schneider and Jewish grocer Herr Schultz, acted touchingly by Anita Harris and James Paterson respectively. Cabaret is set in 1931 when the Nazis were gaining strength and antisemitism was increasing.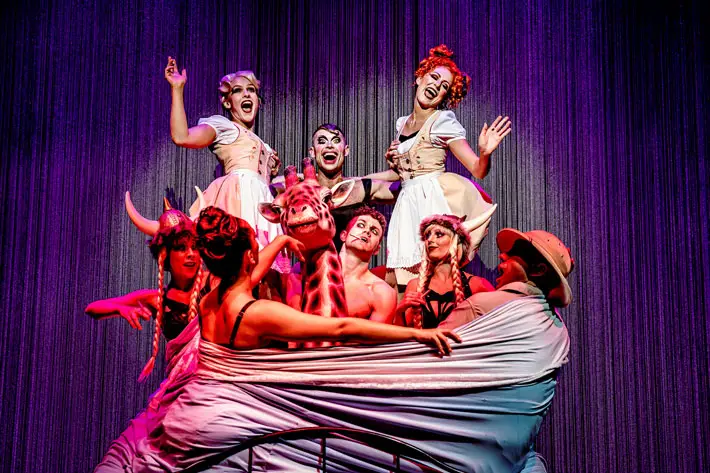 "Chilling finale"
She is torn between her head and her heart, but ultimately pragmatism wins as she does not want to lose her license to rent rooms. Paterson gives a convincing performance as the optimistic, dignified Schultz who continues to think that everything will be okay despite having his windows broken and a yellow star painted on his shop.
Choreographer, Javier de Frutos, won an Olivier Award for Best Theatre Choreography this production which includes two particularly memorable routines; 'Mein Herr' when Sally and the cast use a mobile staircase to add height to the dance, and the shockingly chilling finale to Act 1, when the company and Emcee perform to 'Tomorrow Belongs to Me'.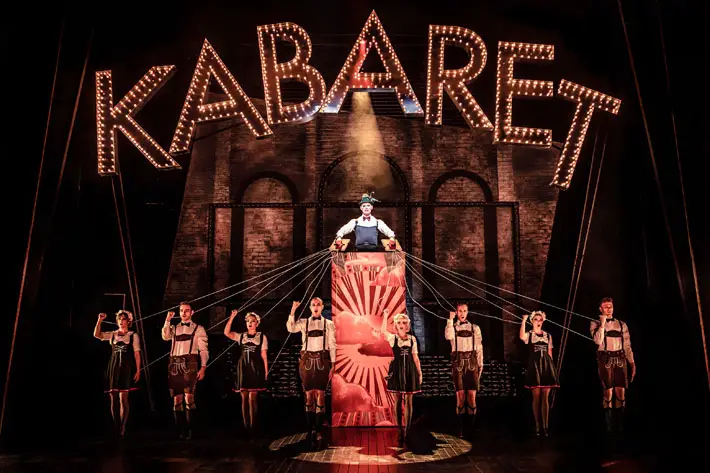 This may be a musical from 1966, when Europe was still recovering from the second world war, but it is still very relevant today. In recent years anti-immigration feeling and a reduction in tolerance to minorities have again become disturbingly mainstream across the UK, USA, Europe and other parts of the world. The story acts as a reminder of the consequences when these things are allowed to continue unchecked. To underline this, the show includes some nudity, scant costumes and suggestive behaviour; so, if you are offended by such things, it's probably not going to be for you.
Cabaret is a dark story, set in uncertain and frightening times; especially if you did not fit the prescribed notion of acceptability. There is little light in this production, with events becoming more menacing as the story progresses, until the final traumatic scene; which left the audience silent and stunned for a moment, before the performers got their well-deserved standing ovation from the Leeds crowd.