Introducing: The Marble Arches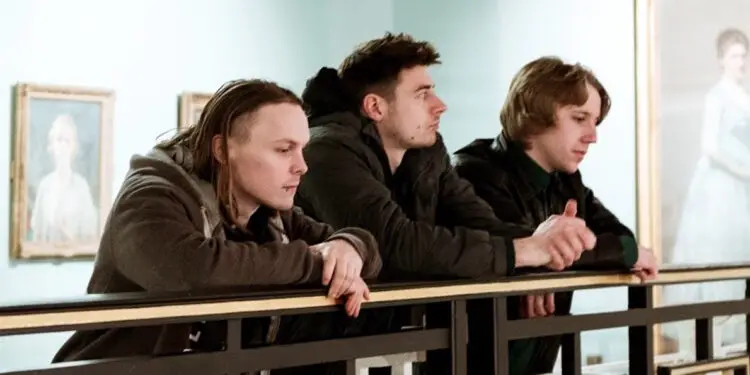 Fast rising Leeds misfits…
YOUR NAME: Harry Wainwright Little.
BAND NAME: The Marble Arches.
WHAT DO YOU DO/PLAY? Vocals & guitar. I write and produce most of our stuff.
HOW LONG HAVE YOU BEEN TOGETHER AS A BAND/PLAYING MUSIC?
I've been making music since I was about 17. The Marble Arches has been a thing for around 4 years, basically as an outlet for the music I've been making in the time leading up to us becoming a band.
GIVE US 3 REASONS WHY WE SHOULD TRACK DOWN, LISTEN AND DISCOVER YOUR MUSIC?
We're a bunch of misfits who take the mundane and turn it into something beautiful.
We feel a constant need to create and express. We constantly attempt to evolve our sound, trying not to be defined by a genre and want to keep people guessing for every release.
Our music makes you move and think, to hook you in with a deep groove, make you dance, be introspective and take in the meaning.
WHERE DO YOU SOUND BEST – FESTIVAL, CLUB, BEDROOM – OR SOMEWHERE ELSE?
In the car, at night.
WHAT WAS YOUR FIRST…
RECORD? Think it was a Smiths record, the single of 'William It Was Really Nothing'. 'How Soon Is Now?' is the B side.
CD? Whatever People Say I Am, That's What I'm Not by Arctic Monkeys.
DOWNLOAD? Probably a Green Day album.
SO, WHEN IT ALL GOES RIGHT AND YOU'VE GOT A HUGE QUEUE OF HANGERS-ON AND A RIDICULOUS MANSION, WHAT WILL BE YOUR BIGGEST INDULGENCE, MUSICAL OR OTHERWISE?
Probably a flash HQ for the band with a studio. I've always wanted a John Cooper works original Mini, in green. I'd love to open a restaurant. Other than that, I'd just make sure the people who I care for and helped me to get there are looked after.
SO, WHEN IT ALL GOES WRONG AND YOU'VE ACRIMONIOUSLY BROKEN UP CITING HUGE MUSICAL DIFFERENCES, WHAT DO YOU FALL BACK ON?
Make beats, produce for other people, retrain to become a chef? Enjoy being alive.
CITE SOME INTER-BAND MUSICAL DIFFERENCES…
The guys in the band are very much into heavier and techier genres of music. Naturally, the way they play their instruments has those influences, which translates to a larger presence in the way the bass & drums sound on record. I can get down with that, but I tend to listen to a lot of electronica, r&b and hip hop at the moment. I wanted to see how that would inform a band dynamic, taking poppier melodies and pitching them against much darker elements makes for something entirely different. I guess in a way that approach has come to define our sound.
WHO ARE YORKSHIRE'S FINEST IN CULTURE, SPORT AND MUSIC?
Arctic Monkeys (obviously), David Hockney, The Brontë Sisters, The Chuckle Brothers, Gareth Gates.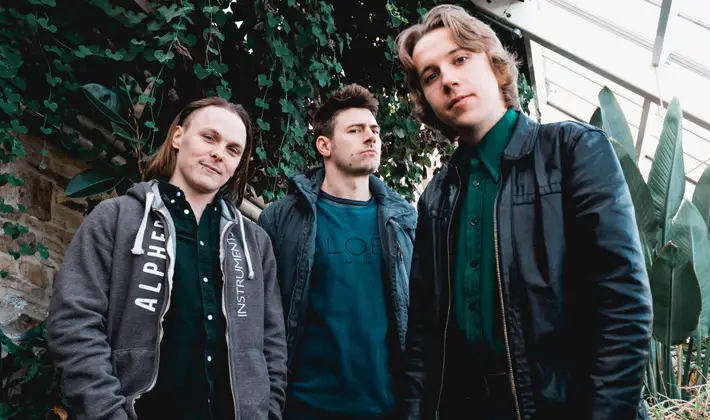 NAME YOUR SUPERGROUP – WHO'S PLAYING WHAT, WHO'S ON VOCALS AND WHO'S YOUR BEZ?
Barry & The Banshees – Me on vocals, Chad Smith on drums, Thundercat on bass, Tom Misch & St Vincent on guitar, Kaytranada producing and Huddersfield's DJ Smile is our Bez all day long. Don't how that would sound, but.
GO SEE THIS FILM: Sorry To Bother You.
GO READ THIS BOOK: The Wasp Factory (Iain Banks).
GREAT LOST BAND/ARTIST: Tkay Maidza, not lost but she's breaking through.
WOULDN'T BE CAUGHT DEAD SUPPORTING: Machine Gun Kelly.
LONDON, L.A OR LEEDS?: Leeds, I do love London though.
AND FINALLY… AS YOU LEAVE THE STAGE, WHAT ARE YOUR PARTING WORDS?
We're The Marble Arches, tell your friends.
For more info visit: themarblearches.com