Introducing: Sidney Bridges
Art pop melting pot from York – a surprise round every corner…
YOUR NAME: Sidney Bridges.
HOW LONG HAVE YOU BEEN PLAYING MUSIC? I have been singing since I was 12 and started playing other instruments at 14. Sidney Bridges has been around since 2018 though, so 2 years!
ANY PAST BANDS OR COLLABORATIONS WE SHOULD KNOW ABOUT? I collaborated with Taryn Everdeen, a folk songwriter from Norwich on the song 'Overwonder'.
GIVE US 3 REASONS WHY WE SHOULD TRACK DOWN, LISTEN AND DISCOVER YOUR MUSIC?
My music is structured upon emotional events rather than 'verse, chorus, verse'. This leads to a very unpredictable and surprising style of music! This was influenced by Joy Division's use of emotional conveying in their music.
There is also a lot to discuss within Sidney Bridges! My music is 'art-pop' and features multiple different genres of music! For instance, 'A Personal Renaissance' is komische pop, 'Lysistrata's Secrets' is no-wave/noise rock, 'Overwonder' is baroque pop, 'Sweet Hell' is indie folk, 'King Alcohol And His Prime Minister' is dance-punk and 'Delusion Can Be Your Best Friend' is a combination of synthpop and dreampop.
My music is 93% made by me, this includes production, instrument playing, singing, composition, lyric writing, mixing, mastering, arranging etc. even the album arts are created by me, and the photos of me are taken by me!
I also have a 4 octave vocal range lol.
WHERE DO YOU SOUND BEST – FESTIVAL, CLUB, BEDROOM – OR SOMEWHERE ELSE?
This I am not sure of yet!! I have been unable to perform, but if I had to say, given the 'post-punk' aesthetic to my music, probably a club for live performances!! In terms of listening to my recorded work, I'd say in a bedroom definitely <3
WHAT WAS YOUR FIRST…
RECORD? Nirvana's Nevermind.
CD? Michael Jackson's Thriller.
DOWNLOAD? 'Killing In The Name' by Rage Against The Machine.
SO, WHEN IT ALL GOES RIGHT AND YOU'VE GOT A BOTTOMLESS PIT OF MONEY AND LONG QUEUE OF HANGERS-ON, WHAT WILL BE YOUR BIGGEST MUSICAL INDULGENCE?
Retro electronic instruments such as the Ondes Martenot in combination with large orchestras!
SO, WHEN IT ALL GOES WRONG AND YOU'RE LEFT BITTER AND TWISTED AND CURSING THE MUSIC INDUSTRY, WHAT DO YOU FALL BACK ON?
Lo-fi recordings as much as possible! Elliott Smith is a huge influence on me and I often use just a gaming headset to record all my instruments for a song (this was done for 'We Are Going To Be Friends' and 'We'll Never Change').
WHAT ARE YOUR MUSICAL GUILTY PLEASURES…
Apparently Gary Numan is guilty pleasure I learned the other day??? I love his song 'Cars'!! As well as that, I think Weezer and Ween are really amazing hahaha.
WHO ARE YORKSHIRE'S FINEST IN CULTURE, SPORT AND MUSIC?
York-based Perspex definitely!! One of the most innovative rock bands I've seen in Yorkshire. Leeds-based Spacey Basement Cult are also fantastic for their 'wonk-pop'!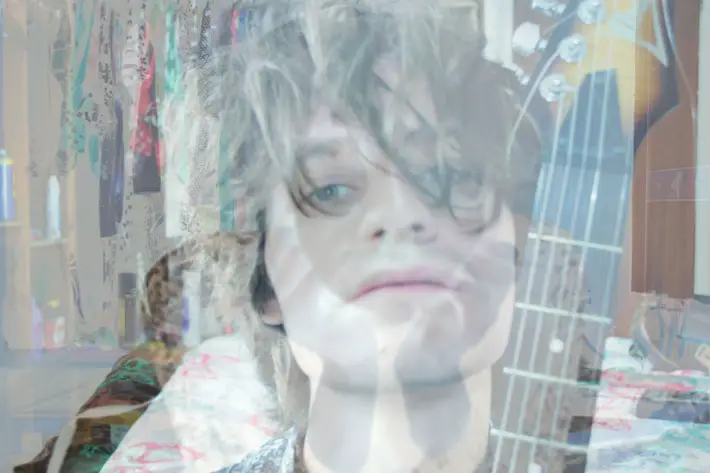 NAME YOUR SUPERGROUP – WHO'S PLAYING WHAT, WHO'S ON VOCALS AND WHO'S YOUR BEZ?
Ooohh I love!! I would put either Peter Hook or Cliff Burton on bass, Zach Hill from Death Grips or Morgan Simpson from Black Midi on drums, Tom Verlaine on guitar and for the vocals, a combination of Jeff Buckley and Trish Keenan from Broadcast!! Then my Bez would definitely have to be James Murphy from LCD Soundsystem!
GO SEE THIS FILM: Fantastic Planet.
GO READ THIS BOOK: Fight Club.
GREAT LOST BAND/ARTIST: Utro.
WOULDN'T BE CAUGHT DEAD SUPPORTING: Oasis.
LONDON, L.A OR LEEDS?: London!
AND FINALLY… AS YOU LEAVE THE STAGE, WHAT ARE YOUR PARTING WORDS?
Thank you, we've been *completely different artist* goodnight.
The album 'de Lacy Protégé' by Sidney Bridges is out now
For more info visit: facebook.com/sidneybridgesmusic