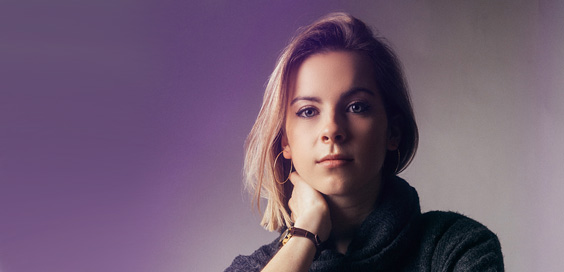 Ethereal debut from Leeds alt-pop singer-songwriter showcases rare talent…
YOUR NAME: Lucy Booth
WHAT DO YOU DO/PLAY? I'm an artist, songwriter, vocalist and keyboardist.
HOW LONG HAVE YOU BEEN PLAYING MUSIC? I've been songwriting since the age of around 12, but I only established myself as an artist in 2018, after I graduated from University and decided to fulfil my life-long ambition of becoming a musician.
GIVE US 3 REASONS WHY WE SHOULD TRACK DOWN, LISTEN AND DISCOVER YOUR MUSIC?
1) It'll (hopefully) make you cry for all the right reasons.
2) My songs are inspired by real people who deserve to have their stories heard.
3) I'm from Yorkshire. Nuff said.
WHERE DO YOU SOUND BEST – FESTIVAL, CLUB, BEDROOM – OR SOMEWHERE ELSE?
In the shower, obviously.
"Inspiration strikes!"
WHAT WAS YOUR FIRST…
RECORD? Never bought one because my dad's collection is legendary. Piano Man by Billy Joel is up there with my favourites.
CD? Justin Bieber's My World album (cringe).
DOWNLOAD? 'Bohemian Rhapsody'… my taste had thankfully got a little more sophisticated by the time I got around to streaming!
SO, WHEN IT ALL GOES RIGHT AND YOU'VE GOT A MANSION AND A SUPERMODEL GIRL/BOYFRIEND, WHAT WILL BE YOUR BIGGEST MUSICAL INDULGENCE?
My own live-in producer to turn my ideas into magic every time inspiration strikes!
SO, WHEN IT ALL GOES WRONG AND YOU'VE ACRIMONIOUSLY BROKEN UP CITING HUGE MUSICAL DIFFERENCES, WHAT DO YOU FALL BACK ON?
Travel journalism would be awesome!
"My head is turned"
WHO ARE YORKSHIRE'S FINEST IN CULTURE, SPORT AND MUSIC?
The talented sculptor, Barbara Hepworth, was from Wakefield, and I am also distantly related to her and went to the same school which is cool!
GO SEE THIS FILM: Cowspiracy.
GO READ THIS BOOK: Eleanor Oliphant is Completely Fine (Gail Honeyman).
GREAT LOST BAND/ARTIST: Mozart.
WOULDN'T BE CAUGHT DEAD SUPPORTING: Little Mix.
LONDON, L.A OR LEEDS?: Probably Leeds… although I'm heading to London next year so we'll have to see if my head is turned!
AND FINALLY… AS YOU LEAVE THE STAGE, WHAT ARE YOUR PARTING WORDS?
No one's too small to make a difference!
Lucy Booth's debut EP 'Melancholy Blue' came out in June. She plays 'Underneath the Stars' music festival on the 3rd August
More info: lucyboothmusic.com