Pastiche pop from sunny Leeds…
YOUR NAME: Josh Aitken and Katie Billes.
BAND NAME: HARKN.
WHAT DO YOU DO/PLAY?: Pastiche Pop.
HOW LONG HAVE YOU BEEN TOGETHER AS A BAND/PLAYING MUSIC?: 1 year.
GIVE US 3 REASONS WHY WE SHOULD TRACK DOWN, LISTEN AND DISCOVER YOUR MUSIC?:
You're gonna love it, your mum's gonna love it and we'll be stuck in your head for the next week.
WHERE DO YOU SOUND BEST – FESTIVAL, CLUB, BEDROOM – OR SOMEWHERE ELSE?:
Anywhere there's a free bar and space to boogie!
WHAT WAS YOUR FIRST…
RECORD? Josh's first record bought was Hunky Dory David Bowie.
CD? Katie's first CD bought was Taylor Swift by Taylor Swift.
DOWNLOAD? Josh's first download was 'Bad Day' – Daniel Powter (a classic).
SO, WHEN IT ALL GOES RIGHT AND YOU'VE GOT A HUGE QUEUE OF HANGERS-ON AND A RIDICULOUS MANSION, WHAT WILL BE YOUR BIGGEST INDULGENCE, MUSICAL OR OTHERWISE?
Drugs.
SO, WHEN IT ALL GOES WRONG AND YOU'VE ACRIMONIOUSLY BROKEN UP CITING HUGE MUSICAL DIFFERENCES, WHAT DO YOU FALL BACK ON?
Drugs.
CITE SOME INTER-BAND MUSICAL DIFFERENCES…
Our bassist Matt, keeps pretending that he is a main member of Mcfly and can't get through a rehearsal without humming 'Star Girl' or 'All about You'. Our keys player would rather we be an alt-jazz improv group. Drummer Ned is good.
WHO ARE YORKSHIRE'S FINEST IN CULTURE, SPORT AND MUSIC?
Music – The Sound of Modesty.
Sport – Chris Milnes (professional rock climber).
Culture – Sean Bean.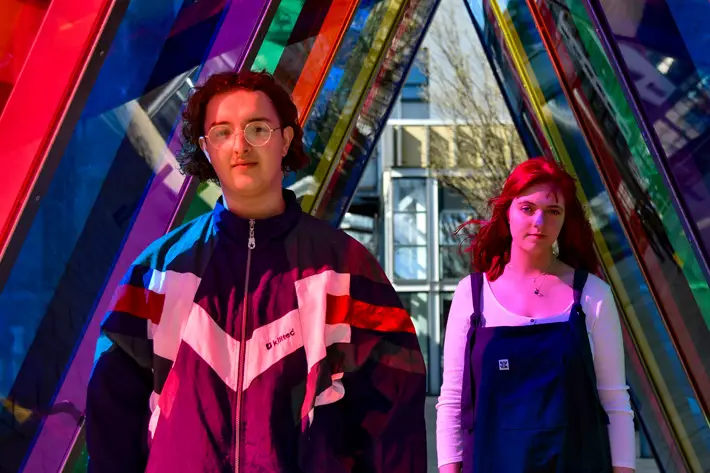 NAME YOUR SUPERGROUP – WHO'S PLAYING WHAT, WHO'S ON VOCALS AND WHO'S YOUR BEZ?
The dream front men would be Rachel Lester from X factor series 4 and Corey Taylor, lead singer of Slipknot.
Pino Palladino for bass, obvs.
Phil Collins on drums but only playing THE fill.
Ruben Maric is our Bez always and forever.
GO SEE THIS FILM: Cats.
GO READ THIS BOOK: Twilight.
GREAT LOST BAND/ARTIST: One Direction.
WOULDN'T BE CAUGHT DEAD SUPPORTING: Crazy Frog.
LONDON, L.A OR LEEDS?: LEEEEEEDS.
AND FINALLY… AS YOU LEAVE THE STAGE, WHAT ARE YOUR PARTING WORDS?
Sorry.
For more info visit: instagram.com/harkntheband