Euphoric indie pop from all ends of the UK – here's Tom from Blondes…
What is the title of your latest release, and what does it mean to you?
Our latest release is 'Out the Neighbourhood'. It's a song which is close to our hearts as it is the first one Alex wrote for Blondes and was part of the first demo we made as a band. Being able to release a new and improved version has been amazing. It's a song which all the people who have supported us from day one really enjoy, and we close every set with it and get people to take off their T-shirts.
What was the hardest part about putting this release together, and why?
The hardest part was when we took the original demo version down from Spotify as the quality of the recording wasn't good enough. But looking back now, it was the right decision as it allowed us to refine the song and record an even better version.
Who produced the release and what did they bring to it?
Rich Turvey produced the song and he helped make it so much sharper and more polished. We have worked with him before and he just 'gets' how to produce good music, shown through his work with Blossoms and Vistas. He encourages us to think further than the demo and enables us to try new things we otherwise wouldn't have considered.
What do you want the listener to take away from listening to your music?
A sense of relatability and nostalgia. We are just four normal lads making music, and we want to show that in our music.
How does a track normally come together? Can you tell us something about the process?
Alex, Will or Stroud normally come up with a lovely chord progression or riff and it just builds from there. Alex and Will write all of the lyrics and then we just add layers to the songs. We all live in the same apartment block, so it makes writing and demoing a lot easier.
Which bands / artists have influenced you the most since you started the band, and why?
We all have different music tastes which we all bring to the table. For example, I'm really into New Order; Stroud is basically a Beatles historian; Alex loves Sister Sledge; and Will loves Oasis. In terms of our songs, bands like The Cure, Two Door Cinema Club and Bombay Bicycle Club are big influences for us.
Which countries would you like to tour? And are there any standout venues you'd like to play?
We will literally play anywhere. As we are signed to an American label it would be cool to play some shows over there, and Australia would be amazing too. To be honest anywhere with some people and some beers. Venue wise we were really lucky to play Rock City in Nottingham which is a venue close to our hearts from our time as students there. Ally Pally would be fun to play, and Brixton Academy.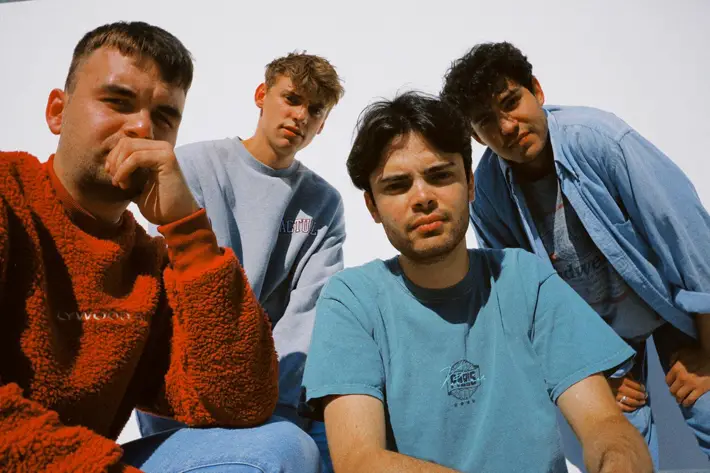 If you could pick one track for our readers to listen to, in order to get a taste of your music, which one would you pick, and why?
Probably 'Coming of Age' as it encapsulates our journey so far. It's very nostalgic and sums up the vibe of our approach to song writing. It's also the song which kickstarted the crazy year we have had, so it's quite special for all of us.
What ambitions do you have for the band and your career?
To continue writing music and playing shows. We always joke that we want to be headlining Glastonbury in 2025 but honestly, we are just enjoying every moment and taking each day as it comes. We want to do a little tour next year and hopefully play some more festivals. Our first full EP (also called 'Out the Neighbourhood') is out on 12 November which we are all buzzing for, as it's been a project long in the making.
Finally, as you leave the stage, what are your parting words?
We wear boiler suits at every show, so I normally just moan about how sweaty I am or about how much I need a beer.
For more info visit: blondesband.com