Record Collection by Mark Ronson – Album Review
by Matt Callard
Ooh, it's the It Guy. Credentials? Some hip-hop pedigree, multi-instrumentalist, decent ear for new talent, coupla Amy Winehouse-affiliated Grammys, Bob Dylan remix approved by the man himself, nice suit, cool label, occasional foray into pure pop production (Robbie Williams/Lily Allen) and, of course, a contacts book to die for.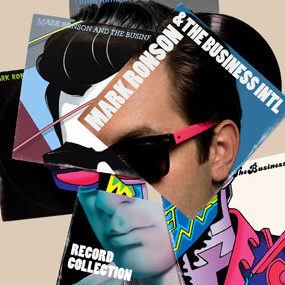 But the Mark Ronson industry is stomach turning. Like Florence and her bloody Machine, I hate being told what to like. I hate the boardroom slickness, hate the horrid, all-pervading stench of The Man, hate the 'brilliant' videos and 'amazing' live shows.
"Much more than a rubbish DJ who got lucky"
I hate the way this music comes looking for you rather than you discovering it. I hate his contrived attempt at self deprecation in the title track. And I even hate the way I don't hate this record as much as I want to.
Boy George sings his heart out in a neat nu-soul ballad, Rose Elinor Dougall nails two lovely pop ditties and Ronson generally proves he's much more than a rubbish DJ who got lucky.
Unfortunately he remains the DJ that all other rubbish DJs wish they were.
6/10