Rio Grande (1950) – Film Review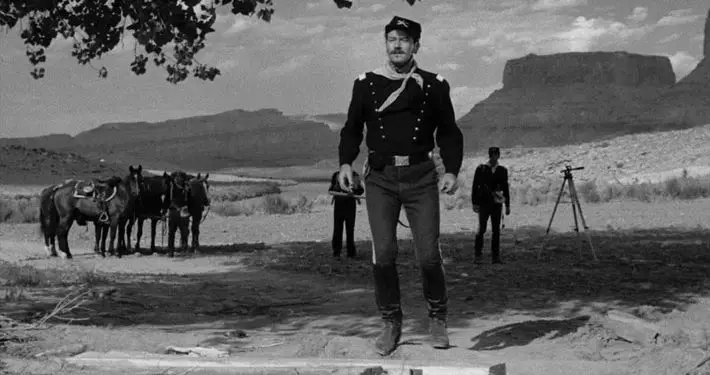 Director: John Ford
Cast: John Wayne, Maureen O'Hara, Hary Carey Jr
Certificate: U
by Sarah Morgan
Hollywood is full of great movie-making partnerships, and few are as celebrated as that between director John Ford and star John Wayne.
It began in 1939 with Stagecoach and lasted for another 13 films across 24 years. Along the way there were classics such as The Searchers and my personal favourite, The Quiet Man.
The latter might never have been made, however, if it hadn't been for the lesser-known Rio Grande, released two years earlier in 1950. Ford had wanted to steer clear of Westerns after his previous film, Wagon Master. He intended to make The Quiet Man instead, but production company Republic Pictures didn't like the script. It's rumoured he agreed to make Rio Grande first to offset anticipated losses on his pet project – which went on to become one of the biggest box office hits of its year.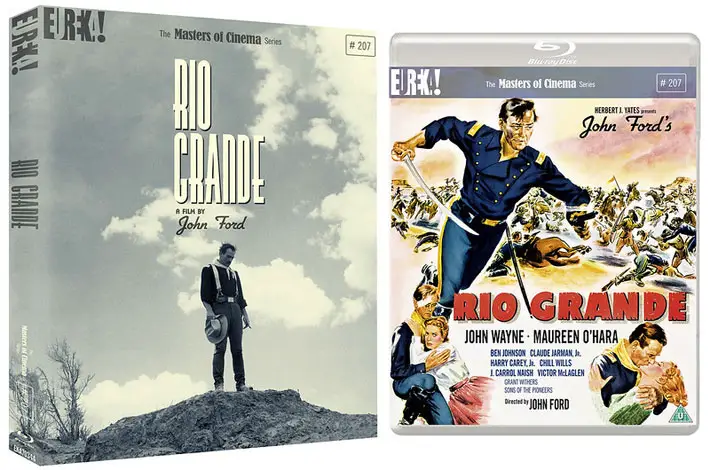 "A little clunky"
But I digress… Rio Grande is the final instalment in Ford's so-called cavalry trilogy, which also includes Fort Apache and She Wore a Yellow Ribbon. It's probably the weakest of the three, but it's by no means a bad film, just a little clunky in places. For instance, Victor McLaglen is the light relief as a 'comical' Sgt Major who, frankly, is just plain stupid; it's unbelievable that Wayne's Lt Colonel Kirby Yorke would have him anywhere near his outfit, even for sentimental reasons.
Yorke is in charge of a cavalry unit entrusted with defending settlers against marauding Apaches close to the Texas-Mexico border. He's respected by his men, despite his taciturn nature, but his ordered world is thrown into disarray by his son, who has been seconded to his command, and his estranged wife Kathleen; Yorke has seen neither of them for 15 years.
Young Yorke is determined to prove his worth and doesn't want to be treated favourably, while Kathleen wants her husband to persuade him to leave the army.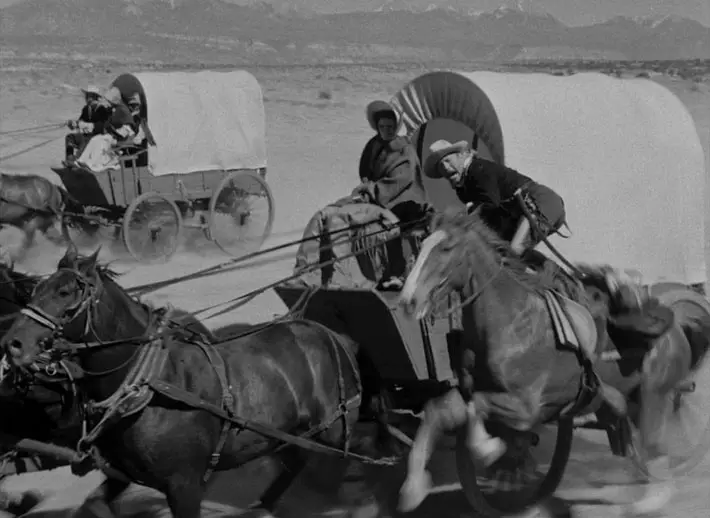 "Obvious chemistry"
The ensuing plot is rather predictable, although watching it unfold is admittedly rather fun. Wayne is his usual one-note self as Yorke Snr, but the scenes in which he spars with Maureen O'Hara as Kathleen are a delight; this was the first of their five collaborations and their obvious chemistry would be used to greater effect in The Quiet Man.
Good supporting performances come from Ford/Wayne regulars Ben Johnson and Harry Carey Jr, while Claude Jarman Jr, despite looking nothing like what you would imagine the offspring of Wayne and O'Hara to resemble, is fine as Yorke Jr. He even gets to show off some impressive horse-riding skills alongside former champion cowboy Johnson and experienced rider Carey.
1080p presentation on Blu-ray, from a new transfer completed by Paramount's preservation department in 2019
Optional English subtitles for the deaf and hard-of-hearing
Brand new and exclusive feature-length audio commentary by western authority Stephen Prince
Scene specific audio commentary with Maureen O'Hara
A video essay on the film by John Ford expert and scholar Tag Gallagher
Along the Rio Grande with Maureen O'Hara – archival documentary
The Making of Rio Grande – archival featurette
Theatrical trailer
PLUS: a collector's booklet featuring a new essay by western expert Howard Hughes; a new essay by film writer Phil Hoad; transcript of an interview with John Ford; excerpts from a conversation with Harry Carey, Jr.
Rio Grande is released on Blu-ray by Eureka, £19.99