Over the Edge (1979) – Film Review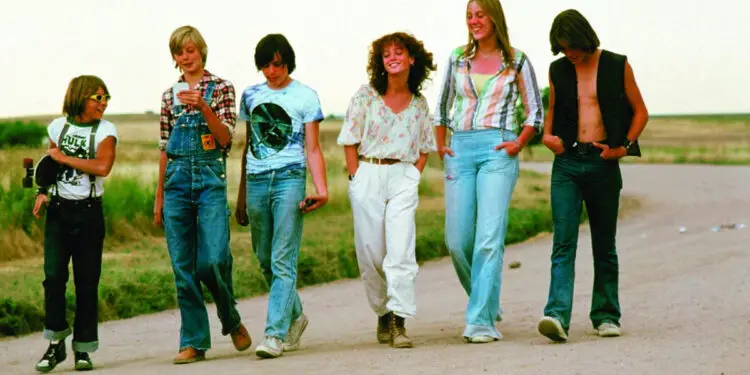 Director: Jonathan Kaplan
Cast: Matt Dillon, Michael Kramer, Pamela Ludwig
Certificate: 18
By Sarah Morgan
Rebellious teens are not a rarity on the big screen, from James Dean in Rebel Without a Cause, through Malcolm McDowell in If.… to the ensemble of The Breakfast Club and even Katniss Everdeen in The Hunger Games franchise.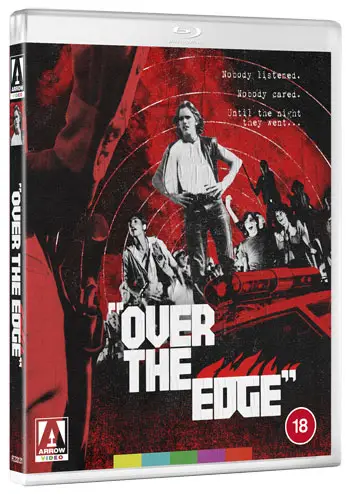 All of them had a certain edge – call it charisma or even the 'X' factor – but whatever it was, it was a quality that made us all root for them, forcing us to be on their side.
Unfortunately, the leads in Over the Edge are missing that certain something, although they have plenty to rebel against, even if it's all caused by the rather mundane topic of boredom.
"Running wild"
The film was inspired by real events, as depicted in a 1973 San Francisco Examiner article entitled 'Mousepacks: Kids on a Crime Spree', which reported on teenagers running amok in a middle-class planned community – or new town, as it would probably be known in the UK.
Screenwriters Charles S Haas and Tim Hunter were so taken with the story that they began researching the background to it almost immediately, even interviewing some of the children involved.
They then used their in-depth knowledge to help craft the tale of New Granada, a newly erected city in Colorado. It's supposedly been designed to make modern life easy, but its planners forgot one major thing – places for its youngest residents to enjoy and let off steam. As a result, some of them are running wild.
As they threaten to descend into drugs and sex, a gung-ho local cop takes matters into his own hands, setting in motion a tragic chain of events that will mean life in New Granada will never be quite the same again.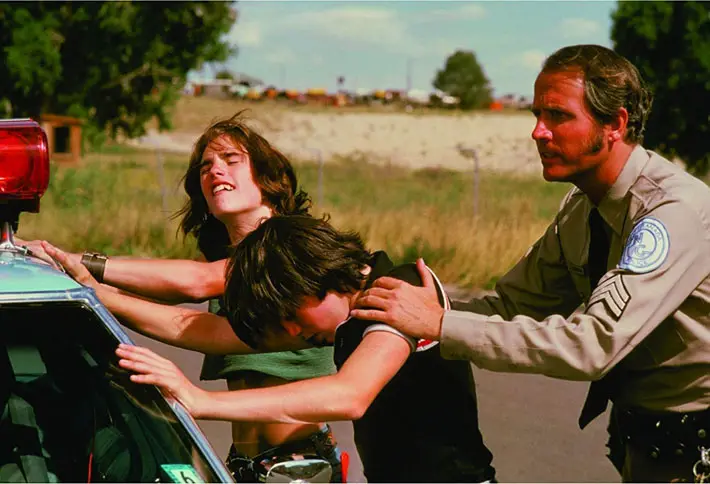 "Cult following"
Although it's Michael Kramer who takes the lead role of Carl, a good kid caught up in events out of his control, it's Matt Dillon, in his film debut as Carl's best friend Richie, who provides the most interest.
Having said that, he does little to make anyone believe he'd go on to become one of the coolest of Hollywood stars with an Oscar nomination to boot. Instead, he's supposed to be the bad guy with a heart of gold, but ends up looking just a bit sulky.
His presence does, however, make the film a curiosity piece; that and the impressive soundtrack (which includes tracks by Van Halen, Cheap Trick, The Cars, The Ramones and Jimi Hendrix) are probably the reasons why Over the Edge has developed a cult following over the past 40 years. It's just a shame it doesn't have the dramatic chops to support its reputation.
SPECIAL EDITION CONTENTS:
• High Definition (1080p) Blu-ray transfer
• Original uncompressed mono audio
• Optional English subtitles for the deaf and hard-of-hearing
• Archive commentary by director Jonathan Kaplan, producer George Litto and writers Tim Hunter & Charlie Haas
• New commentary by star Michael Kramer and journalist Mike Sacks
• Isolated music and effects track
• Wide Streets + Narrow Minds, an exclusive multi-part retrospective documentary with newly recorded interviews with cast and crew, including Kaplan, Hunter, Haas, talent scouts Jane Bernstein and Linda Feferman, production designer Jim Newport, stars Matt Dillon, Michael Kramer, Harry Northup, Vincent Spano, Pamela Ludwig, Tom Fergus, Julia Pomeroy and others
• Full post-film Q&A from a 2010 screening at the Walter Reade Theater in New York, featuring Litto, Hunter, Haas, Bernstein, Northup, Kramer, Ludwig, Fergus and Pomeroy
• Excerpts from the Projection Booth podcast episode on the film, including discussion by Mike White, Leon Chase and Heather Drain, plus interviews with Haas, Hunter, Spano, Northup and co-star Andy Romano
• Welcome to New Granada, the full "rock operetta" by DRATS!!! inspired by the film
• Text materials, including original production notes and the 2009 VICE oral history by Mike Sacks
• Destruction: Fun or Dumb?, the full educational short excerpted within the film, in high definition
• US theatrical trailer and TV spots
• UK VHS promo
• German theatrical trailer
• Extensive image galleries, including the original Mousepacks screenplay
• Reversible sleeve featuring original and newly commissioned artwork by Sister Hyde
Over the Edge is released on Blu-ray by Arrow, £24.99