Maniac Cop 2 (1990) – Film Review
Director: William Lustig
Cast: Robert Davi, Claudia Christian, Bruce Campbell
Certificate: 18
By @Roger Crow
I've never seen the original Maniac Cop, a late eighties schlockbuster about a wronged, maimed cop on a trail of carnage. I never felt the urge to rent it during the VHS era, or get a copy on DVD.
So with that in mind, does the sequel stand on its own two feet, or do you need to have seen the original? Of course you don't. This is Maniac Cop 2, a movie so gloriously stupid, it has to be seen to be believed.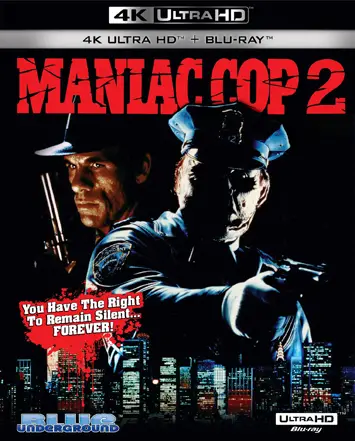 What is remarkable is the fact Robert Davi plays the whole thing as straight as some classic thriller. He could still be in Licence to Kill or Die Hard.
"Vigilante"
The ever reliable Bruce Campbell shows up and does that glorious thing he does: part parody, part serious, though sadly he doesn't do his Evil Dead routine, which would have made the film so much better.
Babylon 5's Claudia Christian is a good sport as the heroine in danger, and the whole thing ticks over like a Swiss watch. The stunts are often extraordinary, whether it's a high fall, bouncing off a car into an alley or the "full body burn" in the finale. That thing where a guy is set on fire and has to act while flames threaten to slow cook him. The things people do for money.
Naturally as this is an OTT cop thriller, there are scenes set in a strip club, because as we all know, few such dramas can take place without crime-busting protagonists meeting contacts or carrying out vital investigative work without some girl taking her clothes off. In the same way few car chases in such movies can exist without hero or villain hitting a load of boxes for no reason.
The eponymous antagonist is a strange sort. We're never quite sure whether to side with him as he carries out his vigilante-style actions. Not that we should care too much, as this is absolute tosh. Good looking tosh at that. The UHD version looks great. Those colours really pop, and despite the fact that there are some truly awful characters here, it works on its own merits.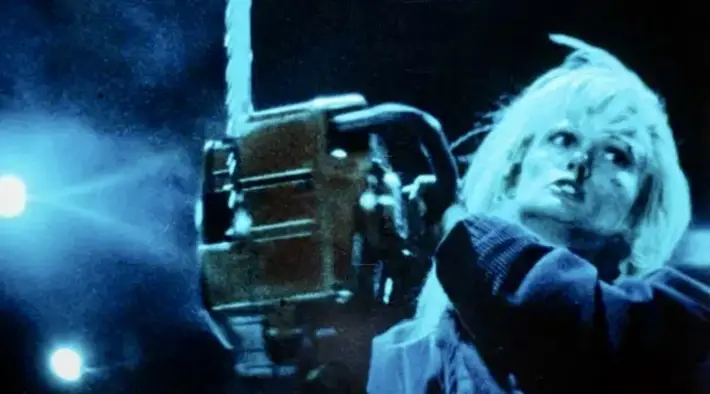 "Gloriously bad"
When the eponymous killer teams up with a psycho nutcase, it's a little like being transported into some weird alternate universe. An inverted Lethal Weapon if you like, which would have been a great idea if the bad guys weren't so hideous.
It's also amazing to see the likes of Michael Lerner (Barton Fink) and Charles Napier (The Silence of the Lambs) adding dramatic heft to such a gloriously bad movie.
Extras include a yack track with director William Lustig, and Nicholas Winding Refn, who made the sublime Drive a decade ago.
Bonus Materials:
• Ultra HD Blu-ray (2160p) and HD Blu-ray (1080p) Widescreen 1.85:1 feature presentations
• Audio: Dolby Atmos (English); 2.0 DTS-HD (English)
• Subtitles: English SDH, Français, Español, Português, Deutsch, Italiano, Mandarin, Korean, Japanese, Russian, Dansk, Nederlands, Suomi, Norsk, Svenska
• Audio Commentary with Director William Lustig and Filmmaker Nicolas Winding Refn
• Back On The Beat - The Making Of MANIAC COP 2
• Cinefamily Q&A with Director William Lustig
• Deleted Scene
• Theatrical Trailers
• Poster & Still Gallery
• Isolated Music Track
Maniac Cop 2 is released on 4K UHD Blu-ray by MVD