Adam Kay's Slutty Christmas Songs – Live Review – The Piece Hall, Halifax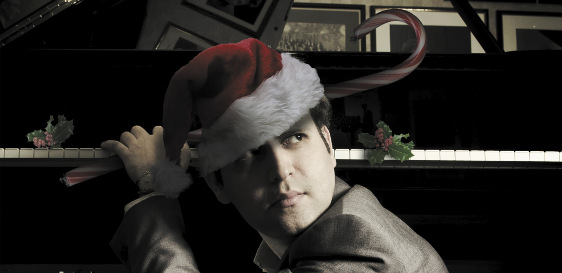 By @Steve Crabtree, December 2017
Although my friend and I haven't heard of Adam Kay before, we're in the minority here at the Piece Hall. The whispers of excitement and the friendly 'who's-seen-him-more' competition is all the rage around the bar
He's been on the circuit quite a long time. Previously a doctor, he left the profession to concentrate on his tuneful comedy career. And from what people are saying I'm excited to watch an act with a difference.
With huge applause, Kay is introduced to the stage. He casually ambles up to his fairylight-draped keyboard to perform a series of Christmas songs, but not just any old Christmas songs. He's adapted and parodied a host of carols, hymns and pop songs that suit his fans' comedy needs.
"Close to the bone"
And if you were thinking that the tunes would all be tasteful and in-keeping with the traditions of Christmas spirit, think again!  Some of the songs are very crude, very close to the bone (pun intended), and unbelievably funny.
'We Wish You Weren't Staying With Us' – Kay's dedication to parents and based on 'We Wish You A Merry Christmas' – is one of the more cleaner lyrics in his repertoire.
We get some audience participation too. Every now and again Kay changes the word "Hallelujah" in the chorus of the well-known hymn, and we have to sing the word that's coming up after he's led up to the chorus with an adapted verse.
Between songs, he reads passages from his book This Is Going to Hurt: Secret Diaries of a Junior Doctor which is a selection of doctor's notes with a comedy twist. The incredibly dry humour Kay puts across when reading these passages brings the house down.
"Tells us some things that he probably shouldn't"
We're asked to request songs we'd like him to perform in the second half during a 15 minute interval. There are lots of crowd favourites that he's performed many times before.
Again he goes back to the book. He also tells us some things that he probably shouldn't have told us but we're glad he did, and finishes with a song that seven members of the audience requested him to sing.
It's been a really good night listening to Adam Kay. A lot of laughs from a funny guy, who's hugely talented on the piano. But then I guess you have to be to leave the medical profession and go out onto the comedy circuit.
A pretty unique kind of act. The Piece Hall have come up trumps again with another fantastic event.