The Yorkshire Vet: In The Footsteps of Herriot by Peter Wright – Review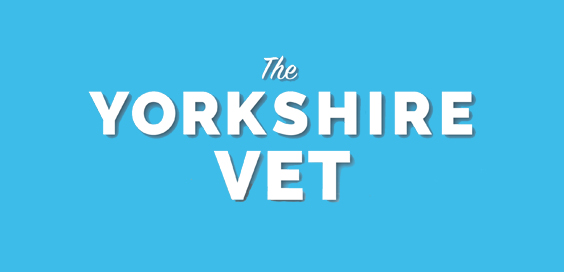 By Kirsty Reid
I've always been fascinated by the work of vets and more so, the type of person it takes to become one. Having somewhat of a squeamish nature not even my love of animals, no matter how great, could lead me to follow in the footsteps of these talented individuals.
It seems I'm far from alone in my curiosity, though, as veterinary programmes have become hugely popular in the past few years. Attracting around 1.8 million viewers, Channel 5's The Yorkshire Vet follows life in Skeldale Veterinary Centre, the former workplace of famous veterinarian and author Alf Wight, better known by his pen name James Herriot.
One vet in particular, Peter Wright, has become something of a celebrity thanks to appearance on The Yorkshire Vet. Wright became Herriot's apprentice at his practice in Thirsk and took over the business when he retired. The journey of how Wright followed in the footsteps of his idol is documented in his new book, The Yorkshire Vet: In the Footsteps of Herriot.
"Destined to take a different path"
The warm and engaging memoir tells Wright's life story, from country bumpkin to celebrity vet on the successful Channel 5 TV series.
Despite his fame, Wright has stayed grounded throughout his journey. His humble beginnings on a farm have certainly contributed to this. Wright's childhood was not affluent, away from the digital distractions of the 21 century Wright passed time by exploring the countryside and its creatures. Luxuries included a black-and-white TV and a car, while family holidays were taken in Scarborough and Scotland.
Though Wright counts himself lucky to have grown up on a 180-acre farm where he wanted for nothing, he admits that he always knew he was destined to take a different path to that of his parents, one that would lead him further than they had travelled. It's fair to say he's done just that.
"Honest and refreshing"
Wright reveals how he was shy as a child, but a fear of failure pushed him to work hard, thus building his confidence. He studied at the University of Liverpool in the 1980s before working at Skeldale with Herriot.
The memoir predominantly focuses on how Wright's life was changed by Herriot. Talking about him, Wright says he was "a man who's taught me about looking after animals – and human nature. I learned a lot of my bedside manner from him."
Wright's life was clearly heavily influenced by Herriot and his kindness – he was even fortunate enough to be loaned money from Herriot to help pay for his first home.
Wright's memoir is open, honest and refreshing. He doesn't shy away from the realities of veterinary life – his book features a selection of both heartwarming and heartbreaking furry tales. For a true insight into the life of a Yorkshire vet, this is a must-read.
'The Yorkshire Vet: In the Footsteps of Herriot' by Peter Wright is published by Mirror Books, hardback £18.99