The Old Patagonian Express [Folio Society] by Paul Theroux – Review
By Elizabeth Stanforth-Sharpe
It is forty-five years since Paul Theroux wrote of his journey on 'The Old Patagonian Express', a steam train with wooden carriages heated by wood-burning stoves, that ploughs a journey on tracks of only 750mm, through the Patagonian plains, wide valleys, and the mountain peaks of the Andes, describing the vista he encountered as 'almost the end of the world'.
But it wasn't the only train he took. Theroux's intention for the journey was not to explore a destination, but to set himself the challenge of travelling from his home in Massachusetts to Esquel in Argentina, and then to return home, but to do so only by using trains as his mode of transport, quoting Robert Louis Stevenson, 'I travel not to go anywhere, but to go. I travel for travel's sake. The great affair is…to move' as intention enough.
Theroux began by taking the commuter train from Massachusetts to Boston and then taking the Lakeshore Limited to Chicago. From Chicago, the Lonestar took him to Laredo on the Mexican-Texan border, then it was on to Veracruz via the Aztec Eagle train. Two passenger trains took him very slowly to Guatemala City. The journey from there to Zacapa took him over shaking, rickety bridges over gorges filled with cloud and fog, around high mountain rails and across barren deserts, as a mechanic wandered the carriages tightening loose bolts with a monkey wrench. A dubious car driver gave him a lift almost to the border of Guatemala, leaving him to walk to the El Salvador border. From Santa Ana he boarded a wooden rail car to San Salvador and then a local train to Cutuco and an eleven-hour ferry ride to the border of Nicaragua. The border was closed because of the civil war in Nicaragua; for the first time in his journey, Theroux's meticulously planned rail itinerary was interrupted, and there was nothing he could do about it.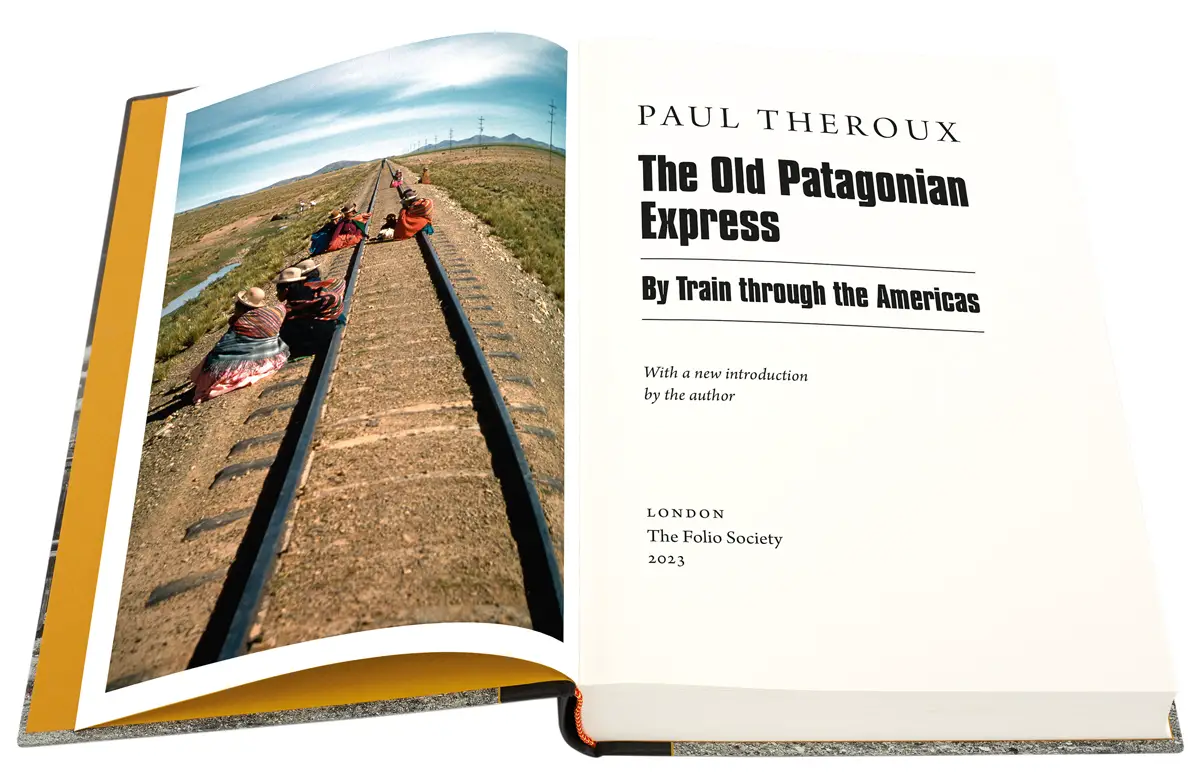 "Too dangerous"
He decided to return to San Salvador and explore the region using local trains (all with their own unique characters) until he worked out his next move, which was to take a plane to San Jose in Costa Rica.
From there, the Atlantic Railway, the Pacific Railway, and the Balboa Bullet, each in their turn, transported him across Panama and into Colombia. Defying the advice of the local communities that the terrain was too dangerous, Theroux took the Expreso de Sol to Bogotá. In Bogotá, they told him not to go to Armenia, because it was even more dangerous, so he went, by bus. When he got to Armenia, they told him Cali was even more dangerous than Armenia, so he took the Expresso Calima to Cali, where he found it so dull that, '…simply to keep myself occupied one afternoon, I bought a roll of dental floss and carefully flossed my teeth.'
The Autoferro took him to Guayaquil, and then he boarded Le Tren de la Sierra to Lima in Peru, which traversed mountains at high altitudes, giving Theroux altitude sickness that wiped out his enjoyment of that part of the trip. Passenger trains to Cuzco and Machu Pichu, and then, still ill, an uncomfortable ride on the Pan American Express across Bolivia and into Argentina.
Finally, he was on the last leg of his journey.
La Estrella del Norte (The North Star) conveyed him to Buenos Aires, From there he travelled to Patagonia on the Lagos del Sur (Lakes of the South) Express where everyone he encountered was puzzled that he was ending his journey at Esquel. No-one ends a journey at Esquel, they said. Esquel was a place where journeys began. But what could he do? Theroux had to go Esquel to go home, so at Jacobacci, in the middle of the desert, he boarded the smallest, oldest, and slowest train imaginable.
'"Does this train have a name?" I asked…He laughed. "This train is too insignificant to have a name. The government is talking about getting rid of it." "Isn't it called 'The Esquel Arrow' or something like that?' He shook his head. "Or 'The Patagonian Express'?" "The Old Patagonian Express'", he said…
It was a kind of demented samovar on wheels, with iron patches on its boiler and leaking pipes on its underside and dribbling valves and metal elbows that shot jets of vapour sideways. It was fuelled by oil, so it did not belch black smoke, but it had bronchial trouble, respirating in chokes and gasps on grades and wheezing oddly down the slopes when it seemed out of control.'
The wonderful, evocative, descriptions of this last train in a journey that took him two months, go on and on, and it is only fitting that 'such a racket of bumping couplings and rattling windows' should be celebrated as the title of Theroux's work – but were his book just a list of the trains he encountered, no matter how enthralling the descriptions, I suspect it would be a tedious affair.
Thankfully, The Old Patagonian Express is much, much more than that.
"One of the greatest travelogues"
Theroux tells of the characters he meets along the way, the pigs that snuffle along the railway tracks, the station master's office that doubled as a hen coop, the food he eats, the landscapes along the way, the political conversations, and the football match he attended. He relates a visit to the blind Argentinian writer, Jorge Luis Borge, who asks Theroux to read to him from the English classics.
His prose is as sharp as a scalpel. This is hard-hitting writing by one of our greatest travel writers, that provides us with humour, and with a palette of colours laid on with deep brush strokes, that positions us at the window seat of every carriage, without the need for a camera, internet, glossy brochure guides or Photoshop images; to see every sunrise, gasp at the rails precariously balanced on overhanging cliffs, and feel the adrenaline fear of guns at border controls. Theroux's owl-like observations and wordsmith skills not only tell of a journey but are a journey in themselves.
Yes, it all takes place in a world that no longer exists on so many levels. The history and the politics are of another age, and international communications are vastly different, but the book is in no way diminished by that; indeed, it only adds to the splendour.
I first read The Old Patagonian Express in paperback version and, I confess, that I wasn't very kind to my paperbacks in the early eighties. The cover turned back on itself, page corners turned down, stains from ill-placed mugs, shoved haphazardly into my bag, the book accompanied me wherever my days took me at the time, odd moments filled with Theroux's journey. And that's fine. It's the way most of us come to the reading of our younger selves.
But there's another way.
The Folio Society has produced a gorgeous, new edition of The Old Patagonian Express. An edition to be treated with the utmost respect. It deserves to be read whilst reclining in a leather armchair, a glass of whisky within easy reach. It's a quiet, understated acknowledgement that The Old Patagonian Express is one of the greatest travelogues ever written and is worthy of being recognised in true quality.
Contained in a sturdy mustard slipcase that coordinates perfectly with the endpapers and spine text, this exquisite book is bound in black blocked cloth embellished with an image of The Old Patagonian Express 'La Trochita' at Esquel, immediately making that connection between word and reality. Open to the frontispiece, and there is a photograph taken by Tony Morrison, in about 1970 (so very authentic to how Theroux would have viewed the scene), of Aymara women waiting with their produce on the line between La Paz and Lake Titicaca in Bolivia.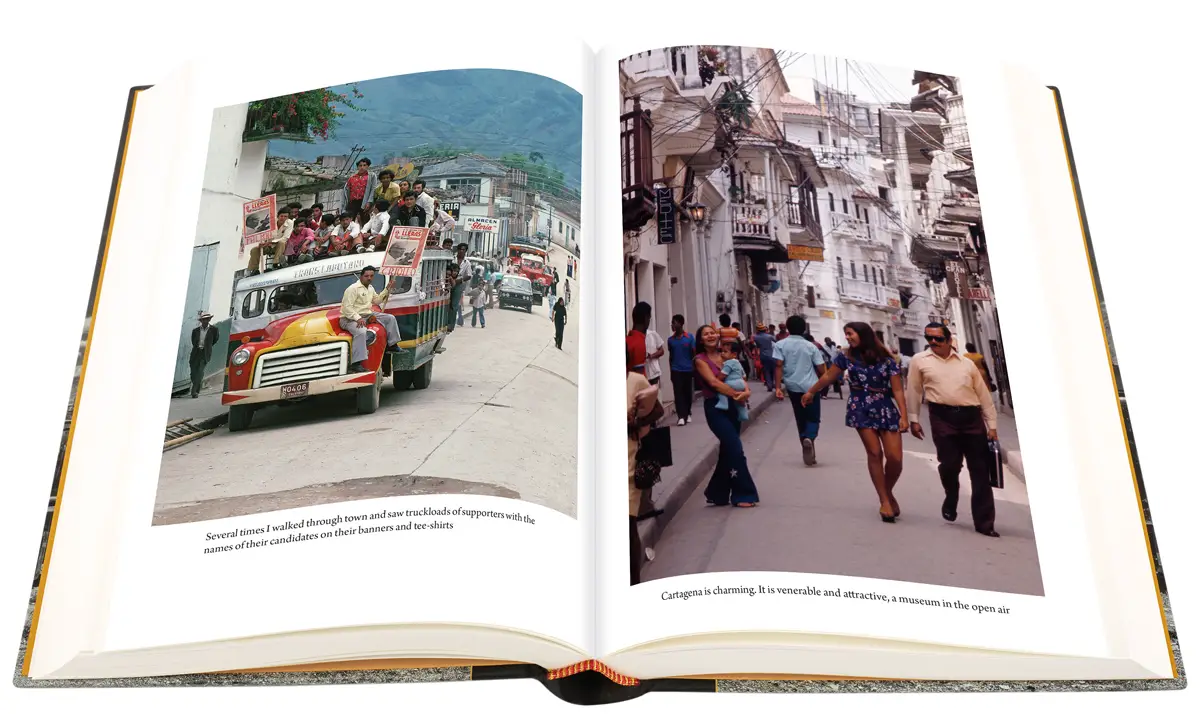 "Exciting"
Interspersed between the pages of Theroux's original writing are twenty-four photographs from a variety of sources; most, but not all, taken at, or around, the time of, his adventures in 1978, which enhance the layers of a reader's understanding of the conditions he faced, and two maps by Kevin Freeborn outline the route travelled. True train aficionados will enjoy seeing the individual trains boarded, whilst historians and geographers will appreciate glimpses of the terrain and culture.
Perhaps the thing I found most exciting about this new edition, however, is that it contains an introduction especially written for it by Paul Theroux, who was awarded a medal from the Royal Geographical Society, in 2015, for 'the encouragement of geographical discovery through travel writing'; the highest award attainable for a traveller and ranking him in the company of Sir Edmund Hilary, Admiral Richard Byrd, and Dr Thor Heyerdahl.
Theroux, with the passage of time and the benefits of hindsight, reflects on a journey that he embarked upon 'because my head was empty of ideas'. Creativity begets creativity. Whilst the train was rattling along through Costa Rica he looked out of the window and asked a fellow traveller where they were. "La costa de Mosquita", came the reply. Theroux began to make notes. After The Old Patagonian Express was published, he returned to Central America and wrote his novel, The Mosquito Coast, and after that was published, he decided to walk and take trains around the coast of Great Britain for The Kingdom by the Sea.
He finishes, 'And I kept on, writing a novel after that. Such was the rhythm of my writing life, as a fortunate traveller.'
The Folio Society edition of The Old Patagonian Express is a treasure to read, cherish and gift, and is fitting testimony to one of the greatest travel writers of our age.
The Folio Society edition of Paul Theroux's  'The Old Patagonian Express' is available exclusively from  www.FolioSociety.com