An Interview with Theatre Writer, Mike Kenny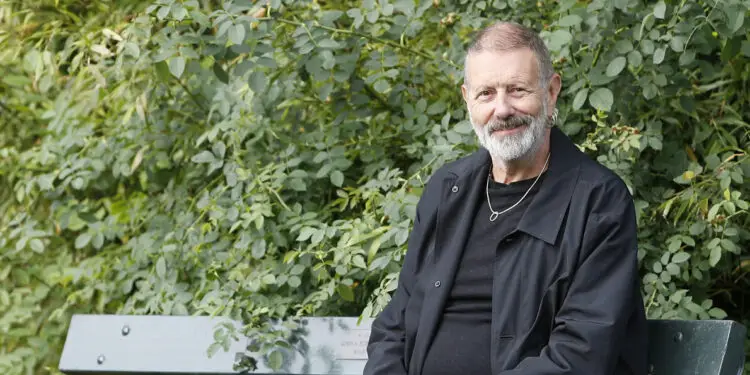 Mike Kenny is one of the country's leading writers for theatre. He won an Olivier award for his adaptation of The Railway Children, staged by York Theatre Royal at the National Railway Museum, at London's Waterloo and Kings Cross stations, and in Canada. His latest stage work is The Park Keeper, being staged for Park Bench Theatre as part of the centenary celebrations of Rowntree Park in York, not far from where Mike lives.
How did The Park Keeper come about?
The idea was initially Matt Aston's (artistic director of Engine House Theatre). Following last year's successful Park Bench Theatre season, he had the idea to return with a series of short pieces directly inspired by characters related to the park, in order to celebrate the centenary, and he talked to me about the Park Keeper, as maybe a 15 minute piece. A couple of things happened after that. One was the lateness of finding out about possible funding, which made commissioning a whole season just too much. And also the idea about the park keeper grew to become a full length play. I have done a lot of long walks over the last 18 months, both with Barbara my partner, and on my own, and I kept thinking about it. I went into a shop in Clifton on one of the walks and bought a note book and a pen, and started scribbling stuff down.
What did you know about Rowntree Park before writing the play?
A fair bit. I live close to the park and walk around it and through it a lot. I knew something of its history too. When I was working on Blood and Chocolate (a community play done in 2013) looking at the lives of the Rowntree workers during the First World War, one of my first ideas was to end the show (which was a promenade performance) at the dovecote commemorating the workers who died or were injured in the war. So it felt like I had unfinished business.
"You need conflict"
Tell us about the character of The Park Keeper.
He in inspired by James (Parkie ) Bell, the first Park Keeper in Rowntree Park, who ruled and protected the park from its opening in 1921, till the end of WW2. I emphasise that he is the inspiration. It's not in any way a biography. I only know the bare facts about him. He lived with his family in the lodge over the cafe. He ran the place with military precision. Any wrongdoing and he would blow his whistle and everyone would freeze. He took his role very seriously. Everything else I had to fill in, because I just didn't have the time to do the research. So, my apologies to anyone who comes to see the play, who may have some personal connections to the real man.
What are the difficulties (and pleasure, perhaps) of writing a one man show?
Not everything is suited to be a one man show. Theatre, is dialogue. It just is. At some point you need conflict, a door to open, one person to say 'This!' and another to say, 'No, this!' It's thesis, antithesis, synthesis. In a one person show, the conflict has to be inside your character. In some ways, though, the difficulty IS the pleasure. You can sit with something for a long time in a way that you can't with more characters.
You've said about The Park Keeper – "This one had my name on it right from the start" – explain.
Well, I felt I had so much in common with the character, and so much to say about him. I made him a man who has fought in WW1 and who has just witnessed WW2. Because of my age, my grandparents went through one war and my parent through the next. As a child I was growing up in a house with all of them. Another thing that links us is that both my parents and grandparents were caretakers to the local Memorial Hall. I grew up in the house next door, almost 'over the shop, ' like Parkie Bell. There are only a few jobs where, when you leave the job, you also leave your home. I remember vividly when my parents left the house I grew up in, which was also the house my mum grew up in. Our family lived there for 50 years, but never owned it. Also, I have made the form of the play, him practicing his retirement speech, leaving a job that is also a passion. Well, over the last 18 months (especially as I turned 70 over lockdown) It has felt very much as if my career might be nearing its end. So, the character of the Parkie felt like an odd mix of my grandfather, my father and me, and a lot of the material I have used has actually been stories and memories from my own family. I had lived the research.
"Very specific to the place it's done"
You write both big and small shows – which gives most satisfaction?
I don't think it's so much the scale of the piece that is the difference. I have often worked on things where the source material is a book, and that has a different feel to doing something where the material is original. With the one, it's like a mechanic restoring a classic car and bringing it to life. The other is more like designing something from scratch. Or even like planting a seed and gardening it into full growth.
Any favourites among your past work?
It's hard to say. It's like having favourites among your children. I have always very much liked working on community pieces. The way in which they bring together, the subject matter, the performers, the audience, the place and the time in a way that only theatre can. I find it incredibly moving. It's very much of the moment, you had to be there, but when you're working on something like the Mysteries it links you with people who have been doing this for 100s of years. The Park Keeper is very specific to the place it's done, and it references the day it was given to the city, but it also tackles universal themes.
What writing ambitions are left to fulfill?
I don't know that I'm particularly ambitious as such. I just love to keep working. There is art involved in theatre, I know, but it is also very much a craft. I feel a bit like Chippendale, (not A chippendale). Did he ever say, 'Oh no. Not another table to make!' I would imagine he found it infinitely fascinating. And as the stuff of theatre is what people do and say, it is literally infinite. I do worry that people will stop asking me to do it, and I will fall out of fashion. I've seen that happen to lots of people. Theatre is something you have to collaborate on. You can't do it on your own in a garret. It needs life out in the world, people to act it and people to watch and listen.
'The Park Keeper' is performed in the Friends' Garden in Rowntree Park, York from 7-17 July.
Tickets on sale through York Theatre Royal box office 01904 623568 and via parkbenchtheatre.com