An Interview with Ian Prowse, Musician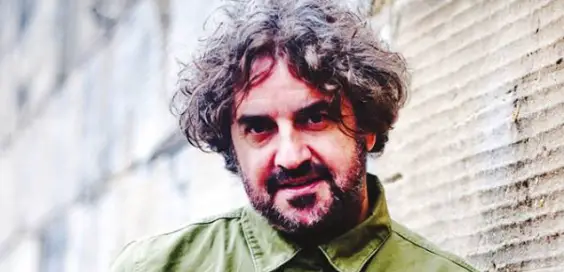 By Victoria Holdsworth
After what seems to have been a non-stop twelve months Ian Prowse, the Liverpool-based musician sat down Victoria Holdsworth to reflect on a memorable year. The frontman of Amsterdam and former lead of legendary cult outfit Pele talks about revisiting Fireworks,  and having Ian McCulloch delete him from Facebook…
Well, it has been about seven years since we last sat down face to face for a chat. The man once dubbed as the Scouse Bruce Springsteen, how have tricks been, sir?
Well, if they keep calling me the Scouse Springsteen it usually keeps me happy for about six months, if anyone has written that and I read it in a review or something. All good here! In fact it has been as good as it has ever been I have to say. I've kinda climbed back up the mountain really. It took a long time to do it, but we are back up there, and this year particularly has been a really, really great year for us, because all the old Pele fans and Amsterdam fans have all kinda realised that it's all just one big trip. So that's where we are up to, and it's been fantastic!
You were recently asked to do a Q&A session for 'The British Music Experience', about the ups and down of your career, thus far. How did it feel to have a career in music long enough to be chosen to do something like that?
[laughs] It's been a long and difficult journey, because sometimes you are making loads of money and other times you're not making anything. It's peaks and troughs, but I'm just a person really that, if I wasn't doing it, I just don't feel as though I'd exist anymore. I'm so devoted to it, and writing songs and making a living out of it, that I was never, ever gonna stop doing it, ever! So, now that it has kinda come round full circle, and I'm making a good living at it again, it's really satisfying.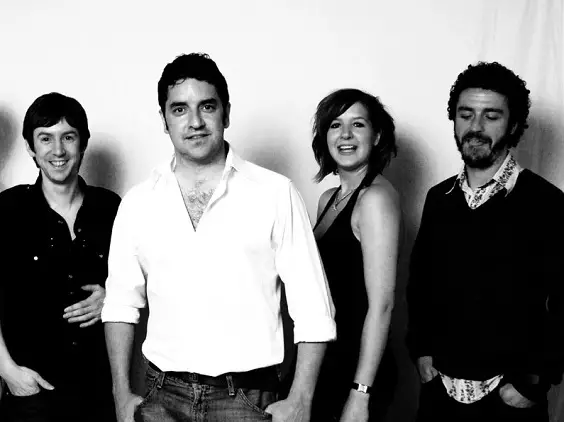 "I wrote them with passion"
So what was the best question that someone asked you that evening?
I think the best question I was asked was: "What is my guilty pleasure?" and I said Tears for Fears [laughs].
Oh Ian, really?
Yes, sorry! Very guilty!
So, although it pains me to say this, it has been 25 years since you released Fireworks (Pele's oft-referenced debut album).' You have decided to re-release it and tour it. How has it managed to stay fresh after all this time, and have you enjoyed revisiting it?
You know what? It's been the best tour that we have ever done. When I wrote those songs, 25-years ago, because I'm like a conviction singer, because I was into The Clash, The Jam and Elvis Costello, and singers who sang like they wanted to change the world, and their very lives depended upon it, then that's what made me, that's what inspired me. So, when I wrote those songs, I wrote them with passion and I meant them, so when it came around to doing them again, as you will see when we play them, it's all still there. I can easily access how I felt when I wrote them.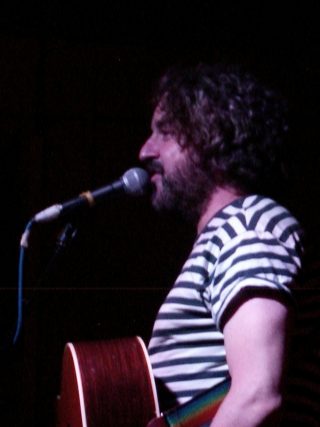 Something like 'Raid The Palace' probably mean even more now than I meant back then. It came out in The Paradise Papers, that Liz is sat there while we pay thousands of pounds for her to have her electrics fixed, when there are so many homeless people out there. The list goes on, and I am still as angry about those issues now, as I ever was. Maybe even more so. To be able to revisit all those songs has been a joy, and I will always include them in my sets.
"Playing with the band is like playing football"
I did have an interesting conversation not so long ago with Ian McCulloch, about his ranting at Facebook users about how they should be helping the homeless. When I asked him what he was actually doing, or had done to help, instead of berating everyone else that would listen, he emailed me to say he was deleting me. [laughs] To be honest, that is pretty typical of Ian. He just mouths off without actually caring.
You've got to get ya hands dirty if you care about these issues. You've got to get in there and wherever possible. I've done a lot of gigs to help raise money and awareness for homeless charities, and I try and help out wherever I can. I had Liverpool city council trying to tell me last week that they only have nine people who are actually homeless. It's ridiculous. I can see more than nine from my window in the city centre, it's shocking.
Last night you played a gig with the band, tonight you will be playing solo. Is a change as sometimes as good as a rest?
I've really, really started to enjoy doing my own solo shows. They are completely different. Playing with the band is like playing football, being solo is like rugby. They are very similar sports, but different disciplines. I've got 25-years-worth of tall tales to tell, about other musicians or the songs that I have written, the words and music that I have grown up in and with, and struggled with some times,. But I enjoy and love them both. I love being in a band, but I love what I'm gonna do tonight.
"Special gig"
You have also started some other musical ventures since we last spoke. You are now a member of the Irish Sea Sessions, which you describe as, 'part super group, part colossal session and part festival, all in a single gig'. Care to fill in the details?
[laughing] Well I got asked by The Liverpool Philharmonic. A guy there called Simon wanted to do this special gig. What is was, there was a collusion between song writers, and traditional Irish folk players, all on a big stage, like a giant session but in a proper concert setting. None of us knew how it was going to work out.
He got Damien Dempsey to do it, who is a friend and hero of mine, one of the greatest song writers that I have ever heard in my life, and we had musicians from Dublin and Belfast, all over Ireland, and us guys from Liverpool. We all got put together in the same room for three days, to formulate the show. We started every night of the show off with, 'Does This Train Stop at Merseyside', and it would go straight into a really fast musical feel.
"Superb musicianship"
The audience just started getting up and dancing. They're not all like folkies, it was everybody. The audience just got it immediately. We do some songs that are associated with Liverpool, so we do an Elvis Costello song, some old traditional Irish and Liverpudlian songs, but songs that people would know as well, so it was like a big party. But it would also break your heart with some of the playing, with the really old Irish airs about them.
It was just fantastic. To be able to play with those people and at that level of superb musicianship, it was just phenomenal. They were true rock and rollers really. They play so fierce, and I loved it. We haven't done anything for a couple of years, but we are hoping to get it back on the road again soon. It's a real eye opener for any music fan.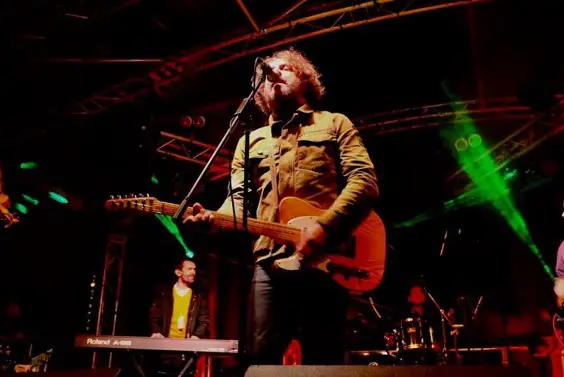 You mentioned Elvis Costello. I know you have previously worked with Elvis, and in 2014 you were asked to accept his music icon award, on his behalf. That must have been somewhat of an honour. However, was there one second when you pretended that it was really going to you when you accepted it?
[laughing] No! Because he would have found out! [laughs] He comes to Liverpool quite a lot to visit his mum, so he just said: "I'm not around at the moment, so could you go and pick up this award for me and drop it round at my mum's for us?" So I went up and collected it, and did that for him, and then the next time I saw him he said: "Where is it?" I told him that we had got it to his mum, so there was no need to worry about it [laughs]. It's on the mantelpiece at ya ma's. I saw him about two months ago, and we went to watch Liverpool play Tranmere, in a pre-season friendly, and I was obviously going to watch Tranmere, and he was watching Liverpool. When we were four goals down at half time, it was so embarrassing and he asked if I wanted to change supporting sides. [laughs]
"Amazing response"
So is Elvis Costello a Jurgen Klopp lover?
Yeah! He loves Klopp! Klopp has come out as a socialist in the past few weeks, and talking about his left wing politics. He is absolutely adored by the Liverpool fans, regardless of anything that you may read in the papers. There is no way that they will start calling for his head any time soon.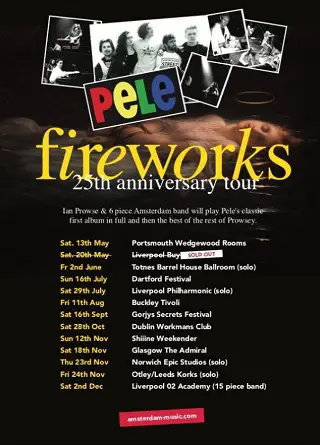 Can you tell us what was the inspiration behind your second solo album, released back in 2015, entitled Los Companeros?
I just had a load of songs I used to do as part of my sound checks, that I just kinda picked up. There are all these great songs around, and my producer Tony Kylie goes: "What's that song, from that Scottish guy about 20 years ago, what's that one?" Then he asked: "Why don't you do an album of these forgotten songs, that nobody has remembered?" In an alternative world, these songs would have been huge hits. They just didn't have as much luck as some to get them out into the world. So, we recorded them all and put them all together on the LP, and we had an amazing response to it, because the songs are so well written by these guys.
"Fascinating place"
Since you have obtained your masters degree in Irish studies, you have been providing historical, musical tours of your home city of Liverpool. Give us a quick sprint through one of your tours and what they entail.
Well one of the things I'm doing is that, if you pre-ordered the album you cold also pre-order the tour. People love it because they come into Liverpool, and there's no getting away from the fact that Liverpool is full of musical and social history, because of its position in the world with famine, slavery and how it deeply affected the city.
We meet by the cathedral, which looks like a space ship and just 30-seconds from there is where John Lennon was born. Then we wind our way down to the town and the river, and I give them the benefit of my masters degree and my local knowledge as well, and the people really seem to enjoy it. It is such a fascinating place. Liverpool is like another other city, on the face of it, but it does have its differences, it has that different edge to it. It's not more special than anywhere else, but it is different.
"It's been blood, trauma, sleeplessness"
You are well known for writing with your heart firmly on your sleeve, on many subjects such as love, racism, politics and many other nuances and social issues. Did any of that change once you became a father to a daughter, or did it just make the passions more inflamed?
[laughs] The second bit! As soon as Rosie was born, I wrote a song for her, and then I wrote another song, and another and I thought I don't want to be one of these that just writes about his daughter now. But she is a huge inspiration to me and just to have around. We were working on a brand new album, behind the scenes of the Pele reunion, and a lot of the songs start off with her being around. I just pick up my guitar and sing and music just seems to come out of me whenever she is around.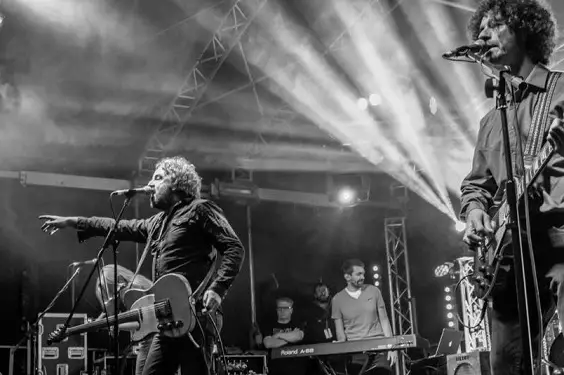 She's really into music, she loves it but its hard to explain this cosmic thing that that is her and when she came to me, it was a lot later into my life. It's been blood, trauma, sleeplessness but it has all been worth it as she gives me a different feeling to my life. As for the music she definitely helps being around. She has also made me think about my legacy as well, cause I told her that – she understands everything now that she's six – and I said to her that when I go to live in the stars, then all my songs will belong to you then, and you will own them all, and you never know kid, some of them might even make you some money. So she said: "Daddy, you'd better write some more then!" [laughs] Kids are far too canny these days!
So what can we expect from you over this next 12 months?
The Pele album is getting re-released, then it will be Sport of Kings and we are gonna go out and tour that and capitalise on what we have done this year. Then at some point there will be a brand new record, which we are kind of about a third of the way through. We are really excited about that! I just got some drum mixes back from our producer tonight and it's sounding really good. So we are just gonna keep on going with that. I'm one song short. I have to write a love song for it, but I've got lots of ideas.
All images courtesy of Ian Prowse