Hull Corporation Buses – A History and Gallery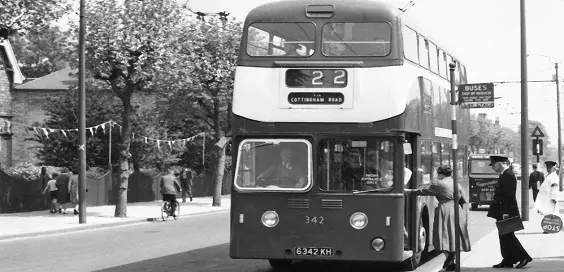 A History of Hull's Famous Passenger Transport Service, 1909-1994
by Malcolm Wells and Paul Morfitt
In 1909 Hull's tramway system comprised 116 trams running on seven routes. Powers existed for a tramway along Cleveland Street to Stoneferry Green. The Council was reluctant to build this since most of the route would serve industrial works and decided to use motorbuses even though it would lose money.
Six buses, which were purchased from the Mersey Railway Company, opened the route on 29 July 1909 from North Bridge. The losses mounted so it ceased on 5 April 1913. Not until October 1921 did motorbus operation re-start, running via densely populated areas around Charles Street and Barmston Street to Stoneferry Green.
"Immortalised"
The next route (March 1923) served the Garden Village area (built by James Reckitt for his workers). In October a route opened from the city centre to the Fish Dock, which continued via St George's Road, Albert Avenue and Sculcoates Lane to Stoneferry. This was soon divided into the City – Fish Dock and Fish Dock – Stoneferry sections, the latter immortalised with the 'Fish Dock Bus' title. It enabled workers and school children to avoid the city centre and two journeys.
October also saw a route to Preston Road via Newbridge Road. The late twenties routes to Boothferry Road and Stoneferry via Cleveland Street were started.
By 1930 the bus fleet numbered fifty compared with the trams' 179. Proposals to introduce trolleybuses were rejected by voters in 1929 and 1930, with an order for twelve Guy trolleybuses being replaced with one for motorbuses.
"Seven new bus routes"
In 1931 a motorbus-minded Duncan P. Morrison came from Dundee. He condemned the tramway system and introduced a blue and white livery based on Dundee colours. The remaining open top and outside staircase buses were replaced with a mixture of hired and purchased buses, mainly from Daimler and Leyland.
More routes beyond the tramway termini were opened in May 1930 (Sutton via two routes), along with Willerby Road (June) and Hall Road (July), followed by Greenwood Avenue in 1933. The Pier tram route was replaced in September 1931 followed by the Holderness Road tram 'TH' in June 1932.
From 27 February 1933 all Sunday morning and late night tram services were replaced with several bus routes that operated across the city centre, with cross-city workings being confined solely to these journeys. In July 1934 a coordination agreement with East Yorkshire Motor Services was introduced. Hull and the surrounding area was divided into an inner area (designated 'A'), in which the Corporation received all fares income, a 'B' area comprising mainly the rest of the city where mileage and fares were equally shared and a 'C' area, the preserve of EYMS. The outer sections of some tram routes were replaced by seven new bus routes – Pickering Road, Anlaby Common, Greenwood Avenue via Bricknell Avenue, Hall Road via Cottingham Road and two routes to Sutton Annexe and Ings Road via Garden Village.
"Replace the remaining trams"
Ten Leyland and twenty Daimler buses entered service after several months' storage. All the radial routes started from streets within the city centre. To relieve congestion some were transferred in 1933 to an area alongside the Electricity Department's head offices in Ferensway. A new bus station adjoining Paragon Railway Station designated the 'Coach Station' opened on 22 September 1935 together with a new central bus garage and parking area. Buses continued to run via Paragon Street and Jameson Street.
In 1935 Duncan Morrison was succeeded by his assistant Jack Lawson. He started to replace the remaining trams with trolleybuses (Hedon Road excepted) and introduced the streamlined azure and white livery that was to last for another thirty years. Thirty-five Daimler and twenty AEC chassis arrived in 1938/9. Plans for twenty buses annually for the next three years were thwarted by the outbreak of war, as was the plan to convert two motorbus routes to trolleybus operation. Meanwhile, new services to Hedon and Paull outside the city boundary following the joint purchase of Sharpe's Motors were started.
"Withdrawal of night services"
A works service between Queens Hotel (on Princes Avenue) and Chapman Street commenced on 2 December 1937. Routes to new housing areas at Setting Dyke (March 1937), Wold Road and Bilton Grange followed in 1937/38. An immediate result of the outbreak of war was the withdrawal of night services and the Witty Street route.
Mr Lawson suffered a fatal heart attack in November 1939. The Electricity Department Manager, Mr Bellamy, was placed temporarily in charge and not until March 1941 did G. H. Pulfrey from St Helens commence work.
The department had surplus buses since government policy forbade disposal of vehicles without permission, so it was able to lend buses to London Passenger Transport Board, Coventry and Sheffield in 1940/1. To reduce mileage, two transfer schemes were introduced in 1940. Service 48 ran between Bilton Grange and trolleybus service 64 at Portobello Street (May).
"Austerity bodywork"
The second (in July) saw service 15 running between Greenwood Avenue and trolleybus services 61/61A at the Chanterlands Avenue/ Bricknell Avenue junction, with the third (in July) service 16 from Greenwood Avenue and trolleybus service 63 terminus at Endike Lane. This arrangement, which operated between 9 a.m. and noon on weekdays, was abandoned later in the year.
On the night of 7/8 May 1941 the central bus garage was destroyed along with forty-four motorbuses, while twenty-one buses were damaged. Even buses (eighteen over two years) parked at various dispersal points were damaged at various times. Regent No. 144, which was slightly damaged at Central Garage on 31 March 1941 and at Pickering Park on 29 April, was totally destroyed on 7/8 May.
Buses were borrowed from several Yorkshire operators. Seven Daimler CP6 buses were purchased from Wallasey Corporation, their dual entrance/exit bodies being converted to rear entrance by Halifax Corporation. Hull was allocated ten AEC Regents – nine with austerity bodywork, the other (No. 196) having a Brush body intended for Coventry – and four Leyland TD7s to replace lost buses.
"Wartime chassis"
To deter short distance passengers from long distance buses, a limited stop system was implemented in 1941. The first setting down point was two stops beyond trolleybus or tram termini. In May 1941 the white areas of the livery were painted over with blue to eliminate, it was claimed, the possibility of the white being seen from enemy aircraft. Concurrently it would appear that rear destination boxes were painted over.
1943 saw the introduction of ten buses using gas-producer trailers on services 21 and 22 to Cottingham Grove estate. They were disliked by passengers who found them to be very slow. More wartime deliveries comprised thirty-six Guy Arabs carrying Massey, Duple or Park Royal bodies between 1946 and 1950 ninety-five AEC Regent IIs and IIIs together with six AEC Regals arrived.
All pre-war vehicles were withdrawn giving a fleet of 146 double deckers and six single deckers. Twenty-four Massey and Weymann bodies were transferred to wartime chassis while others were refurbished. Several received the new standard destination layout of two numbers above an aperture used to describe the main road along which the service ran. Others retained pre-war blinds, some with the Kelbus flap.
"One-man operation"
Six more Regents with concealed radiators arrived in 1953. The Department wanted twenty but was only given loan sanction for the six. Post-war extensions to corporation housing estates included Sutton Road, Bricknell Avenue, Bilton Grange, Longhill and Greatfield. The Regals were converted to one-man operation for two works services in east Hull. Ten AEC Reliances arrived in 1957/8 to permit one-man operation of routes 14/19.
The first of an extensive network of school services (between Greatfield and Bricknell Avenue) started in May 1959. Proposals to abandon the trolleybus system were confirmed in 1960. The first five of 247 Atlanteans arrived in May 1960 along with five more Reliances for OMO operations on services 26, 32 and 34. During the 1960s new estates were opened at Orchard Park in the north, Boothferry in the west, Greatfield and Ings Road in the east and the first parts of the huge Bransholme estate in the north-east.
"Quickly expanded"
In 1967 more inter-estate school and works services were introduced. In addition to annual deliveries of Atlanteans, second-hand buses came from Newcastle, St Helens, Leicester and Nottingham to replace wartime buses and to cover for extensive body repairs to the Regent III fleet. Twelve Leyland Panthers were received (an order for five more cancelled) as OMO was extended including the circular route.
In September 1969, double deck one-man operation started on the 20 group of routes. This was quickly expanded so that from November 1972 the entire network had been converted. Throughout the seventies the Bransholme estate was greatly extended, the longest route being eight miles with a journey time of 45 minutes.
New vehicles appeared in the shape of Metropolitans and Metrobuses before a reversion to Atlanteans, after which Dennis and Scania supplied buses. In 1982 a coaching arm was launched using three Plaxton-bodied Leylands in a white livery with blue and white strips as called 'KINGSTONIAN'.
"Deregulation"
The Corporation formed a limited company before deregulation in July 1986. This replaced all existing routes and reduced the fleet size from 230 to 140. Cottingham Road and Holderness Road garages (both full of withdrawn buses) were closed.
In September the company won forty-seven school contracts but incredibly was short of serviceable buses and so borrowed buses from Grimsby-Cleethorpes and Nottingham and purchased seven Atlanteans from WYPTE.
Fifteen minibuses in a tramway-inspired livery introduced three new services in 1987. In response to competition from various independents, a low cost Citilink company was formed with buses in a two-tone green livery. Later buses transferred received an all-white livery.
"Began to disappear"
Other moves included the purchase of York Pullman and two continental coach operators while the coaching side became a separate company in 1990. In 1992 EYMS started some new local routes in competition, which brought retaliation with KHCT Ltd's new routes to Hessle, Willerby, Anlaby, Cottingham, Longhill and Withernsea.
It all came at a cost as financial pressures mounted. A new management team was brought in to concentrate on the local network and sell the acquired companies. Passenger numbers had fallen and it was no surprise when the 52 per cent of KHCT's holding was sold to Cleveland Transit in December 1993. This was followed by the sale to Stagecoach in 1994 and all trace of the once respected Corporation Transport began to disappear.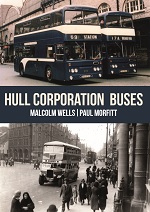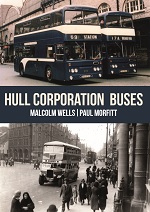 'Hull Corporation Buses' by Malcolm Wells & Paul Morfitt is published by Amberley Publishing, paperback £14.99, ISBN: 9781445667546