Yorkshire Rider Buses – A History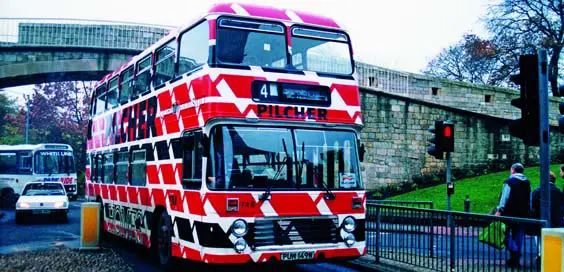 By Scott Poole
Yorkshire Rider limited took control of the operation of bus services within West Yorkshire on 26 October 1986. This was part of the deregulation set out by the 1985 Transport Act, which allowed operators to bid for services via the local Passenger Transport Authority and the Transport Commissioner of the area. Notices were issued to all potential operators during 1985, with all details concerning the new act together with details of how to register services, all of which had to be completed by 25 October 1986, otherwise fines would be issued.
West Yorkshire Passenger Transport Executive set up the new company of Yorkshire Rider. This new company tendered for all the former PTE services, operational depots and most of the bus fleet. All timetables and promotional details were supplied by Yorkshire Rider and Metro. The West Yorkshire Transport Authority published these on behalf of Rider. Together with Metro, Yorkshire Rider organised a huge publicity campaign with adverts, leaflet drops and newspaper details.
On 25 September 1986 a special ceremony was carried out to officially launch the new Yorkshire Rider bus company. This took place outside the civic hall in Leeds with the Lord Mayor, Councillor Mrs R. Lund, breaking a bottle of champagne across the front of 6120 LUG 120P. Also present were local sporting personalities – the 1986 World Snooker champion Joe Johnson and Olympic gold medallist Tessa Sanderson – with Councillor Mr M. Simmons and WYPTE MD and Chief Executive Bill Cottam. After this a cavalcade of preserved vehicles from the West Yorkshire Transport Museum, along with 1712, 1603, 5505 and 6120 all painted into the new Yorkshire Rider liveries, travelled around Leeds before venturing towards Bradford. The following day the event visited Halifax and Huddersfield.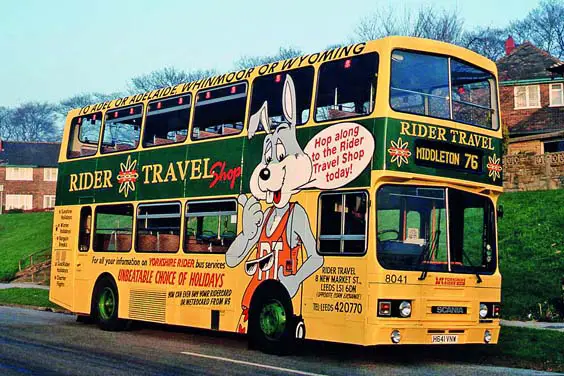 "Deregulation"
Two Leyland Atlanteans were used for livery trials behind closed doors. The new bus livery was unveiled during late September 1986, with various buses used. Brilliant green and jonquil were chosen, with fleetname and district in red. The district name was last used in 1977, before the PTE dropped these in favour of a simple livery application. After deregulation, the fleet was still in the Verona green and Buttermilk PTE livery, but by late 1988 most were painted in the Yorkshire Rider livery.
The coaching arm of Yorkshire Rider was also given a new livery. The Gold Rider fleet was painted in an overall oatmeal colour, with black skirt and red-and-gold stylised 'YR' logo. The minibuses were painted mainly in the jonquil colour with green bands and red 'Micro Rider' fleetnames. The early livery had a little bear with the word magic in a bubble. West Yorkshire PTE withdrew a large selection of new and old buses on 25 October 1986, but before deregulation the PTE purchased several Dormobile and Carlyle-bodied Freight Rover Sherpa minibuses.
The following Leyland Olympians were withdrawn from the West Yorkshire PTE fleet: 5001–17, 5049, 5050, 5056–64, 5066–76, 5078–80. These were purchased through a leasing scheme, as were Alexander MCW Metrobuses 7512–19 and MCW Metrobuses Mk II 7539 & 7540. The Olympians were sold to various operators, including Blackpool Transport, Metro Bus of Orpington, Wilts & Dorset and China Motor Bus, while some of the Metrobuses were sold to Stevenson's of Uttoxeter or London Buses. Yorkshire Rider purchased fifty-three Daimler/Leyland Fleetlines and twenty-three Leyland Atlanteans via Kirkby Central, a dealer. These were former Greater Manchester Transport buses; three had Park Royal bodies while the rest had Northern Counties bodies.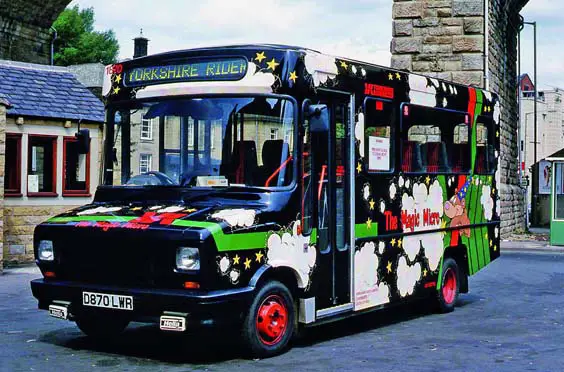 "Model rights"
The Fleetlines were settled in Halifax and the Atlanteans were used in Leeds. New integral MCW MetroRiders were purchased in 1987–8; some were coach-seated and operated with the Gold Rider coach fleet. Fifty new double-deck buses were purchased in 1988, along with twenty-five integral MCW Metrobuses and twenty-five Northern Counties-bodied Leyland Olympians. The Metrobuses were among the last examples built for Yorkshire Rider, as the MCW owners sold the MCW model rights to Leeds-based Optare during 1990. Also, during 1988, the Yorkshire Rider Limited company became the first PTC to be sold, albeit to management and employees. A selection of the new buses was used to advertise this fact with the slogan '3,500 caring owners'.
New buses ordered for delivery during 1989 were five Optare Delta-bodied DAF SB220LC, five Alexander-bodied Scania N113DRBs, and five Northern Counties-bodied N113DRBs. In 1989 Yorkshire Rider purchased the West Yorkshire Road Car Co. The West Yorkshire PTE had wanted to acquire the National Bus Company subsidiaries in 1975, but instead the Metro-National company was set up later in 1978. From August 1989 to March 1990, buses from both companies were used on all services. Before the sale was completed, various Bristol VRs and Leyland Olympians were moved to the WYRCC operation in exchange for newer Leyland Lynxes.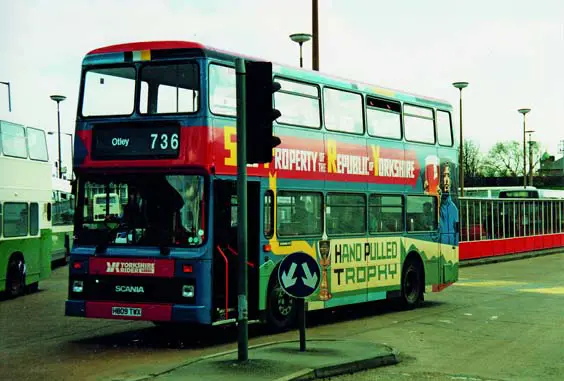 "Stock exchange"
A large selection of Leyland Nationals joined the new fleet. Twelve Leyland Atlanteans with Park Royal bodies were purchased in 1989 from Sovereign Bus & Coach in London. These buses were operated from the WYRCC Leeds depot on Roseville Road; some with West Yorkshire fleetnames over the Rider livery. During 1990, Yorkshire Rider purchased all the York-based operators and formed them into one company as 'York City Rider'. Former AJS company York City & District, along with independent operators Reynard Pullman and Target Travel, were absorbed into the Yorkshire Rider company.
During June 1991, the former Leeds depot of Sovereign Street, which was home to the driver training fleet and the minibuses, was closed. The training fleet was transferred to Bramley depot, while the minibuses were moved around the Rider depots. Yorkshire Rider floated on the Stock Exchange in preparation for bidding in the new London service tenders. Around sixty buses and a depot would be required for the services, however the bid was ultimately unsuccessful. Rider continued to update the bus fleet from 1990 with Scania N113 double- and single-decker buses and Volvo B10B single-deck buses. Twenty-three dealer stock Alexander-bodied Leyland Olympians were acquired in 1990, shared initially between Bradford and Huddersfield, with two used in York for some time on loan.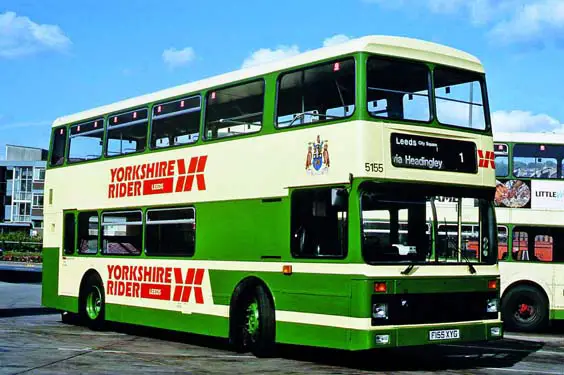 "High profile"
Yorkshire Rider had decided to purchase single-deck buses for delivery during 1993; as mentioned before, these were of Scania and Volvo manufacture. The thirty Volvos were split between Halifax and Huddersfield, while the Scanias were placed in service in Leeds. The new Strider body was designed by Yorkshire Rider and built by Alexander of Falkirk. The former tram depot at Headingley was closed in June 1992; this was first opened in 1874 and occupied by horse-drawn trams, steam trams and electric trams, with motor buses arriving in the 1940s. This depot passed to the PTE in 1974, then to Rider in 1986. Used as a temporary store soon after closure, the site was demolished and rebuilt into housing during the 1990s. Halifax and Huddersfield operations of Yorkshire Rider were given a boost with the introduction of some new service ideas.
The Flagship high-quality services were introduced to give a better service on certain high profile routes. New, cleaner buses were used and drivers with high standards were chosen to start this new drive for more custom on the buses. As the new saloons were purchased the new routes took off, and custom picked up. Further routes were examined for possible upgrade into the Flagship mould. Even some selected vehicles were painted into promotional livery for the new service.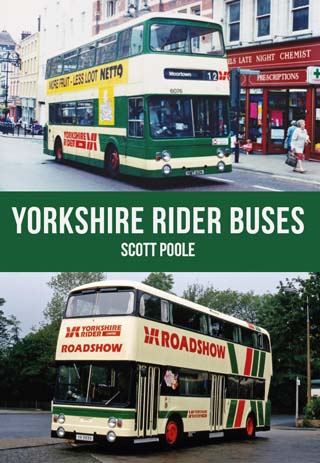 Fifteen new Northern Counties low-height-bodied Olympians were delivered in 1994, which were placed into service in Halifax. Ten full-height Northern Counties Olympians arrived in Bradford during the same period. Five Scania L113CRBs arrived in York in 1994 again with Alexander bodies, while in Leeds six Volvo B6Bs with Alexander Dash bodies arrived. More Scania N113CRB saloons with Alexander Strider bodies arrived in June 1994 – all nineteen painted into the silver and blue SuperBus livery for the guided busway services.
"Local identity"
In April 1994, the Bristol-based operator Badgerline acquired the Yorkshire operator, with no immediate change apart from the Badgerline logo in rear windows and wheel arches. During 1995 standard Badgerline single-deck buses in the shape of Plaxton-bodied Verde's and Dennis Darts with Alexander and Plaxton bodies arrived in a new darker green Yorkshire Rider livery. The new Rider district livery featured a darker green overall base livery with a cream band around the lower panels, as well as a lighter green stylised logo and blocks, while the 'R' was also redesigned and the fleetname was now in white.
The 108 new single-decker buses arrived painted into the new livery and were placed into service in either Leeds or Huddersfield. However, the First Bus group was created in April 1995 when Grampian Regional Transport merged with Badgerline and, for a time, First was the largest group operator. New ideas were quick to form within the group; a new style fleetname was applied to all buses, and soon 'local identity' liveries were introduced. Bradford reverted to traditional blue livery, but later a two-tone blue livery with red and white bands was used. Calderline, a new name for Halifax, painted its buses in a refreshing white, with blue and yellow relief. Leeds used a white-based scheme with red, yellow and orange bands, upswept towards the rear of the bus. Kingfisher, later Huddersfield, used the Badgerline Rider livery for its buses.
'Yorkshire Rider Buses' by Scott Poole is published by Amberley, £14.99, ISBN: 9781445669045
Yorkshire Rider Buses Gallery