William Thomas Marriott, Wakefield's Philanthropist Spinner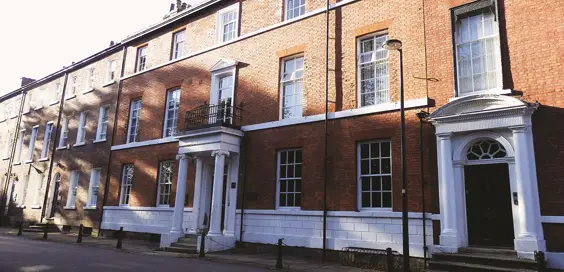 William Thomas Marriott was the third generation of the family to be worsted spinners. His grandfather, Thomas Marriott, had set himself up at Flanshaw Mill in 1815, one of the first mechanised mills in Wakefield and he and his son William had built new mills at Westgate End in 1822 and a handsome new home on South Parade (pictured above).
William later built the now long demolished Plumpton House. Both his father and grandfather died in 1832 and the business being passed to his mother. Both men were interred in the burial yard of Westgate Chapel. The mill at Westgate End was enlarged in 1831 and 1857, and William Thomas formerly became a partner in 1851, and married in 1853.
"Business was the largest and most prosperous in Wakefield"
A disagreement with his brother Aldred witnessed the closure of the Westgate End mill in 1871, but business carried on at Balne Mill, built for Tottenham Lee. The Westgate End mill stood derelict until the very end of the nineteenth century, when it was demolished and the current terrace – called 'Plumpton' – was built.
In the 1850s and 1860s Marriott's business was the largest and most prosperous in Wakefield. He prospered so much in 1867 that he purchased Sandal Grange for the then immense sum of £15,059 8s 0d.
Marriott also had an interest in Newton Colliery at Snow Hill and Wrenthorpe Colliery. In 1892 Wrenthorpe Colliery had to close for eleven weeks to repair the machinery; rather than let his workers go without pay, he paid them wages for eleven weeks from his own personal funds.
"Mark of respect"
During his lifetime he gave vast sums for the establishment of Clarence Park and the rebuilding of Clayton Hospital, as well as for the establishment of the Yorkshire College, which is today the University of Leeds.
He and his wife, like his parents before him and his grandfather, were lifelong Unitarians and active members of Westgate Chapel. He died in 1899 and is buried in the chapel yard, next to his parent's graves. As a mark of respect, the bells of the cathedral tolled throughout his funeral service at Westgate Chapel. His daughter marred Revd Andrew Chalmers and his son carried on the spinning business until 1910.
Article taken from 'A-Z of Wakefield' by Paul L. Dawson, published by Amberley Publishing, £14.99 paperback, ISBN 9781445687308