What is the Druids' Temple in Masham?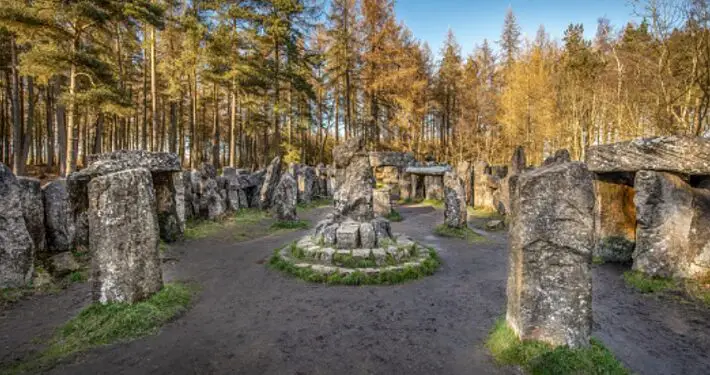 Yorkshire's Stonehenge, 200, not 2,000, years old
By Ed Glinert
Has Stonehenge been moved to Yorkshire? No, this is William Danby's druids' temple, more accessible than its Wiltshire cousin, created in 1803 in a distinctly Spinal Tap form of Stonehenge and set in a small wooded area in Fearby, two miles from Masham.
Danby, a one-time Sheriff of Yorkshire, was an eccentric landowner, and his stony henge was an unusual and ingenious remedy to local unemployment figures. He paid his workers a shilling a day to set up the menhirs, dolmens and sarsens. Once the project was finished, Danby set a challenge. He offered a salary to anyone brave or mad enough to live on the site as a hermit for seven years. He found an anonymous dupe in the 1820s, willing to spend the time speaking to no one, Meher Baba style, while allowing his beard and hair to grow uncut. He lasted four years.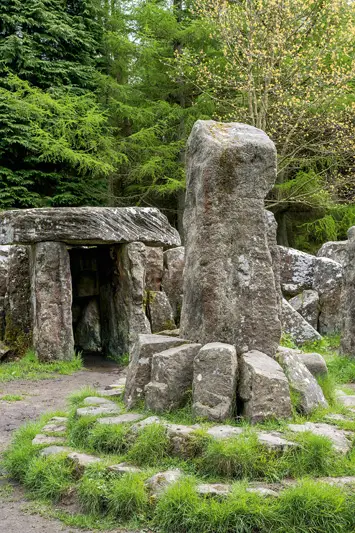 Interest in ancient Druidism surfaced in the 19th century when society began to learn that druids weren't simply pagan mystics, but that they were teachers, judges, political leaders and philosophers comparable to the Magi and the Brahmans of India, as well as mediators between man and God. Unfortunately, most texts about them were written by non-druids, particularly Julius Caesar, and to add to the confusion, their doctrine prevented them from recording their knowledge in writing as they dealt solely by word of mouth. But as History Today wrote in 2009: 'Archaeology has proved unenlightening. Not a single artefact has been turned up which experts universally agree to be Druidic.'
"Bizarre rituals"
Unsurprisingly, over the years this site has been used for devil worship, mystic practices and bizarre rituals, as Baroness Masham of Ilton cited in a speech to the House of Lords in 2000. Nowadays it attracts New Age pilgrims around the time of the summer solstice and winter equinox. One can even imagine being accosted by a disciple from Brookside's Stones of Shad sect.
Address: Knowle Lane, Fearby, HG4 4JZ, +44 (0)1765 535020
Getting there: The temple is 10 miles west of the A1(M) and 10 miles north-west of Ripon
Hours Accessible: 24 hours
Tip: Peculiar to Masham is the Peculiar of Masham, a harlequin-like figure based on local crusader Roger de Mowbray and known far and wide as the logo on bottles of Theakston's ales. In olden times, civic and religious affairs were presided over by the Peculiar of Masham – am ecclesiastical court of 24 men that still exists and rules on matters such as drunkenness and brawling.
Article taken from '111 Places in Yorkshire That You Shouldn't Miss' by Ed Glinert, available here