Barnbow Munitions Factory, Cross Gates, Garforth, Leeds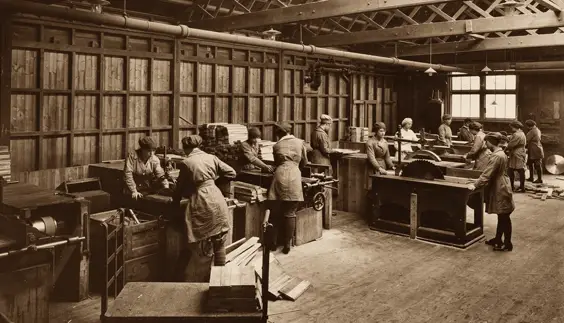 By Paul Chrystal
Barnbow was a First World War munitions factory located between Cross Gates and Garforth in Leeds, officially known as National Filling Factory No. 1. Sadly, Barnbow is best known for the massive explosion which killed thirty-five of the women workers in 1916.
When war was declared, shells were being filled and armed at Leeds Forge Co., Armley, which by August 1915 was filling 10,000 shells every week. This, however, was insufficient to meet demand so a committee, chaired by Joseph Watson, the Leeds soap manufacturer, was set up to build a new munitions factory. Railway tracks were laid running into the factory complex to carry materials in and finished goods out. Platforms over 800 feet (240 m) long were added to the nearby railway station to help transport workers to and from work at the site; power lines were erected to bring power and a water main was laid to deliver 200,000 gallons of water per day. Shell filling work began in December 1915.
"Working conditions were nothing short of hell"
One third of the staff was from Leeds while others commuted from York, Castleford, Wakefield, and Harrogate; by October 1916 the workforce exceeded 16,000 people, 93 per cent of whom were women and girls – the Barnbow Lasses.
Earnings averaged £3 per week, though bonuses allowed women handling the explosives to take home up to £12 per week. Thirty-eight trains per day – Barnbow Specials – carried the workers to and from work. Working conditions were nothing short of hell: workers who handled the explosives stripped to their underwear, and wore smocks, caps, rubber gloves and rubber-soled shoes to avoid sparks.
Cigarettes and matches were obviously banned, as were combs and hairpins to prevent static electricity. There were no holidays; shifts were eight hours long. Workers were allowed to drink as much barley water and milk as they liked and, to help with the milk, Barnbow had its own farm, with a herd of 120 cows producing 300 gallons of milk per day. Working with Cordite turned the skin yellow and the only antidote was milk. Because of the yellowness of the women's skin, the women were called the Barnbow Canaries.
"Britain's premier shell factory between 1914 and 1918"
On Tuesday 5 December 1916, 170 women and girls had just started their night shift: 4 ½ inch shells were being filled, fused, and packed in Room 42. At 10:27 p.m. there was a massive explosion which killed thirty-five women outright, maimed and injured many more. Many of the dead were only identifiable by the identity disks. Production was interrupted only for a short time, and once the bodies were recovered, other girls immediately volunteered to work in Room 42.
None of this was made public until 1924; at the time death notices appeared in the Yorkshire Evening Post, simply stating cause of death as 'killed by accident'. There were two further explosions at the factory, the first in March 1917 killing two girl workers, the other in May 1918 killing three men. Barnbow was Britain's premier shell factory between 1914 and 1918. By 11 November 1918, a total of 566,000 tons of ammunition had been shipped to the various fronts. Apart from setting up the dignified memorial, in 2012 the people of Leeds named a number of parks, buildings and streets in memory of the Barnbow Lasses.
The names of those who died are listed in the roll of honour in Colton Methodist church and in York Minster.
Extract from the book 'Leeds in 50 Buildings', courtesy of Paul Chrystal
Available from Amberley Publishing: amberley-books