Kotor, Montenegro – Travel Review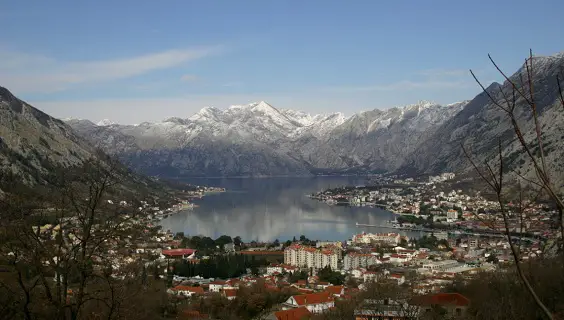 By Helen Johnston
The last thing I expected to hear while walking round a baking hot town in Montenegro with a gangly tour guide called Wolf, was a reference to Yorkshire. But as he battled to have his voice heard above the rival guide standing a few metres away, there it was loud and clear – Leeds. Wolf (Vuk in Croatian, which he said was too much like a swear word to use) was telling us that Montenegro is one of Europe's smallest countries, with a population of around 700,000 – the same as Leeds.
"In fact, if you took all the people of Montenegro and moved them to Yorkshire, you wouldn't even notice," he joked. He added that if they want to play the accordion in Montenegro they have to do it vertically because if they play it horizontally one elbow will be over the border.
Montenegro – some 1,600 miles from Leeds – might be small, but it is perfectly formed. The Bay of Kotor is breathtaking, its clear blue waters towered over by green wooded mountains, terracotta-roofed villages clinging to their bases.
"Venetian influence"
The walled town of Kotor on its shores is like something out of a fairy tale with its jumble of narrow streets breaking out into occasional piazzas. There's an Italianate feel to the architecture, thanks to a Venetian influence, and Wolf was at pains to point out that Kotor never succumbed to the Ottomans, despite many attempts in 500 years.
Montenegro's neighbours are Croatia, Bosina Herzegovina, Serbia, Kosovo and Albania. The borders are not open, so crossing from Croatia involved long queues. Or it would have done if our Croatian guide Andy hadn't slipped a ten Euro note into the hands of the passport checker. Andy was open about this, saying it was good to have connections and corruption was rife.
There was more cloak and dagger stuff at our first stop, to visit Our Lady of the Rocks, a tiny man made island in the Bay of Kotor. Andy said only Montenegrins were allowed to work as tour guides in Montenegro so we had to pretend not to know him as we walked from the bus to the ferry.
"Lovely"
"I will walk ahead of you and pretend to be a tourist and take photos. You must not come near me or talk to me. Or I could be in serious trouble," he warned, somewhat theatrically… There's an art to following someone at a distance without being noticed, but we all played our part and no arrests were made.
The island, with its lovely little church, was built by two sailor brothers after they credited the Virgin Mary with saving the life of one of them when he was taken ill at sea. The church is so small that numbers entering at any one time are restricted.
Afterwards we piled back onto the coach, we were told by the driver that the temperature had risen into the scorching 40s.
Winding our way round the bay by coach, Andy said we would be taking the ferry back because it's much quicker, pointing out with a wry smile that the profitable ferry was owned by the prime minister.
"Cruise liner"
Every bit of shade in Kotor – a World Heritage Site – was taken up with huddled groups of tourists, including many Americans from a visiting cruise liner taller than the city walls.
Montenegro's economy needs its tourists to survive. Most people work in the holiday industry for seven months of the year, saving hard to keep them going over the jobless winter months.
Wolf explained how during the so-called homeland war, after Yugoslavia broke up, Montenegro never invaded any other country. "All we wanted was to defend our own land, our own country," he stressed.
Montenegro was one of those countries that I'd only heard of on the Eurovision Song Contest, a dot on the map of the Balkans. It is hoping to join the EU and negotiations began in 2012. The currency is already the Euro.
Aside from the border checks and the occasional barbed comment, Montenegrins seem to get on well with their Croatian neighbours at least. And the occasional ten Euro note obviously helps.
images courtesy of photo-montenegro.com