Four European Breaks for Tennis Lovers
By Richard Jones
As soon as the summer tennis season starts, the country's courts are full of people trying to emulate what they have seen at Queen's Club and Wimbledon.
But if you like to play all year round and fancy travelling to a destination where the sun shines and courts, balls, equipment, competition and tuition are plentiful, then look no further than activity holiday specialist Mark Warner, who have been perfecting the art of tennis breaks for nearly 50 years.
Their resorts are also renowned for their great locations and surroundings, and a stay here is as much about relaxing by the pool as perfecting your top spin on the court.
With Wimbledon on the horizon, we take a look at what's happening at four of Mark Warner's Greek and Turkish tennis hot spots.
Intensive Tennis Week at Paleros Beach Resort, Greece
Nestling in a sheltered bay alongside the Ionian sea on the west coast of mainland Greece is Paleros Beach resort, home to Mark Warner's popular Intensive Tennis Weeks.
The next available course, led by tennis pro Andrew Parsons, is running during the week of September 24, and this specialised programme (£300 per person) includes a week of intensive coaching and matches.
With 20 hours of on-court instruction, including clinics in groundstrokes, net play, service, tactics, and match play, as well as a speed serving competition and singles and doubles tournaments, this is an excellent opportunity for serious players to up their game.
Paleros also offers a diverse range of sports activities from rowing and wakeboarding to cycling, as well as exceptional childcare.
First Service for Families at Aeolian Village Beach Resort, Lesvos
Newly opened for 2023, Aeolian Village Beach Resort is tucked into a private corner of Eressos beach, a gorgeous sandy bay on the southwest coast of Lesvos.
Set in mature gardens, against a backdrop of mountains, it is a short walk from the laid-back seaside village of Skala Eresou.
With outstanding sporting facilities, experienced instructors, as well as expertly crafted sundowners and ample loungers, Aeolian Village offers a perfect holiday balance between activity and chilled-out hospitality.
You can choose from three Astro tennis courts, as well as a newly opened padel court. As with all Mark Warner resorts, kids can try tennis in the included childcare activity sessions, while there are specific LTA courses and intensive sessions on offer at an extra cost.
In addition to tennis, other activities include sailing, windsurfing, water polo, arts, music and beach and pool fun.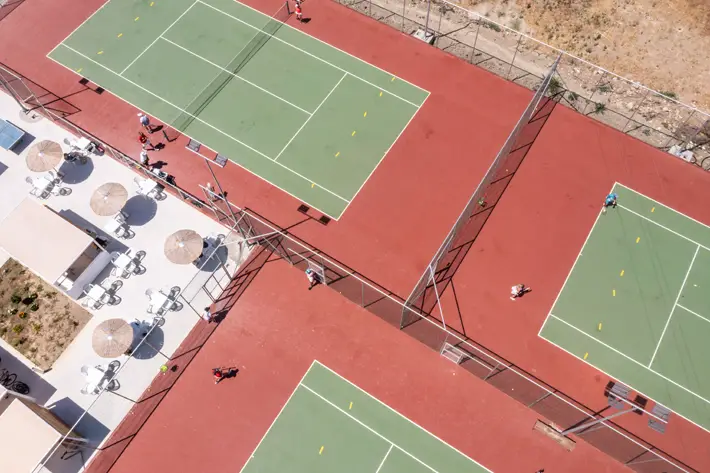 Practise Your Padel at Kamari Beach Resort, Rhodes
Padel tennis – a tennis-squash hybrid – is the UK's fastest growing sport and is taking gyms across the country by storm.
It is played on a smaller court and the ball can be played off the walls – meaning it is kept in play much longer and is considered easier than conventional tennis.
Stretching across pristine Lardos Beach, near the popular town of Lindos, Kamari Beach Resort, with its white-washed buildings, huge pools and lawned gardens, has three floodlit hard courts and is a great destination for tennis lovers.
The famously sunny island has a warm, gentle breeze that makes for perfect playing conditions.
Along with the traditional tennis courts, 2023 will see the opening of three new padel courts at the resort, so you can try a game or two against family, friends or fellow guests.
Give Pickleball a try at Phokaia Beach Resort, Turkey
Pickleball is an even more recent addition to the UK tennis scene. A cross between tennis, badminton and ping-pong, it is immensely popular in the US and has high-profile fans including the Clooneys and Leonardo Di Caprio. Even Novak Djokovic likes a game.
In a prime beachfront setting, close to the charming town of Foça in Turkey, Phokaia Beach Resort features three floodlit tennis courts which are ideal for anything from a friendly game to a fiercely competitive tournament, or perhaps a game of tipsy tennis for two.
And new for 2023 are three pickleball courts, giving guests the chance to test drive the fast-growing sport.
Once you've reached game, set and match, you can choose from one of the three pools, fantastic watersports – with perfect conditions for sailing and windsurfing close to shore – great cycling and an extensive programme of classes. Alternatively, sit back, relax and soak up the spectacular sunsets with a sundowner in hand.
For more information about holidays at Mark Warner resorts, go to markwarner.co.uk
Jet2 offers flights to Greece and Turkey from a number of major UK airports. See jet2.com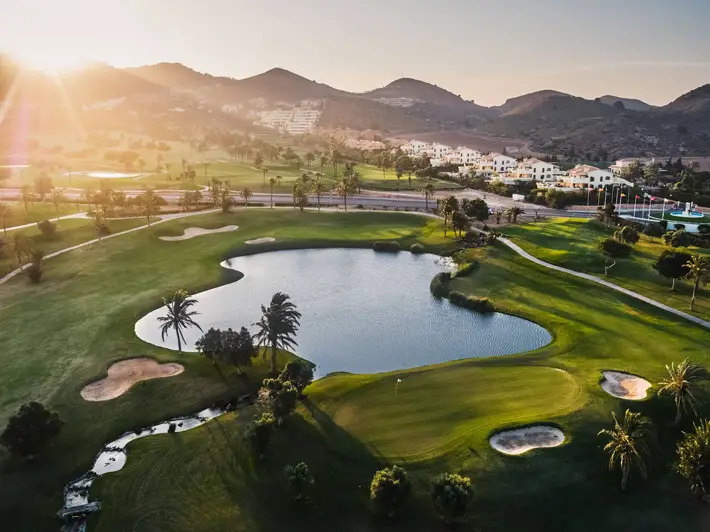 Lovin' La Manga
Last year marked the 50th anniversary of La Manga Club – the iconic sports and leisure resort in Murcia, southeast Spain. It also opened a brand-new Racquets club last year, with a gym, bar and restaurant, while padel tennis and pickleball are now popular, alongside regular tennis and golf.
Bellaluz, with two large pools and playground, is a hub for families at La Manga Club, and nearby, in Playa Honda, is the fabulous restaurant Apicoco Bar & Grill.
La Manga Getaways, which manages 60 luxury, holiday rentals, is also celebrating its own 20-year anniversary. They have one-bed apartments from £400 pw, one-bed villas from £650 pw and two-bed villas from £800 pw.
For more information, go to lamangagetaways.com, call 0034 868 086 990 or email info@lamangagetaways.com