Varidesk Pro Plus 36 – Product Review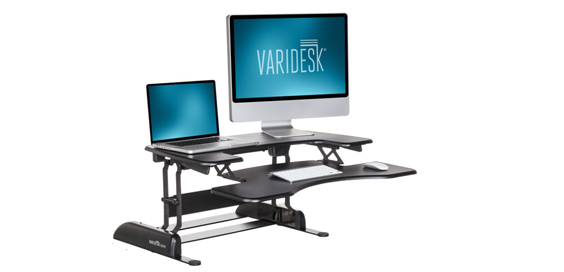 Varidesk Pro Plus 36
Product Review
by Roger Crow
Overview: Standing at work is the new sitting, as I've noticed in recent years. As someone who's spent 28 years sat behind a desk, and often have a swollen ankle to prove it, I'm all for a desk that means I can work standing up, and not be desperate to sit down after a few minutes.
A friend has one in the office and seems to have overcome muscular problems caused by sitting at a desk all day. Obviously there's a lot of elevated desks on the market, and when offered the chance to try Varidesk's, I wonder if it's a gimmick that will grow tired fast.
What Varidesk Say:
"Forget Sittingitis – Sitting for long periods of time, it's well known that standing up is the answer. Whilst standing desks have many great benefits including lowering your blood pressure, reducing the risk of Cardiovascular Disease, reducing the symptoms of lower back pain and improving your posture, they also burn around 50 additional calories an hour whilst you use one. So by standing half of your working day, (4 hours out of 8), you'll burn a staggering 200 extra calories a day, that's 1,000 per week and a massive 52,000 each year. That is the equivalent of running 18.71 marathons, all from behind your desk, all whilst you work. This easy switch will get you more active in no time at all.
Features:
Two-tier design: upper display surface, lower keyboard/mouse deck.
I try the Pro Plus 36, which holds up to 35lbs.
The largest model (Pro Plus 48) holds up to 45 lbs (20.4 kg)
Sits on top of existing desks.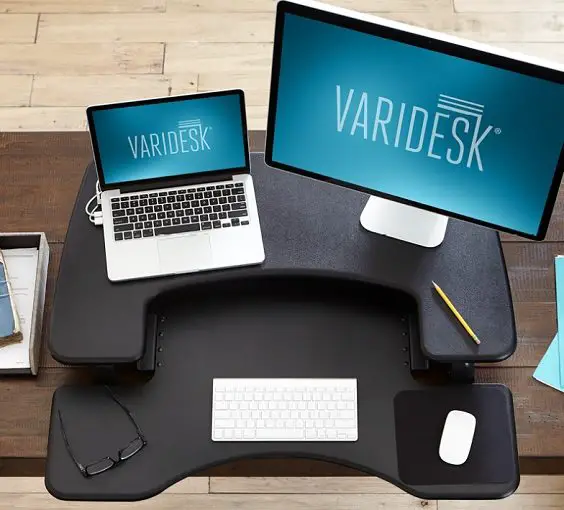 My Experience:
No matter how closely you study the specs, it doesn't really prepare you for how big it is. (Around 3ft wide by 2.5ft long). Thankfully mine was delivered at home so all I had to do was lug it into position, sever the plastic packing straps, and slide the beast out of the cardboard packaging.
The cardboard pretty much opens up anyway to reveal the impressive contents. Then it's advisable to get a friend/partner/random person off the street to give you a hand getting it onto a large enough table.
I'll admit it was a tad imposing welcoming this hefty slab of office kit into my small home, but once in place it works its magic. Bearing in mind I do a lot of work sat in an armchair, which definitely doesn't help my posture or swollen ankles, then having a decent desk is instantly a bonus. One that rises up to meet me with a couple of clicks on opposing levers is a major plus.
As a design geek, I love it. It's ergonomic with a contour curve which means I sort of dovetail with the desk if you like. Or to put it another way, there's no danger of getting a desk crease in my hypothetical six-pack. (That will arrive in time, I'm sure).
It's surprisingly stable when fully extended. There's no fear of it toppling over. The base is so solid and well balanced that it's a masterpiece of design.
Most of all it has that life-enhancing factor and helps me focus. There's something about working stood at a desk that focuses the brain more than being sat down.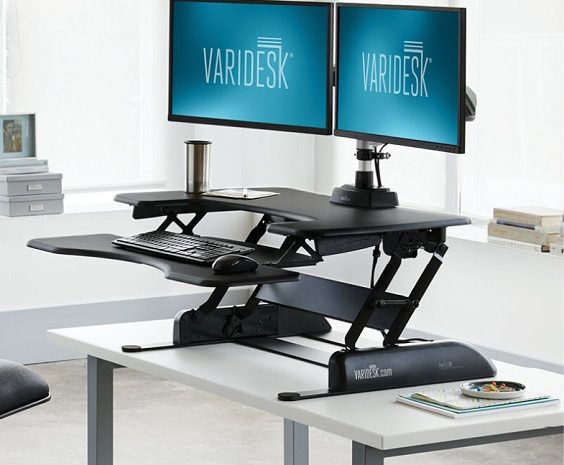 The verdict:
A really impressive piece of office kit, beautifully designed. Yes it's huge, but just using it made me feel less of an enthusiastic amateur and more like someone focused about their work. Once you get used to the up and down controls, it's amazing how fast it becomes a part of the room and working life. There's a couple of nice peripheral touches in the form of cable ties and a coaster; it's funny how fast a desk feels at home once you pop a cuppa on it.
Fast forward a couple of days and it's become a wonderful addition to my home office, not that there was much of one before, but now it actually feels like a healthier alternative to sat on my derrière, which I do more than enough of.
It's still early days on that home marathon-six pack front, but safe to say the hype is well justified. To paraphrase a certain X Factor judge, I don't just like the Varidesk Pro Plus 36. I absolutely love it.
The Varidesk Pro Plus 36 is available in white or black at £365 from uk.varidesk.com