An Interview with Jessie Wallace
Mama Morton provides the fear and scares in Chicago, and one of Britain's best-loved actresses is stepping into her shoes for the musical's UK tour. Jessie Wallace talks to John Bultitude about strong women, Shane Richie and snatching some solitude…
She is the keeper of the keys, the countess of the clink and the mistress of Murderer's Row. Mama Morton rules the roost as matron of the women's prison block in Chicago and is a character who oozes power and domination.
A bit of a far cry from what is arguably Jessie Wallace's best known role as the feisty but vulnerable Kat Slater. One of the best-known residents of TV's Albert Square and a woman we all admire for wearing her heart on her sleeve and always trying to do the best for everyone while putting herself at the back of the queue.
So stepping into the shoes of a brand new character is definitely proving both nail-biting and a challenge for Jessie. As we chat just a couple of performances into the run, she admits it is a daunting role. But the chance to play Mama, with a hugely supportive cast and big audiences, is making her latest role a joy.
She explains: "I am working with a great cast, a fantastic band and it is the sort of show I will never get bored of. There are just so many layers to it and it is just so sexy. The choreography is brilliant, everyone looks so stunning and I just sit in the wings in complete awe. I am so lucky to be part of such a great production."
"I am finding my niche now"
Part of the attraction was the chance to become one of the more frightening female characters in musical theatre. Jessie recalls: "I wanted to do Mama Morton because she's such a strong character. I went and auditioned for the American producers which I was very worried about. I had to speak in an American accent and to do that in front of them was tough. But I got it and I am so proud to say to people I am playing Mama Morton. It is such a great character. I can't imagine anyone wouldn't want to play her."
And Jessie is no stranger to playing such strong women. Even if you do not watch EastEnders, the iconic character of Kat Slater is well known. Up there with many of the other iconic female characters so beloved of the soaps, like Peggy Mitchell, Pat Butcher and Bet Lynch.
But they are just a small part of Jessie's career. Other previous roles include East End music hall legend Marie Lloyd in a BBC4 drama and her Bafta-nominated performance as Weatherfield's great character on and off-set, Pat Phoenix, in another highly-regarded BBC4 drama The Road To Coronation Street. "I am finding my niche now. It is very flattering that people offer me these parts and the chance to play such strong women. It is fantastic," she says.
"Finding a different layer to her every night"
The latest is Mama Morton. Jessie admits the producers and creative team have pulled out all the stops to help her bring the perfect portrayal to the stage. She says: "As soon as I get the suit on, I am her. They certainly don't cut corners in this production. They have beautiful wigs. Sam, who looks after them, is incredibly talented. I had a special suit made with a basque underneath. As soon as I get into that suit, I am Mama. Walking proud, slow and masculine!"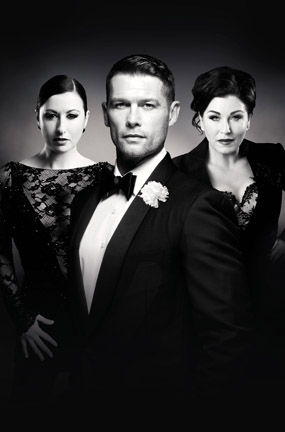 "It is all about the Roaring Twenties and all these women who are in prison for murder. I am the only one in it who wears a suit. That alone makes a statement, do you know what I mean? She is the queen of the clink. I am finding a different layer to her every night and making her stronger and stronger. I am getting some comedy in there as well."
But while her character Mama may rule the roost and want to be in control, off-stage Jessie is praising the strength and support she is getting from the entire company. Her co-stars include her former EastEnders colleague John Partridge. He plays the sharp-suited and sharp-thinking lawyer Billy Flynn. Plus, there is stage and soap favourite Hayley Tamaddon who takes on the part of Roxie Hart. the character will do anything she can to avoid the ultimate fate of all Death Row inmates after killing her lover.
"Johnny is great to work with, and Hayley is just so unbelievably talented. I am just in awe of her. She is on stage a lot more than me and she has got a lot more to do, especially dancing. She is a true musical theatre pro. In fact, the entire cast are," she says.
"Shane and I know each other inside out"
And as for the music, Jessie is promising every single song is special. There are no dull moments in this production. She says: "There is quite a lot of the musical where you are just sitting on stage waiting for your cue. I thought that is going to be so boring. I was so wrong. But I don't mind sitting there because I just love this music and I love this musical. There is a phrase that Shane Richie uses when he sees a show that he likes. He says 'there is no fat on it'. I never really understood what he meant until I did Chicago. There are no boring bits. It is just boom, boom, boom all the way through and it is just so tight."
It is not just musical advice that Jessie gets from her EastEnders co-star and great pal Shane Richie. Their Walford alter-egos Kat and Alfie were loved by the nation and that great bond continues off-set and off-stage too. Jessie laughs: "Shane and I know each other inside out. We are best pals in real life and when we are working together, we hang out together. We're never apart. We went straight from EastEnders into a tour of the Peter James thriller The Perfect Murder to critical acclaim. After that, it was straight to Ireland for five months to film for BBC1 on a new series. Now, even though we are not working together, we still keep in touch. We join up again for a project in November."
"I had no idea how popular Kat was going to be"
And it is that Ireland project which has also enthused Jessie. The EastEnders spin-off entitled Redwater will hit the small screen early in 2017 for six one-hour episodes. It will see Kat and Alfie on a very important personal quest. Although Jessie is not allowed to say too much about what happens in the series, she does concede: "It has been an amazing experience. I have just finished working with the most talented cast in Ireland – people like Fionnula Flanagan and Angeline Ball."
And she is also delighted that it takes Kat Slater on another journey more than 15 years after she first set foot on Albert Square. "I had no idea how popular Kat was going to be when I first played her. As an actor, you have no idea how people are going to take to your character." With a gale of laughter, she adds: "It is great when I tune into EastEnders now and again and they still talk about her."
At the moment though, her focus is on theatre. She admits she has a particular affection for those designed by the legendary designer and architect Frank Matcham. "As soon as I walk onto the stage at a Matcham theatre, I feel the shape of the auditorium is like a big hug. Straight away, I feel at home," she admits.
"Going for a lovely run makes me really refreshed"
Touring does mean spending little time at home. Although Jessie says she is adapting to that. "Living out of a suitcase comes hand-in-hand with what you are doing. Acting is what I have chosen to do and that is my career. It is what I do for a living. You get used to it."
And making the most of down-time is important to Jessie too. For her, enjoying a nice long run in a quiet spot helps her recharge the batteries. "That to me is relaxing. You can do that when you are on tour and in the theatre. You have got the whole day to sort everything out and just breathe. Going for a lovely run makes me really refreshed and then I am ready to go."
That means she is poised and prepared to once again scare the inmates as Mama Morton and add yet another strong woman to her ever-strong performing portfolio.
Jessie Wallace stars as Mama Morton in 'Chicago' at Leeds Grand Theatre until 26th November.