An Interview with Casper Van Dien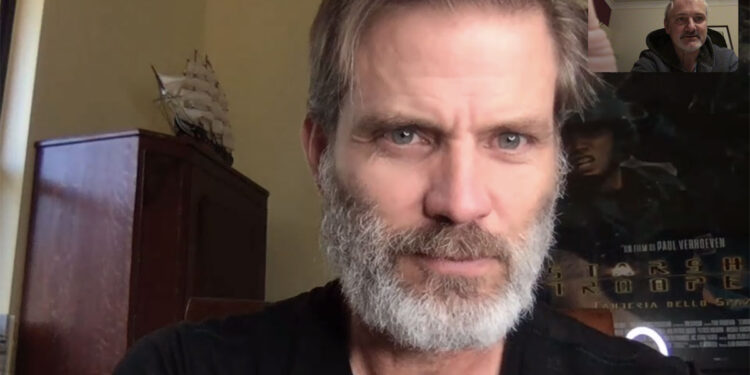 Casper Van Dien has worked on some of the best loved projects of the past 25 years, including Starship Troopers, Sleepy Hollow and Alita: Battle Angel. Here, he talks to @Roger Crow about his movie Skin Collector, and working in Yorkshire on G-Loc…
Hi Casper. I enjoyed your movie Shiver, aka Skin Collector. How was it working with the director, Julian Richards?
Julian's awesome. I love working with him. We were going to work together a couple of other times, so I hope we get to do it again.
Your character Delgado is fascinating. It's been a while since you made it, but would you like to return for a sequel?
It has been a long time, but it would be cool if we made a sequel. I'd definitely be interested in revisiting that. It was a lot of fun. Julian's super creative, and he was like the glue for that film.
Tell us about the prop which has a personal attachment for you.
The Gryphon, used by the serial killer, John Jarrett, was done by my cousin, Raymond Hunter. He's a sculptor, so he made that for us just for the film.
What was the most interesting day of filming?
The cool thing was we were shooting in Portland, Oregon, and it rained a lot there. I know you guys get a lot of that in the UK as well, but it's nice in that area. It really kind of coincided with the (mood of the) film. The day that meant a lot to me was when my cousin got to come on set with his wife and kids with the sculpture, and they bought it to the set. So that was kinda cool.
"My parents gave me a lot of structure"
You're no stranger to Yorkshire having worked on G-Loc. How was it?
It was fantastic! I'm working with director Tom Paton again really soon. Actually he and I are in talks on two films. I'm doing this (points to his bushy beard) for the Tom film. I might have to shave (for another role). I'm doing an apocalyptic film with him. I've been growing this for a month and a half now, so I'll see where we go with that.
Strangely you shot G-Loc six miles from my front door. Was it a culture shock working in Bubwith?
Oh wow! The pig farm! (Highfield Grange was converted into a film studio a few years ago). It wasn't such a culture shock. I travel so much; I grew up in a military family. The first five years of my life were in Okinawa Japan; I grew up on sailboats, and spent a lot of time in boot camps.
So plenty of chance to soak up global culture?
Yes. I always had to read books, watch movies and go to plays at theatre wherever I am in the world. I'm very much about culture. My parents gave me a lot of structure, but they also made me very aware of others, so I'm eternally grateful for their wisdom.
You've been in so many projects. Have you had a day off in the past 25 years?
I've had almost the past 10 months off (laughs). Though I worked with Tom DeLonge (Blink 182) in October, which was a lot of fun because he directs 'musically'. He'll listen to a song when he's directing, listening to the beat. And he'll say "This is what'll be playing when you're in this scene." Of course I'm still working on the show All American, which I do in the States. I play the father one of the kids, and that's a lot of fun too. My wife just wrote two scripts and she's working on a third. She's just sold one and she's got someone who is interested in the other one, so all of a sudden she's doing these romcoms, which is like a throwback to romcoms like 50 First Dates and The Wedding Singer, and they are really adorable.
Thanks for your time and stay safe.
Thank you. You too.
'Skin Collector' is released February 15 on DVD & VOD