7 Undeniable Reasons to Up Sticks and Make the Move to Marbella
If there is one thing that's synonymous with the UK, it has to be the gloomy weather. Sure, we get some sunshine here and there in the summer months, but for some, it's not enough! If you're the type who is forever counting down to their next holiday and being on the beach with a cocktail in hand, have you ever thought of making the move permanently somewhere hot and exotic? If you answer yes to this, read on!
There are plenty of sunny and luxurious destinations across the world. But, for those who don't want to tread too far from home may like the idea of Marbella. Situated on southern Spain's Costa del Sol, Marbella is a resort area and city that welcomes thousands of British tourists every year, some of whom decide to stay put! Here are just some reasons why it may make sense to pack up, get on a plane and start a new life in sunny Marbella.
Glorious Weather
We can't kick things off without talking about the obvious – the glorious weather! Marbella can be found around the Mediterranean Sea. This means you're sure to be in for a treat if you're after somewhere warm throughout the year. Marbella experiences a modified climate that's described as nothing short of pleasant. One of the alluring factors of Marbella is the city isn't incredibly hot during the summer months, nor freezing cold in the winter. This means if you like to get out and about throughout the year without sweltering or shivering, it could be the perfect hotspot to reside in!
If you're not the biggest fan of rain (we don't blame you), you'll be delighted to know Marbella has over 300 sunny days per year! For those who are dead set on making the move to Marbella, the main piece of advice we can give is to make your sunglasses (and plenty of them!).
Magnificent Homes
It's one thing visiting Marbella on holiday as opposed to actually living there. If you're leaning towards the latter, understandably, you'll want to find a home that ticks all the boxes and is somewhere you could see yourself living for many years to come. For those who have cash to splash and want something that oozes luxury, you've definitely come to the right place. Marbella is bursting with magnificent homes!
Inspired by the Andalusian architecture, you can find a wide array of astonishingly beautiful homes across the city. From modern city apartments to gigantic mansions in the hills, you're sure to find an abode that's perfect for your needs. Some expats uproot to Nueva Andalucía which is Marbella's biggest neighbourhood. Check out BRIGHT who have luxury property for sale in Nueva Andalucía. Simply get in touch with the team who can take you through their select portfolio of luxury villas.
Delicious Cuisine
Calling all foodies! Are you looking to expand your culinary palette? If so, Marbella is waiting for you. It's safe to say this city's local cuisine is nothing short of amazing. There are plenty of restaurants all over Marbella that serve brilliant delights, with Spanish dishes being front and centre, of course. Perhaps Marbella's most popular dishes include Gambas al pilpil (garlic prawns), Fritura Malaguena (fried fish) and of course, Tapas!
You will find the top Marbella restaurants around the beach. This means after a day of relaxing by the ocean, you can head to an eatery and satisfy your tastebuds. Some of the most popular restaurants include Timonel Marbella, Pasticcio Pizza & PastaBar and Restaurante Playa Europa.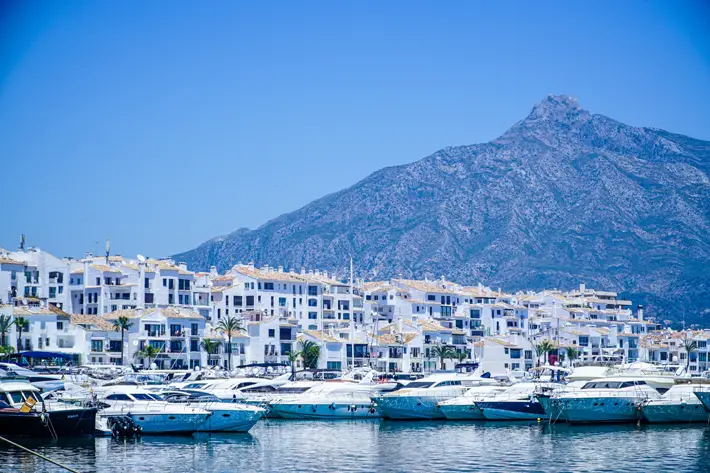 Proximity to Towns and Major Cities
While you'll naturally want to spend a large bulk of your time enjoying all that Marbella has to offer, you're going to want to explore other areas too. Should cabin fever ever set in, why not head out of town for a few hours and check out another city and town? Thanks to Marbella's location, you can easily get to nearby towns and cities, some of which are only minutes away in the car! For example, why not head on a road trip and check out Casares? This nearby village can be found in the mountainous region that offers gorgeous views.
If you're getting a little homesick and want to venture back for a trip, Malaga Airport isn't too far away from Marbella. This means you can get to and from the UK with ease. Alternatively, there's always the option to drive, but just be prepared for a lengthy journey ahead of you! For those who have business affairs back home, knowing you can jump on a plane and be at a conference within a matter of hours is certainly an appealing factor.
Plenty of Beaches
Those in the UK who aren't lucky enough to live by the seaside may have to go on lengthy car journeys to stroll on the sand and take in the waves. If you resonate with this, we've got some good news for you – Marbella is bursting at the seams with beaches! There are plenty of beautiful spots you can enjoy that are sure to be within walking distance from your new home.
Whether you want to grab a sun lounger and top up your tan, indulge in some water sports or just sit down, close your eyes and hear the calm, relaxing waves crash in and out, it's little wonder why so many tourists, locals and expats can be found on one of the many beaches across the city.
Friendly Neighbours
Whenever you move somewhere new, you're always hoping you'll have friendly neighbours who make you feel right at home. Understandably, when moving abroad there are going to be completely different cultures to learn about and respect. However, Marbella residents are known to be down to earth and approachable. You'll find many of them speak English too which is a godsend!
Also, you could be rubbing shoulders with global megastars too. Make sure to grab your celebrity sunglasses as you will be living among celebrities. Whether it's football stars, musicians, actors, or oil magnates, don't be too surprised if you stroll down the street and pass someone you normally see on the television!
Lots of Shopping Opportunities
The shopaholics need to read this one! If you love nothing more than a bit of retail therapy, Marbella has you covered (and then some). This Costa del Sol capital is home to a string of luxury boutiques. Some of the most popular include Gucci and Louis Vuitton. For those who like the finer things in life and want designer pieces, you're in luck!
Those whose budget doesn't stretch as far as Chanel and the like can head to Marbella's Old Town Shopping Centre. There, you can enjoy a thriving shopping environment that's crammed with historic remains, shops, and places to pick up some souvenirs.
Since its founding in 1600 BC, Marbella is now a cultural hub that's enjoyed by millions on the Costa del Sol. Whether it's the guaranteed sunshine that tickles your fancy or the amazing properties dotted across and around the city, it's easy to see why thousands of expats have set up base in Marbella and call it their forever home.