Il Paradiso Del Cibo, Walmgate, York – Restaurant Review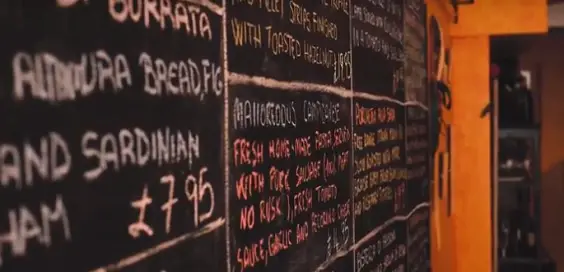 By @Roger Crow
It's been one of those rainy days like Karen Carpenter used to sing about, and I'm in need of something to lift my spirits. Thankfully I've been invited to one of my favourite restaurants in York, which is a guaranteed pick-me-up on a day like this.
The last time I was at Il Paradiso Del Cibo was a few years ago for my wedding anniversary dinner, and we were treated to so much food it was crazy. Course after course kept arriving, and we resorted to keeping the wine bottle on the floor because we'd run out of space on the table.
Obviously with Covid bringing a lot of eateries to their knees over the past 18 months, I'm just delighted that ever inspiring owner and chef Paolo and his team are still in business, let alone serving some of the best food in the region.
We're here to try the tasting menu, and it does not disappoint.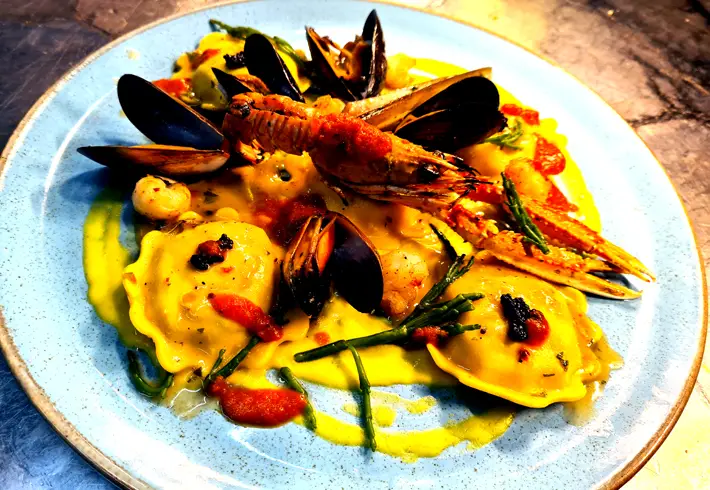 "Pretty formidable"
Inbetween sips of Campari con Vernaccia, I dig into a selection of trade cured meat and the most delicious Pecorino cheese. It's the perfect way to ease into our evening.
That's followed by mussels and clams in tomato, garlic and more Vernaccia wine; a pasta parcel made with squid ink filled with groupier, prawns and mussels in a lobster soup. (Drooling again). The humongous king prawns with rosemary, lemon and sun-dried tomatoes are pretty formidable.
One of the finest dishes of the event? Malloreddus al ragù di agnello: Sardinian pasta, hand-made in a shape that resembles a maggot in a classic lamb ragù with a Pecorino and saffron foam.
(As a side note, pasta was used in James Bond epic Licence to Kill as a double for maggots, and now I'm wondering if this was the same stuff).
"Taste is so incredible"
Okay, maggots and pasta in the same sentence are not a great mix, but the flavour is out of this world.
"It's made with 100% semolina, Italian eggs, and a little bit of sauce. Nothing else," reveals Paolo, before explaining Rachel's veggie alternative – semolina pasta, tomato, basil and Pecorino cheese.
I'd forgotten what a culinary genius Paolo is. He'll happily talk you through every dish, explain its ingredients, and why the taste is so incredible. "Pigs fed on acorns to give the pork an extra special flavour". That sort of thing. The resulting meat with braised broad beans and sauce is especially good.
Rachel has sea bream with lemon, large olives and capers. One bone can make her abandon a dish, so I'm impressed by the fact the fish has been meticulously filleted.
We round things off with a delicious limoncello, which takes me straight back to my tour of Sorrento a few years ago, and remains one of my happiest experiences.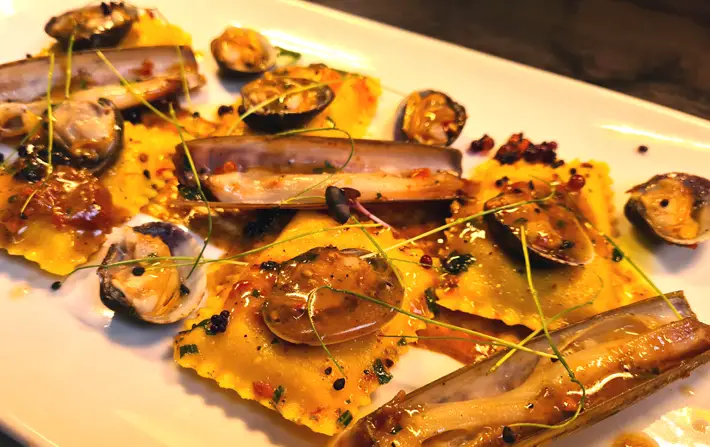 "Nothing but praise"
My fellow diners, who are regulars here, have nothing but praise for the place, and the fact they've never had a bad dish is understandable.
It's been far too long since our last visit, and now things seem to be returning to some sort of normal, I'm delighted to be back. As with our previous visit, Paolo and his team happily provide vegetarian or vegan dishes for those who prefer.
We had the end of Summer/Autumn menu that will change with the seasons. Six courses: £55; Six courses and wines: £70.
If you are a newcomer to arguably York's finest Sardinian restaurant, go hungry before you visit and prepare to be amazed. If ever there was an eatery to ease those rainy day blues, Il Paradiso Del Cibo will definitely leave you feeling on top of the world.
Il Paradiso Del Cibo, 40 Walmgate, York YO1 9TJ
Opening Times:
Monday to Thursday: 6PM – 10PM
(Lunch Midday – 2:30PM)
Friday to Sunday: Midday – 10PM
01904 611444
paradisodelcibo.uk