The Alice Hawthorn Inn, Nun Monkton – Restaurant Review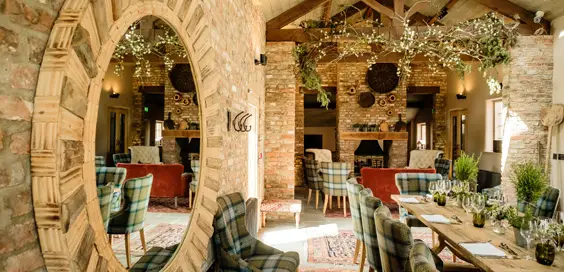 By @RogerCrow
I'd never been to Nun Monkton, that picturesque little village between York and Harrogate, but I'd heard good things about The Alice Hawthorn Inn. So when offered the chance, we set off on the 35-mile drive wondering what we might expect.
It's relatively easy to find, and when Rachel and I rock up 45 minutes early, it gives us a chance to get a parking space and have a wander. I'm glad we're early because the place is idyllic. A family of ducks are enjoying life on the village pond, and there's a chance for selfies by the UK's largest maypole.
Then there are the cows, happily keeping the village green trim, some idling away in the road while 4×4 drivers patiently wait for them to get where they're going. The idyllic St Mary's church, tucked away at the end of a country lane, framed by a weeping willow, is also a must visit, while the red phone box on a green is a lovely touch. There's no litter, noise or revving engines. It's one of the most serene places I've been.
So how does the beating heart of the community, the local watering hole, live up to this perfect setting? The answer is very well.
After ordering a couple of drinks, Rachel and I are shown to our window seat in a beautiful dining room. Paintings of dogs in clothes could have been the epitome of kitsch, but here they work surprisingly well. Next to us is an old oak table that could have been plucked from the set of Game of Thrones.
"Animated Constable painting"
While waiting for our starters, we watch the local lawn mowers chomp their way across the village green. Though the skies are leaden, it doesn't detract from the atmosphere a bit. It feels like we're in an animated Constable painting.
The waiting staff, Sam, Helen and Enzo, do a terrific job. It's not long before we feel at home, and the stresses of the hour-long drive have melted away.
So, starters then. I opt for Ee By Heck – scotch egg, Alice's black pudding, belly pork and scrumpy jus. Every element complements one another beautifully, and as someone who grew up on black pudding, and had a few decades off, this is the best I've tasted.
Rachel chooses Leek and Jersey Royal Potato soup finished with Parmesan and chive cream from the specials menu. It's delicious, and perfect for a day which feels more autumnal than mid-summer.
Now given the fact we'd just watched a family of ducks and a herd of cows, there's little surprise I avoid such items on the menu. (I canard-ly bear to look at the duck dishes for fear of guilt. And if you think that Gallic-infused gag's bad, wait 'til you get to the end).
I'm torn between choosing something I think I should have, aka daring and a little pretentious because of the food snob in me, or good old fish and chips. Though I'm happy to pepper a review with phrases like "amuse bouche", Yorkshire common sense wins out. By 'eck, that Ee by Heck has clearly worked its magic.
"Great blend of flavours"
The North Sea haddock fillet in an ale batter with minted garden peas and tartare sauce is just the ticket for a Saturday lunch time. The chips are equally outstanding, and at £13.95, it won't break the bank either.
Rachel's vegetarian choice is a lot more daring. A Roast Cauliflower Steak with mushrooms, pistachios, hazelnuts, baby spinach and truffle proves a great blend of flavours. You get a lot for your £14.50. "Half the amount would have been fine," she explains, defeated.
"Have you decided on calories?" asks Enzo as I choose dessert. I go for sticky toffee pudding with caramel sauce and vanilla ice cream. Though it's the weak link in an impressive chain of dishes (the pudding is slightly over cooked), it's not a deal-breaker. I still demolish two thirds.
Over great cappuccinos and complimentary fudge, my sugar rush leaves me buzzing.
It's one of the most enjoyable dining experiences we've had all year, and the fact The Alice Hawthorn Inn is now building new rooms, we wouldn't need to think twice about popping back later in the year.
So, a glorious place for dining and a drink, with wonderful staff. In fact in the local area, I'd say that when it comes to outstanding dinners, there's nun better.
The Alice Hawthorn, The Green, Nun Monkton, York, YO26 8EW
Opening Hours:
Mon-Tues Closed
Wed-Sat 12.00-11pm
Sunday 12.00-8pm
01423 330303
thealicehawthorn.com