Italian Sparkling Wines: Which are the Best?
Italy is one of the largest wine producers in the world. Some of the best specialties come from the so-called "Bel Paese". There are many variations of Italian wine, but the most appreciated is sparkling wine.
Many types of sparkling wines are produced in Italy and differ according to structural characteristics and not only. Which are the best? Let's discover them with a selection of the best types of sparkling and carbonated wine.
Italian Sparkling Wines: the best to try
There are some wines to taste to fully understand their potential and their characteristics. Some of these are truly unique and irreplaceable.
Among these, we find a type much loved by foreign consumers, Franciacorta DOCG. This sparkling wine is produced in the province of Brescia, in Lombardy, in the territory called Franciacorta. The minimum aging period of this wine is 18 months. The vintage edition of Franciacorta DOCG must age 30 months, while the reserve version must age 60 months.
Another very famous sparkling wine is Prosecco DOC: the name Prosecco is known all over the world, many producers want to imitate this exceptional white wine. However, the original one is produced only in Italy. Precisely, this is a wine from Veneto and Friuli-Venezia-Giulia. Prosecco has a creamy flavour that is hard to forget. Everyone loves it!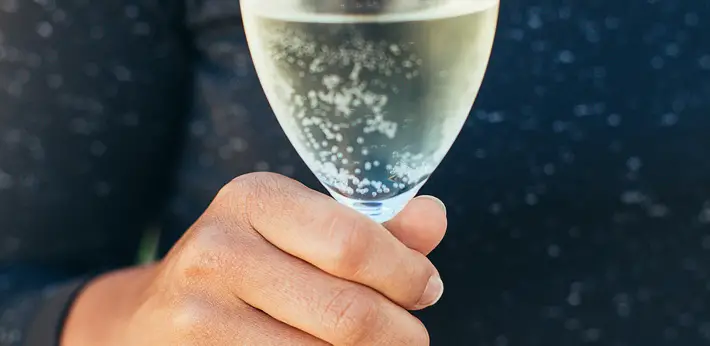 Trento DOC must be included among the best Italian sparkling wines. Trento DOC was born in the Dolomites, the Italian mountains. The area in which this wine is produced is natural and uncontaminated and it is about 800 hectares. This drink is produced thanks to Champagne grapes and is left to age in the bottle. Trento DOC wine must lees for about 15 months. In this way, it's possible to obtain the classic version. Regardless, those who want to enjoy a reserve version must wait 36 months.
Moscato d'Asti DOCG is a Piedmont wine very famous in Italy and the world. This is a fizzy wine, slightly different from the classic sparkling wines. Anyway, its taste is pleasant and exquisite. The alcohol content of this lively wine reaches just 5%, so it's very low.
Ultimately, there is Rabosetto IGP. This one is a remarkable and fresh wine. Besides, this wine is refreshing and effervescent. It is the right drink to be enjoyed during events or celebrations.
What do you have to eat while drinking sparkling wine?
Everyone has to eat something while drinking a glass of sparkling wine. What are the best choices in this case? Well, there are some delicacies to try, for example, crackers with gorgonzola or cheese could be the first choice. The intense taste of these appetizers combines perfectly with sparkling wine.
Vegetarian skewers can be a good alternative. The recipe for this delicacy is easy to follow. Plus, the main ingredients are cheap and healthy.
Many people love to enjoy croutons with ham and figs. This combination may seem strange, but it is an exceptional mix. Anyone must try it!
Last but not least, there are the canapes. The latter can be customized with different sauces and ingredients. However, those who want to follow an original recipe can prepare canapes with mayonnaise and salmon.