Top Summer Styles for the Office this Year
So the summer is finally here, and with it hopefully sunshine and a bit of heat. However the sunny summer days can feel a bit of a challenge when dressing for the office. Finding the right outfit that can cope with commuting, extreme heat, icy air conditioning and the occasional summer storm is a tough task.
If you need business wear for work, then it can be hard to find something that works well in all scenarios and is still stylish. Here are some great ideas that will help you feel great at work all summer, and have you ready to meet any business challenge that may come your way. We will show you how making a few simple changes to your wardrobe will make a big difference to your summer style and comfort.
Invest in a summer trench coat
The camel or beige trench coat will always be a classic for many reasons. Firstly a slightly fitted shape is incredible flattering, especially if you are able to have it tailored to your specifications.
The trench coat will also see you through from Spring to Autumn, with only the possible addition of more layers underneath on those colder days.
The trench is also light enough for when it is not really cold, but not warm enough to go without, and on summer rainy days it will stop you getting soaked on your way to or from work. And because it is so light, if you do need to take it off and through it over your arm, it's definitely not going to weigh you down. So for outerwear, a trench coat is perfect in most scenarios.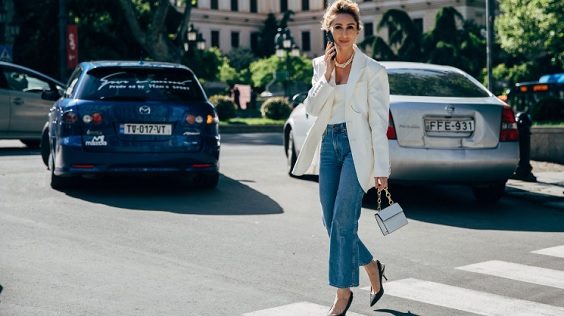 On the warmest days a linen suit will keep you cool
Linen is an amazing versatile fabric. Made of natural materials it allows the skin to breathe in a way that a normal suit does not. The other great thing about linen suits, is that you can mix and match. A linen jacket looks equally great with jeans for a more casual look that still has class and style.
Linen trousers can be dressed up or down, with heels, sandals or even sneakers. Just match with anything from a casual shirt or a smart blouse and some signature jewellery for something that is elegant yet still professions.
Of course one of the best things about linen is that it is so comfortable. It is also easy to find in a wider range of colours, particularly lighter summer shades, than you would find with a more traditional style work suit. Try to opt for something that is fitted to suit your body shape, it will be a lot more comfortable and will look better on you too.
Team up your usual suit jacket with a summer dress
There will always be a place for women suits in the workplace, even the non-linen variety. There is nothing that looks smarter than a well tailored blazer jacket over a smart pair of trousers.
But for the hottest parts of the summer, a suit can sometimes feel a little restrictive and too hot for comfort. There are two ways you can help avoid this. Firstly, make sure your suit fits. Most discomfort with a suit is simple because it has been bought off the rack and simply does not fit to your body shape. Tailored suits are far better, and not as expensive as you might think when compared to the brands on the high street.
And for when that heatwave really strikes, swap the blouse and trousers for a summer dress. Something lighter, fitted but not too much, and some summer patterns can look great. Yet because you have teamed it with a great blazer, you will still look like the professional you are rather than like you are heading out for an afternoon picnic.
One option you might want to consider is the classic shirt dress. Light, floaty yet fitted and smart it will look great under any suit jacket, will be stylish and cooling and looks equally as good when you remove your jacket.
Let your feet breathe in some summer sandals
One way that you can definitely stay cooler this summer is by choosing the right summer shoes. Winter shoes are just not right for the summer, especially if it is too warm for hosiery. You can get a great look by choosing a shoe that is a bit more open, made of natural rather than synthetic materials, and allowing the foot to breathe. You will be amazing the difference it makes.
If you are not keen to get your toes out in the office, then try a pair of smart espadrilles or closed toe sandals with an ankle strap, with or without heel will do the job just as well and still look smart enough for that important meeting.
If you really can't bring yourself to put your faithful courts or brogues to one side, then you simply must invest in some low rise socks. They are now much better and more widely available than in previous years and much less likely to slip down inside your shoe.
Swap your trousers for a midi skirt
Another way to style a suit jacket and blouse is to just swap your usual trousers for a calf length skirt. The midi skirt is much better option for the office than the usual pencil skirt or other fitted styles.
Do not be afraid to experiment with a little colour as well. Between a normal white shirt and a tailored jacket it will not look too much for the office and gives you a chance to show off your personality too.
When it comes to preparing your summer work wardrobe, with just a few well made key essentials you can look great, feel great and get on with being your driven and motivated self without distraction. Women have a lot more options than men when it comes to summer work wear, so make the most of it. The best part, most of these summer options easily transfer into evening attire for a few post work cocktails on a Friday!