Elevate Your Corporate Style: A Guide To Buying Trendy Work Bags
In the corporate world, your work bag is more than just a utility item. It's a style statement, an extension of your professional image. You carry it every day, and it holds your essentials. Different types of work bags serve unique needs, from classic briefcases to modern messenger bags. This article aims to be your ultimate guide for choosing a work bag that's both trendy and functional.
Elevate your corporate style by making an informed choice today.
1. The Classic Briefcase
The classic briefcase has long been a staple in the corporate world. Originating in the 1850s, it has remained timeless due to its elegance and functionality. It's a symbol of professionalism, often associated with lawyers, executives, and other high-ranking professionals.
A briefcase is most appropriate for formal settings. These include board meetings, client presentations, and job interviews. Its structured design exudes authority, helping you make a lasting impression.
Leather remains the top choice for classic briefcases. It's durable and ages gracefully, adding character over time. Other materials like canvas and synthetic leather also exist but are less common in high-end models.
2. Slim Leather Laptop Bag
In today's digital age, your laptop is your workspace. It holds valuable data and is often essential for work on the go. Protecting it is crucial. A slim leather laptop bag offers a blend of style and security for your tech investment.
Leather is not just about looks; it offers durability, too. It's a material that withstands wear and tear, looking better with age. Leather is also resistant to water and dust, providing an added layer of protection for your laptop.
If you prefer a bag that's got a slimmer profile, then the Exquisite slim laptop bag is a great choice, made from full grain leather, and available in a range of colors (including the red variant in the image).
3. The Modern Messenger Bag
The modern messenger bag strikes a balance. It's casual enough for daily commutes but can still look professional. With the right material and design, it fits seamlessly into a corporate setting.
Messenger bags shine in less formal settings. Think coworking spaces, casual Fridays, or business lunches. They're also perfect for those who cycle or walk to work, thanks to their crossbody design.
These bags come in various materials like canvas, leather, and nylon. Designs range from minimalist to feature-packed. Leather offers a more polished look, while canvas gives a laid-back feel.
4. The Chic Tote Bag
Tote bags are a fashion-forward option. They offer roomy interiors, making it easy to carry everything from laptops to cosmetics. They also come in a variety of designs, making a style statement.
While anyone can use a tote, they are particularly popular among female professionals. They offer a blend of style and practicality that's often missing from traditional work bags.
Totes are available in an array of materials. Leather totes offer a high-end, professional look. Canvas and nylon options provide a casual, versatile style. Choose based on your workplace and personal aesthetic.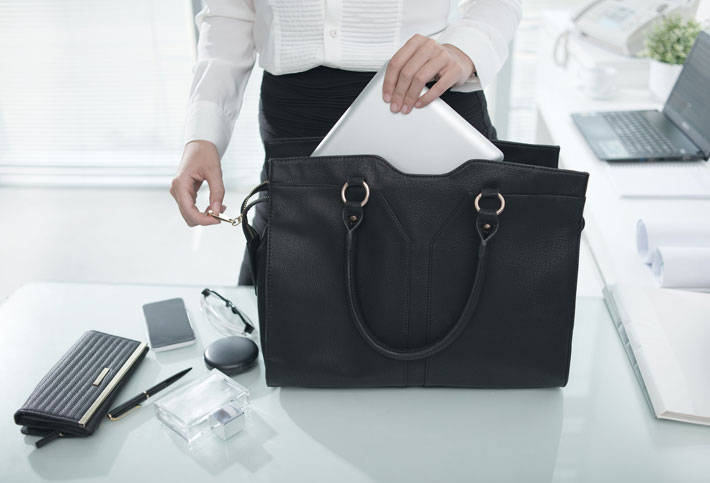 5. The Versatile Backpack
Backpacks have evolved from schoolyard essentials to versatile work accessories. They offer a blend of function and style. Modern designs are sleek and professional, easily fitting into a corporate atmosphere.
Backpacks are ideal for more casual or dynamic work environments. They are also perfect for professionals who commute by public transport or bike. Their two-strap design distributes weight evenly, making them comfortable for long periods.
Key features to look for include padded laptop compartments, multiple pockets, and durable zippers. Also, consider materials like water-resistant nylon or premium leather for added durability and style.
Factors To Consider Before Buying
Choosing the perfect work bag isn't just about style; it's also about practical considerations. Before you make your purchase, let's dive into some key factors that will ensure your new bag meets both your fashion and functional needs.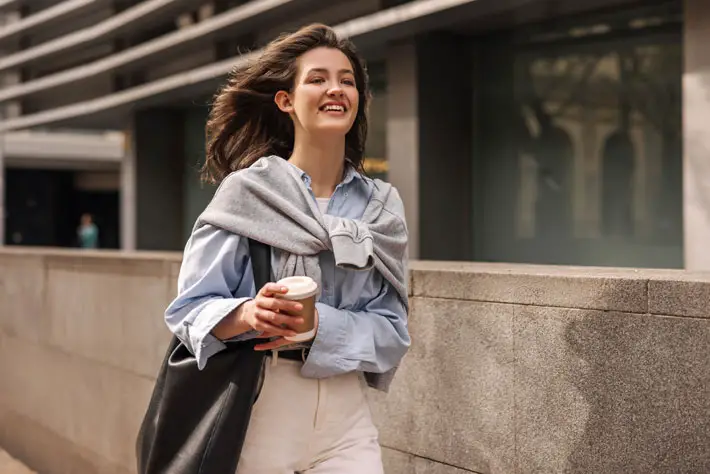 • Budget Considerations
Your budget plays a significant role in your choice. High-end brands offer premium materials but come with a price. More affordable options can still meet your needs without breaking the bank.
• Material And Durability
Material is key to a bag's lifespan. Leather is durable but costly. Canvas and nylon are less expensive and still offer good durability. Choose based on your work setting and how much you'll use the bag.
• Versatility
Consider how versatile the bag is. Can it transition from a work setting to a casual outing? A versatile bag offers better value, as you can use it in various situations.
• Storage Needs
Think about what you'll be carrying. Laptops, documents, and personal items all need space. Look for compartments and pockets that meet your specific storage needs.
These factors will help guide you to a work bag that's both trendy and functional, elevating your corporate style.
Conclusion
Your work bag is an investment in both your professional image and daily convenience. From the timeless briefcase to the versatile backpack, each type serves unique needs and style preferences. Prioritise factors like material, storage needs, and your work setting to make an informed decision. Make your choice today and step up your professional game.