Waitress – Review – Hull New Theatre
By Rachel Howard, February 2022
I'm just going to come out right out and say it… I've think I've found my favourite musical. I've watched many shows over the years, both West End and touring productions – all with their own merits – but I have finally found the one to occupy the top spot – Waitress. Now, let me explain how I have come to this rather monumental conclusion…
Arriving at Hull New Theatre for opening night, I am unsure what to expect. I have heard of Waitress and know it had been in the West End prior to the pandemic, but I don't know the storyline at all. I am excited to see there are a few familiar names appearing in this touring production – Chelsea Halfpenny (Emmerdale, Casualty); Matt Jay-Willis of Busted boyband fame; and Sandra Marvin (Emmerdale). In my experience, well-known faces don't always guarantee a successful production, but I've got a good feeling about these three.
Waitress is a musical based on a 2007 film of the same name. With music and lyrics by Sara Bareilles, it is notable in that it was the first female-led creative team to bring a musical to Broadway, and then to the West End. It follows the story of Jenna Hunterson (played faultlessly by Chelsea Halfpenny), a pie baker and waitress at Joe's Diner. She is trapped in an abusive marriage to the downright evil character of Earl (Tamlyn Henderson) and things go from bad to worse when she discovers she is pregnant with his child.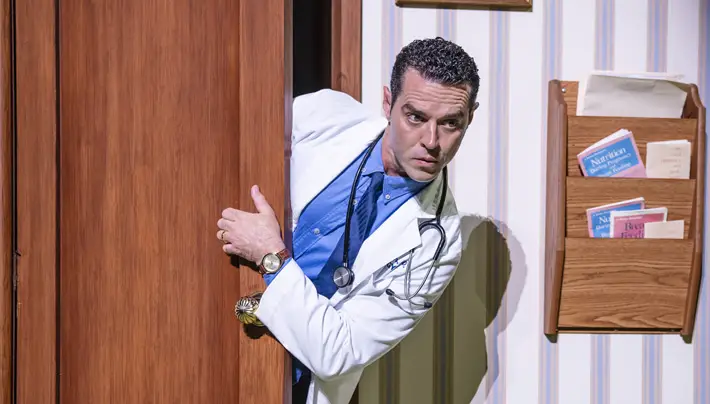 "Emotional rollercoaster"
Supported by her waitress buddies Becky (Sandra Marvin) and Dawn (Evelyn Hoskins), Jenna soon realises she not only wants to keep the baby, but also find a way out of her miserable relationship and into a happier, more fulfilled life. Enter Matt Jay-Willis as Dr Pomatter…
Replacing Jenna's recently-retired family doctor, Doctor Pomatter is a nervous, awkward chap played masterfully by the pop star. The seemingly endless moments of silence and the fidgety nature of the character really drive home his vulnerability, which, of course, soon leads to attraction to our leading lady. His shyness gives way to charm – and he soon provides Jenna with the light at the end of the tunnel she so desires. Just one problem – he's married. As is she. I won't give away any spoilers for the future of this budding romance – you'll have to go see for yourselves!
But while Jenna is dealing with her turbulent personal life, Becky and Dawn are dealing with their own issues, manifesting in some of the biggest laughs of the night – especially when Dawn's suitor, Ogie (George Crawford) makes his memorable and eccentric appearances at Joe's Diner. All three supporting cast members demonstrate excellent vocal abilities and superb comic timing.
Waitress is a show of two halves – the first half being mostly light-hearted, fun and, at times, downright hilarious, thanks to characters such as Dan, Becky and Ogie leaving the packed auditorium is in hysterics. In stark contrast, the second half is an emotional rollercoaster, which tugged at my heartstrings more than any other musical I've seen. Jenna and Earl's broken relationship plays out in graphic detail, as are her lyrical "letters" to her unborn baby.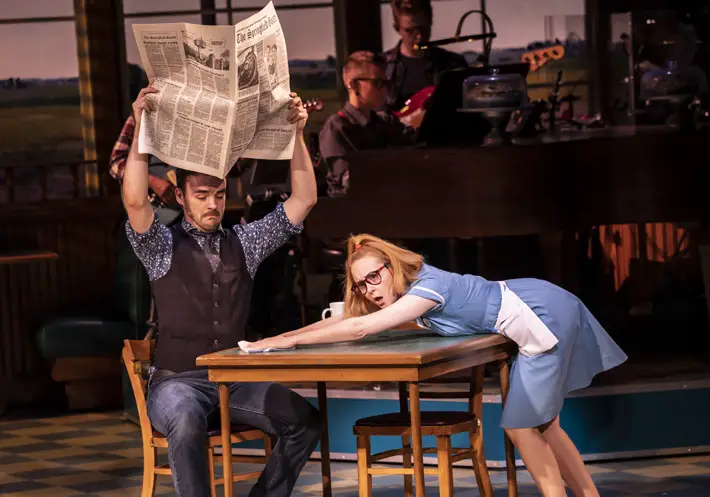 "Sensational"
But the show stopping moment has to be her performance of 'She Used To Be Mine'. Chelsea Halfpenny performs this number exquisitely. Filled with raw emotion, she is vulnerable yet powerful, and absolutely note perfect. There wasn't a dry eye in the house, and the whoops and hollers from the audience confirms Halfpenny's place in all our hearts.
Waitress really is a spellbinding show. From the talent on the stage, to the seamless set changes and a top-class orchestra that resembles more of a rock band – for me, it covers all the bases. I'm sure the odd mix of subject matter may not gel well for everyone – abusive relationships, unwanted pregnancies and adultery may seem like heavy topics to set in an American diner famous for its pies. But that's exactly what I love about it. It isn't all saccharine, cheesy jazz hands; and it isn't weighed down by its serious moments. It is a perfect mix – much like Jenna's pies themselves.
The creative team that first brought the show to Broadway back in 2016 should be immensely proud of the production they created, as should the current cast of the UK touring show. It's a travesty that it isn't currently showing in the West End, but hopefully that will be rectified soon.
In the meantime, this touring production provides the perfect recipe for a sensational musical – a spoonful of toe-tapping music, a pinch of glitter, a sprinkling of emotion and a good glug of comedy. What more could you ask for?!