Brief Encounter – Review – Stephen Joseph Theatre, Scarborough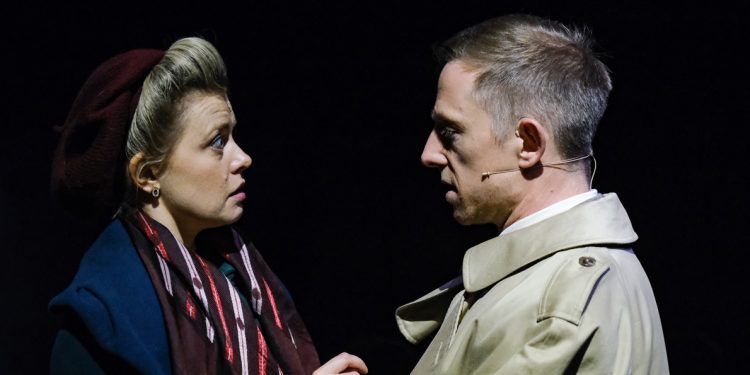 By Elizabeth Stanforth-Sharpe, July 2022
Anne Bogart, in her book, A Director Prepares, encourages directors to ask the question: "What do you do with the audience's inherited cultural memory… what has connected us with time?" For most, Brief Encounter holds strong evocations of the 1945 film; older audience members may recall seeing it at the 'Pictures', those of the next generation will perhaps have seen it as one of those black and white films that filled the BBC's Sunday afternoon programming, and those yet younger may have caught a re-digitalised version on television, video or DVD.
It is a film that has never strayed far from the consciousness of the public, and it is that fact that will initially draw people to see Emma Rice's audacious stage adaptation of Noel Coward's Brief Encounter, originally produced by David Pugh and Dafydd Rogers in a Kneehigh theatre production, now re-imagined in a collaboration between Stephen Joseph Theatre, Octagon Theatre and Theatre by the Lake, and it is inevitable that the show's success or failure may hinge on its ability to dramaturgically manage the role of cliché and stereotype in performance.
Paul Robinson, as Director, boxes clever, respecting the audience's shared experiences and memories by transcending them through broad but passionate performances and metaphoric, easily identified, stage images. The production cleverly interweaves Coward's play Still Life with the film that evolved from it, in a piece that says as much about our love of film as about our love of being in love.
"Resplendent"
To woo the audience, connections had to be made from the very beginning. As we enter the auditorium at Stephen Joseph Theatre – once an ODEON cinema itself, and still retaining much of the glamour of art-deco style – actors Joey Hickman and Rishi Manuel, looking resplendent in the uniforms of a bygone Picture House, complete with braided, shiny buttoned, red jackets and pillbox hats, hold chrome torches as they chauffeur people to their seats and engage them in welcoming banter.
Scarborough's own Alex Weatherhall plays the piano, with sing-along favourites from the era such as 'Pennies from Heaven' and 'I'm Leaning On A Lampost', and it isn't long before the audience are swaying, caught up in the conjuration of a period in Britain's history where George VI is on the throne, the separations and hardships of World War 2 are coming to an end, Orwell is about to publish his Animal Farm and the BBC Light Programme Radio Station has been established to concentrate on the broadcasting of mainstream light music and entertainment.
In the round, Myrtle (Natasha Lewis) is arranging the Bath buns, setting out Woods-ware Beryl china and brewing the tea in readiness for a busy day in the railway refreshments room, whilst waitress Beryl (Lara Lewis) asks audience members to lift their legs, looking under their seats to coax out a cat, with a saucer of milk. This is a theatrical event that is equally invested in the performance and its viewers, who are complicit in the storytelling. The ushers are called upon to deal with a meta-argument between two cinema goers, apologise profusely for the disruption to the rest of us, calling "Enjoy the show" as the house lights are dimmed.
"Guilt intensifies"
A mournful train whistle blows and the destinations over the tannoy are familiar; York, Scarborough, Hull, Goole… there is a sense that the events unfolding between Alex and Laura are ones that are mirrored all around us; the tugs of emotion, struggles with the what-might-have-been versus the security of what is, and the way that losing something, or someone, precious becomes a catalyst for change. Noel Coward, writing the original Still Life as a gay man in a society where homosexuality was illegal, knew a thing or two about relationships that involved lies and deceit, guilt, frustration, anger, and the pain of lost love. Rice alluding to her adaptation writes:
'Can many of us go through a lifetime without meeting someone and feeling a spark of recognition that we shouldn't, an attraction that goes beyond the physical? And what a terrible world it would be if our emotions and spirits and psyches were amputated at the altar… In the language of stories, we are able to examine the bargains that human beings make.'
Laura (Anne-Marie Piazza) is measured, sensible, settled in her domesticity with a caring husband, two children and a weekly bit of 'me-time' which involves shopping and a trip to the cinema. It's a routine that she knows well, and the departure from it is in slow, reluctant steps and polite, hesitantly guarded words, escalating into lies as the passion, deceptions and guilt intensifies, all quietly spoken in an unwavering RP accent. Piazza is controlled throughout and gives a superb performance with just enough increase in pace to make the emotions she feels real without losing the propriety of societal mores. Alec (Pete Ashmore) is more forthright, perhaps less caring of her feelings, and quicker to break the rules, in their hurried affair.
"Delicate"
I confess that I didn't find his protestations of love very convincing, and cynic that I am, found myself wondering how many railway station refreshment rooms he's frequented before the train stopped at this one. Let's not forget that he knew right from the start that she was very firmly a 'Mrs', and that developing any interest was compromising her reputation. However, cad or not, Ashmore is so exquisitely detailed in his every action that it is fascinating to watch him, and I can quite understand how a man who puts his shoes and socks on with such elegant panache would turn even the most loyal wife's head.
Fred (Robert Jackson), Laura's husband, is caring, kind and understanding. Perhaps he too once stirred passion in her, but marriage has brought him to a place where he feels relaxed enough to do the crossword and make silly pronouncements about the children, without words being always necessary. He is there for her and the children when they need him most; I wonder whether Alec, dashing hither and thither between hospitals (and having already reneged on one meet-up) is as present for his wife and family. Heck, he hasn't even told the delicate Madeleine that he's carting her off to another continent yet, and they're leaving in a week!
But this is Laura's story, she is smitten, and that is enough for now.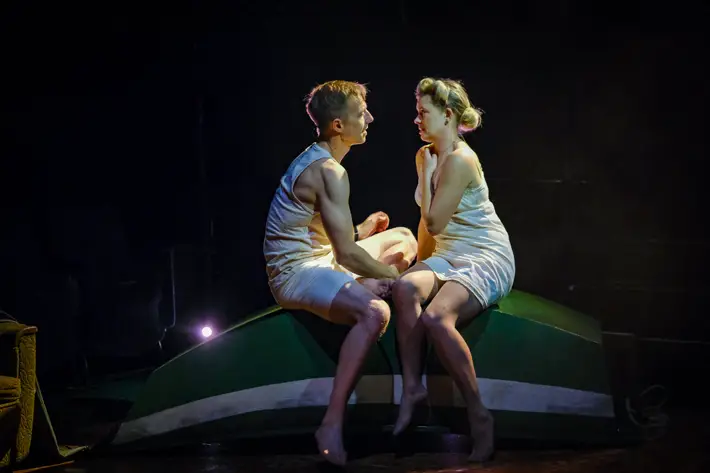 "Humorous foil"
Myrtle (Natasha Lewis), has known love, had her heart broken, but been strong enough to walk away. She's shown that she can survive without a man, knows who she is as an individual, has run a business, does her own accounts and, in the main, fights her own battles. She develops a relationship with Albert (Robert Jackson) on her own terms, both having the maturity and experience to realise that there is huge difference between love and sexual need. Lewis is a wonderfully comic actor, who doesn't shy away from exaggeration and stereotyping to enhance Myrtle's blousy, blustery character, but also shows a thinly disguised rare vulnerability when there are two troublesome visitors to the café. There's a lovely scene where she interacts with a bemused audience member and passes him a bun, making sure that the investment in connection is carried through the action.
Beryl (Lara Lewis) and Stanley (Joey Hickman) are young, free and single, with no barriers to the blossoming relationship between them. Lara Lewis is a wonderful, humorous foil for Natasha Lewis' chaffing, and is delightful as the ingenue discovering the joys of first love.
In the film, the relationships between Myrtle and Albert, and Beryl and Stanley, are mere comic relief from the main characters, but explored and developed by Rice, they give a real depth to the piece, allowing us to understand the differences in dealing with intimacies in public.
"Imaginative"
Brief Encounter is a play that uses the theatre-in-the-round to its full, gorgeous best. There's the lights of a train filling one vomitorium, Alex enters from another and Laura from the opposite side, Beryl and Myrtle have their tea break on the steps, there's steam and smoke swirling around, and the main stage becomes a railway café, a Kardomah restaurant, a borrowed flat, a homely living room, a railway platform, a dance floor, and, my very favourite of all, a boating lake with a cosy cabin for Laura and Alec to dry themselves. It's a long time since I've seen this stage utilised so well, in such a prepossessing feast for all the senses. Jessica Curtis' design work on this production is immaculate, and hand in hand with Sally Ferguson's imaginative lighting design the result effervesces with a bygone era.
The costumes are spot on, and uniforms have lovely details, but it is the clothing of the two protagonists that makes me ponder. Alec wears a red waistcoat throughout, and Laura wears two dresses of the same tone of green, a green coat, and a red hat, which she removes and puts back on repeatedly throughout the play. Am I being told something about the stop/go nature of their relationship, or is Alec's red waistcoat signalling a danger she would be better avoiding? Is the green of her dress symbolic of renewal, is she signalling the 'green light' or does it hark back to the mythological representation of guilt as being green? 'Red and Green should never be seen', the traditional saying goes, and perhaps I'm overthinking it, but I'm not convinced it is unconsidered.
The musicality of this show is just as important as the spoken word. All the actors are gifted musicians and singers, and under the direction of Alex Weatherhall, they shine. Rachmaninoff is, of course, threaded through to form yet another salient attachment to the film, as is the Double Bass player (Shelagh Revell), but it is the lyrics of Noel Coward, arranged by the award-winning composer Simon Slater, and performed by members of the cast that bring such joy, pzazz and feel good essence to the piece. No spoilers, but Myrtle and Albert's instrumental duo is the icing on a very tasty cake.
"Outstanding"
If musicality is paramount, then movement is equally so. Erin Carter, as Movement Director, has worked to produce a choreography and shape that is extraordinarily moving and delightful. There are so many layers and textures in this show that profoundly interweave to create nostalgia, place and presence.
We've rung our wet hankies between our fingers, enjoyed our choc-ices bought from the seller with the tray around her neck, watched the train leave the platform for one final time, Laura has returned to Fred, who has knowingly delivered the familiar line, "Thank you for coming back to me", and as I rise from my seat, it may be unromantic to say so, but my gut's telling me she made the right choice in the end; Laura, enjoy the memory, get Fred to take you dancing, throw around a few rose petals, and relish what you have.
Yes, the show resonates with all who have seen the film, and that is what will draw audiences in, but they will leave having had an experience that is so much more. All the cast members are impeccable and can be very proud of what they have achieved here, but every person involved in this production, be they ice-cream seller, Director, adaptor, carpenter or front of house, has also worked so hard and so collaboratively to produce a work that is outstanding. This is theatre dressed in its glad rags… what we call in Yorkshire 'a reet Bobby Dazzler', and it shouts at the top of its voice, 'Hey everybody, theatre is back at its classiest, most accomplished best". And what's more, it's regional theatre. It doesn't get much better than that.
'Brief Encounter' is at Stephen Joseph Theatre, Scarborough, until August 27th
images: Tony Bartholomew