Seasoned rock musician, going the solo route – from Leeds, here's Mike Kremastoules…
YOUR NAME: Mike Kremastoules.
HOW LONG HAVE YOU BEEN PLAYING MUSIC? Since I was 14 years old – so around 40 odd years.
ANY PAST BANDS OR COLLABORATIONS WE SHOULD KNOW ABOUT? Many bands. But signed, there was Ded Ringer in Leeds.
GIVE US 3 REASONS WHY WE SHOULD TRACK DOWN, LISTEN AND DISCOVER YOUR MUSIC?
Because I think my music is pleasurable and uncomplicated, nice on the ear.
WHERE DO YOU SOUND BEST – FESTIVAL, CLUB, BEDROOM – OR SOMEWHERE ELSE?
Sounds great on my iPhone, lol. Not taken my music out live yet but hoping, God willing, to do so in the near future!
WHAT WAS YOUR FIRST…
RECORD? First music purchase would have been a vinyl single back in the day – probably Slade's 'Gudbuy T'Jane'.
CD? The CD would have been Dark Side Of The Moon by Pink Floyd.
DOWNLOAD? Something by Led Zeppelin.
SO, WHEN IT ALL GOES RIGHT AND YOU'VE GOT A BOTTOMLESS PIT OF MONEY AND LONG QUEUE OF HANGERS-ON, WHAT WILL BE YOUR BIGGEST MUSICAL INDULGENCE?
To have my own studio.
SO, WHEN IT ALL GOES WRONG AND YOU'RE LEFT BITTER AND TWISTED AND CURSING THE MUSIC INDUSTRY, WHAT DO YOU FALL BACK ON?
My dreams and ambition is finding a different approach to my writing.
WHAT ARE YOUR MUSICAL GUILTY PLEASURES?
I'm in love with guitars. I've got 10 at the moment but my favourite is my 2014 Epiphone Les Paul Standard that I played and recorded the latest single and  video on, 'Butterfly'.
WHO ARE YORKSHIRE'S FINEST IN CULTURE, SPORT AND MUSIC?
Bill Nelson originally with Be Bop Deluxe who were from Wakefield. They have been a great inspiration to me over the years.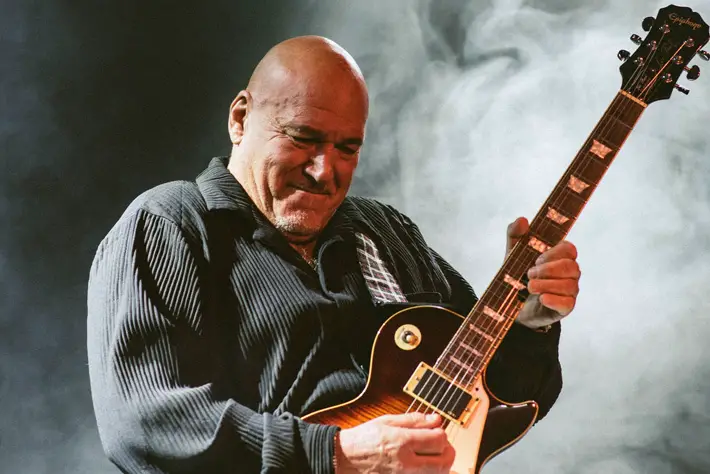 NAME YOUR SUPERGROUP – WHO'S PLAYING WHAT, WHO'S ON VOCALS AND WHO'S YOUR BEZ?
Vocals – Dave Coverdale
Bass – Dave Johnson (my co-producer)
Drums – John Bonham / Led Zeppelin
Guitar – Steve Lukather / Toto
Keyboards – Elton John.
GO SEE THIS FILM: Once Upon A Time In America.
GO READ THIS BOOK: Jonathan Livingston Seagull.
GREAT LOST BAND/ARTIST: Led Zeppelin.
WOULDN'T BE CAUGHT DEAD SUPPORTING: I would support anybody that's relevant to to my style – I'm no prima donna egotist.
LONDON, L.A OR LEEDS?: Leeds of course! What a super city to live in – nothing comes close.
AND FINALLY… AS YOU LEAVE THE STAGE, WHAT ARE YOUR PARTING WORDS?
Did that just happen?
For more info visit: facebook.com/MKkremastoules