Introducing: Imogen Harper
Americana with a shiny pop sheen, from Leeds…
YOUR NAME: Imogen Harper.
HOW LONG HAVE YOU BEEN PLAYING MUSIC? Have been playing music at open mics since high school but started properly gigging with my own original material about a year ago.
ANY PAST BANDS OR COLLABORATIONS WE SHOULD KNOW ABOUT? I also am the lead singer of Dunes, a 5-piece rock band who take influence from the likes of Greta Van Fleet, Alabama Shakes and Royal Blood.
GIVE US 3 REASONS WHY WE SHOULD TRACK DOWN, LISTEN AND DISCOVER YOUR MUSIC?
My music is all independently written, recorded and published. I worked with two other musicians to fully write and record the music all in Yorkshire. I am based in Leeds and we recorded the music in Penistone. It is a fully home-made endeavour.
I am stylistically unique. I merge Americana and pop music, taking the best bits from both.
I have just released my first single with more singles and an EP on the way. It is a really exciting time for me, with all these things in the works and I can't wait for it all to come together.
WHERE DO YOU SOUND BEST – FESTIVAL, CLUB, BEDROOM – OR SOMEWHERE ELSE?
I sound best at festivals, surrounded by like-minded Grassroot artists and singer-songwriters.
WHAT WAS YOUR FIRST RECORD?
My first CD was Taylor Swift's Fearless album, a brilliant showcase of country music and her songwriting. I am still a massive fan of the album to this day.
SO, WHEN IT ALL GOES RIGHT AND YOU'VE GOT A BOTTOMLESS PIT OF MONEY AND LONG QUEUE OF HANGERS-ON, WHAT WILL BE YOUR BIGGEST MUSICAL INDULGENCE?
I've always wanted to have my own fully kitted out music room and studio, so I think it would definitely be that. I have also always wanted a Taylor guitar so that would also come in at a close second.
SO, WHEN IT ALL GOES WRONG AND YOU'RE LEFT BITTER AND TWISTED AND CURSING THE MUSIC INDUSTRY, WHAT DO YOU FALL BACK ON?
I couldn't really see myself doing something that isn't somehow music related. I think there are some great options out there for me though that I think I would really enjoy. I've always loved teaching or something on the business side of music. I also love to write so I would love to do something journalism related.
WHAT ARE YOUR MUSICAL GUILTY PLEASURES…
I do love a good old boy band, haha. Take That's Progress album from 2010 is still one of my favourites. And who can hate One Direction? It's such easy listening. Having a bad day? Stick on One Direction and it will make everything better.
WHO ARE YORKSHIRE'S FINEST IN CULTURE, SPORT AND MUSIC?
My favourite bar in Leeds has to be Oporto, it has a brilliant atmosphere, it is in a prime location (also happens to be just down the road from my flat) and it is usually open to 3am. I have never had a bad night at Oporto. They also showcase some great bands. I'm not an avid sports fan so I couldn't say who is the finest. Regarding music, I think they are so many different scenes in Leeds that is hard to pinpoint my favourites but one that comes to mind are Plantfood, they always have an amazing vibe at their gigs.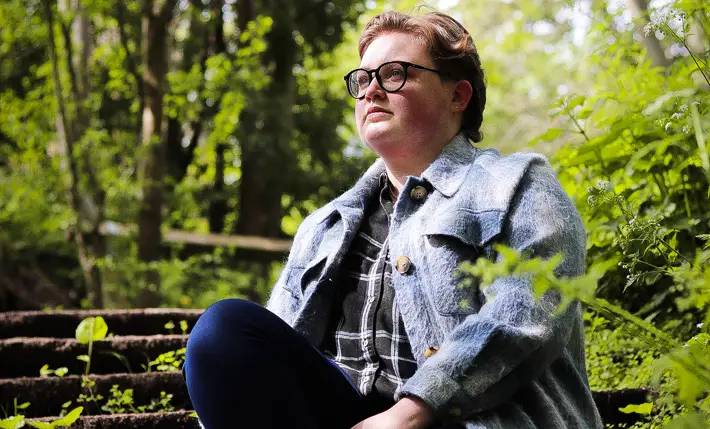 NAME YOUR SUPERGROUP – WHO'S PLAYING WHAT, WHO'S ON VOCALS AND WHO'S YOUR BEZ?
If I could play with anyone, I would get Aaron Sterling to play drums (he has played for the likes of Taylor Swift and Maren Morris), Aaron Dessner on keys (from The National and is an amazing producer), Tyler Johnson playing bass (has worked with Taylor Swift, Ed Sheeran and Cam) and I would get Justin Vernon on guitar (member of Bon Iver and overall brilliant artist). I think this band line-up would be awesome.
GO SEE THIS FILM: The Kingsman.
GO READ THIS BOOK: The Harry Potter series (my all-time favourite).
GREAT LOST BAND/ARTIST: I feel like I can't be a true country music fan without saying Johnny Cash.
WOULDN'T BE CAUGHT DEAD SUPPORTING: Pineapple on pizza.
LONDON, L.A OR LEEDS?: Leeds Leeds Leeds!
AND FINALLY… AS YOU LEAVE THE STAGE, WHAT ARE YOUR PARTING WORDS?
I feel like I should put something witty, but I usually say something like "thanks, follow me on Instagram @imogenharper_music and have a good night." Got to get in the shameless plugs.
For more info visit: imogenharper.co.uk