Nick Hodgson – Live Review – Leeds Brudenell Social Club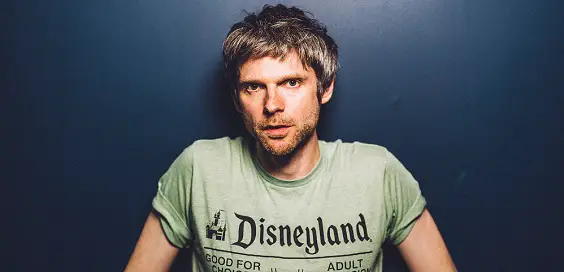 By Victoria Holdsworth, December 2017
It's been so good to see The Brudenell going from strength to strength over the years to emerge as probably the best place in Leeds to watch live music. Tonight is no exception as we are treated to a packed venue and a sold out show.
First band on the bill tonight are from Amsterdam. Canshaker PI are almost all of my favourite bands rolled into one. The first song, which was about bicycles, was a delightful mix of grungy Joy Division sounds with some Weezer thrown in for good measure.
These guys, although drawing on a genre which has been done to death, place a firm stamp on their own version of it. Their music has the drive of The Ramones and the technicalities of The Pixies and quite a few of their tracks have some serious Pavement overtones, musically and lyrically. All thrown together, there are some wild indie rock pleasures here.
The youthful lead singer and guitarist, Willem Smit, has a very commanding and swaggering stage presence, reminding me of a young Josh Homme. They even manage to knock out a cover version of Outkast's 'Hey Ya', which was pure genius.
"Slinky"
I really enjoyed their set and I hope they go on to bigger and better things. It was an inspiring set, and made me feel excited that there are some musicians out there that love this genre, and want it to be nurtured and progressed through the foreseeable years. Canshaker PI are definitely ones to watch.
Next up this evening is one of Leeds's favourite sons, Nick Hodgson from The Kaiser Chiefs.
As Nick takes to the stage, looking more like Brian Cox this evening than he would probably care to admit, he has a sense of nervousness about him. Hometown jitters perhaps, or because his mum is watching him?
Opening with 'I Love The Way Your Mind Works' it is slinky and has some slow grooves and Nick's voice is in fine form. His transition to solo artist has been effortless and he seems to have developed into a songwriting force to be reckoned with.
The debut single from debut album Tell Your Friends, 'Suitable' is lyrically pleasing and sounds very fresh; almost Travis like. I was never a big fan of The Kaiser Chiefs, however I can get behind Nick.
"Punchy chorus lines"
His use of melody is beautifully crafted against honest lyrics, and he seems to have exposed more of his personality, which was hidden previously by all the money-making punchy chorus lines and lead singers egos.
There is, of course, a nod to his former band as he plays an acoustic version of 'Oh My God' which I genuinely prefer to the original.
'Don't Forget To Go To Sleep' is dedicated to his Mum, who proudly watches on, and displays some softer edges to his musical style, but is clearly filled with a passion that shines through each bar.
Regardless of what any of his former band mates may say, they wish they were making music as good as this.
Last, but not least this evening are, The Cribs.
Taking the stage to rapturous applause, the twin brothers are like Yorkshire's own version of The Ramones. They tease the crowd with their own rendition of Ottawan's 'Hands Up!'
'Different Angle' sets the powerful tone for the evening, and they play with such a vivacious intensity, it is hard to resist just how good these guys are live.
"Wiry guitars"
Some of the best tunes of the evening are 'The Lights Went Out' which is adrenaline-fuelled to the hilt and 'I'm A Realist' – a massive crowd pleaser. In fact, all of the set is played back to back and is unrelenting. Wiry guitars and shredded vocals are an intoxicating trademark  for the Wakefield brothers, who have remained steadfast in their integrity and direction over the years.
It's within the latter half of the set that the group seems to come even more alive. A combination of carefully plotted pop hooks alongside experimental noise thrash showcases talent beyond their years and illustrates the band's finest and most charming characteristics.
'24/7 Rock Star Shit' is a stellar performance and The Brudenell is positively bouncing.
'To Jackson,' 'Give Good Time' and 'Men's Needs' seem to satisfy the capacity crowd, and as quickly as they started, the set is done and dusted.
And The Brudenell takes a breath until next time…