Il Divo – Live Review – Scarborough Open Air Theatre
By Roger Crow, July 2018
What I know about Il Divo before they take to the stage at Scarborough Open Air Theatre you could write on a grain of rice. But it's a beautiful night, and with the offer of live music, fresh air and something new, it's an offer I can't refuse.
Our original seats were in the centre row in front of the stage, but for one reason or other, we and a bunch of other gig-goers can't have those, so we wind up sat where we can see two thirds of the show. A shame as one key view screen is obscured and there are some terrific dancers obscured by scaffolding. Less 'Il Divo' and more 'Il Di'.
The support act is that (genuine) boy band who came close to winning Britain's Got Talent. The minute Harry, Max, Toby, Oscar and Felix tell the crowd they are "Bring It North", I've forgotten the name instantly. But then again I thought Little Mix was a terrible name and look what happened to them.
"Recipe for success"
With their well-rehearsed patter, stage moves and playing to the crowd, there's no denying they have a bright future. At around 11 years old, it's little wonder some are a tad nervous, but the masses love them. Fair play to them. They can carry a tune and have been well trained in the art of wowing the masses.
By the time 'Il Di' take to the stage, that crowd goes wild. A sixtysomething woman in front of me is transformed into a 16 year old while her husband seems more interested in everything but the main event. There are some reluctant partners dragged along for the night, but it's still a terrific way to spend a summer's night. The opener generates waves of "Oh, I know this one… what is it?"
The answer is Hola, aka Adele's 'Hello' – in Spanish. It's a nice trick repeated several times through the night. Let's face it. You could read the back of a cereal packet in another language and make it sound romantic, so taking some beloved chart-bothering favourites like 'Unchained Melody' and 'My Heart Will Go On' is a recipe for success. And we get a wealth of them as the sun sets and the moon slowly orbits the stage.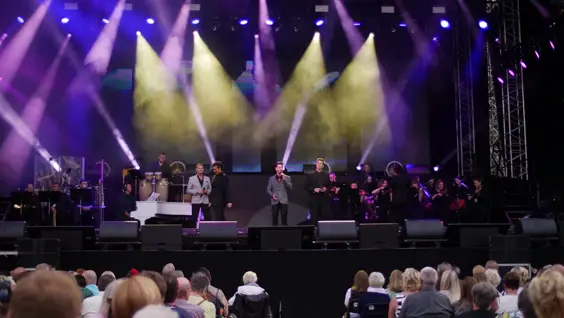 "Rousing"
There are inevitable solo numbers, where each member gets to show off their skills. The banter is a little awkward. Hey, it's a first date in "Scar-bo-ro" so there's bound to be a bit of strangeness as they get used to the crowd.
Il Divo have apparently been together 15 years. So many experiences together. So many crowds scoffing chips and drinking cider from plastic cups. (The chips and beef sandwich are excellent I might add).
As a newcomer to their work, I'm impressed by the vocals, but can do without the 'bantz' as 'Grim Up North' might call it. (What was their name again?)
The night finishes with a stunning rendition of 'Somewhere', from West Side Story, and then a rousing version of 'My Way'.
"Lack of original material"
All through the evening I'm reminded of how lucky we are sat at one of the best venues in the country on a glorious summer's night. My last trip here was Olly Murs in the summer of '17, and the feeling of being stood on a huge pontoon is now 100 per cent more strong and stable.
My partner and I leave the gig with hundreds of fans. I can't say I've been converted, as talented as they are. The mix of Swiss singer Urs Bühler, Spanish vocalist Carlos Marín, American David Miller and Gallic tunesmith Sébastien Izambard is a fascinating combo.
The key problem is a lack of original material. Yes, it's wonderful to hear great vocalists belting out much loved songs in different languages, but I'd like to have heard more original stuff, such as Sébastien's terrific new solo track 'Kingdom Come'.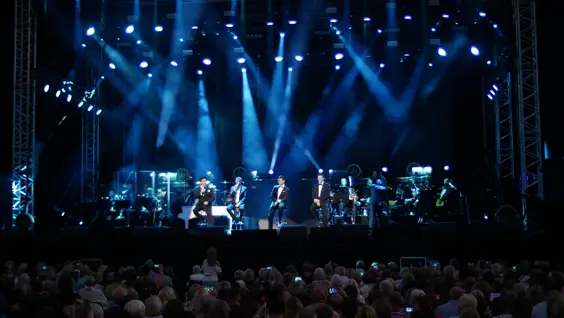 "Charming"
Given the fact the new Mamma Mia! movie opened 24 hours earlier, the lads also missed a trick not including their fabulous version of 'The Winner Takes It All'. Of course what I think matters not a jot. With nine studio albums under their belt, the charming vocalists are doing a terrific job of entertaining their hardcore fans.
Given their reception, I doubt the 'fantastic four' (as they dub themselves during a tortuous movie-themed spot of banter) would need much persuading in returning to "Scar-bo-ro". Though they had better watch out. I get the feeling they'll be the ones supporting Bring It North in a few years.
images: Cuffe and Taylor