A Q&A with Death In Paradise
Trinidad & Tobago, Finland and Portugal united for a unique rock 'n' roll journey. Here's Joel from Death in Paradise…
What's the title of your latest release, and what does it mean to you?
The title of my latest track is called 'Closer'… What does it mean to me? What a question… ERM… everything???
What was the hardest part about putting this release together, and why?
The hardest part about putting this release out was actually making the decision of which song the release would be… Why? We love the record and think possibly every song on the pertaining album 'Sacrificing the Goat' could make it as a single.
Who produced the release – what did they bring to it?
What a great question! I would say both my engineer – Nuno Junquiera and I produced the song. This song 'Closer' is an old song and was waiting for the chance to get out. I think just sitting next to Nuno and going through part by part, he got that groove… he was open and patient… I appreciated that.
What do you want the listener to take away from listening to your music?
My music is inspired by life's experiences and situations and hopefully listeners will find that they can identify with their own experiences… looking on a higher level… pain… tears… heartache, and release.
How does a track normally come together? Can you tell us something about the process?
I feel, I write it… and bring it all together. There are challenges but I do everything I can to make the song possible. To writing, to tracking… to finished… sometimes there are parts that I didn't conceive… this is where the main producer shows me the reason he is there… adding something or more I could never conceptualise.
What band/artists have influenced you the most since you started this project, and why?
Bands that influenced me for this project – A Perfect Circle, Guns n Roses, Soundgarden, The Cult, and attitude-wise Rancid, Nirvana, NOFX.
What countries would you like to tour? Are there any standout venues you'd like to play in?
I would like to play an ongoing circuit here in the UK and Europe. I have a special spot for the USA and I love touring the USA, but this time it would be great to open for more popular bands on the scene. Getting as much exposure as possible, so all my material doesn't go to waste.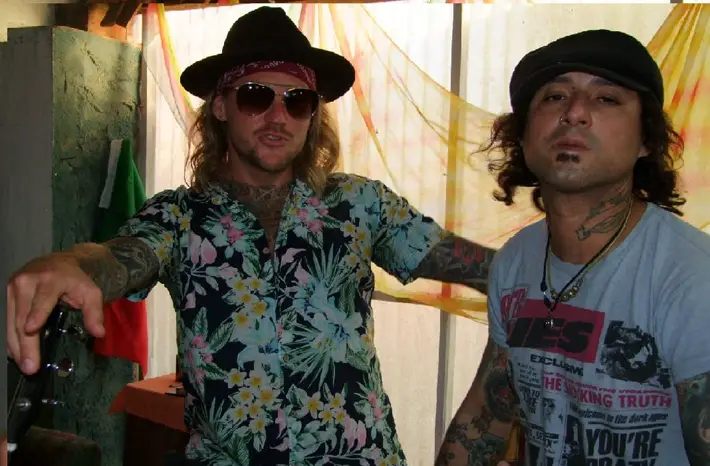 If you could pick one track for our readers to listen to in order to get a taste of your music, what would you pick, and why?
Go for our first single 'Closer'. Till you start to get more and more, I like to think it's destiny… and if you like it, welcome aboard.
What ambitions do you have for the band/your career?
My ambition is to live the rest of my life having me and my band booked for major worldwide shows. Record, put out my songs on the rock charts, be respected in the music business and maintain peace, love, unity and be able to stand on my own two feet. Ultimately, I am seeking a major record deal so that I can continue to write, record and tour with my DIP brothers well into the future.
Finally, as you leave the stage, what are your parting words?
It depends… Finally my parting words will always be me from the bottom of my heart: Rock N F'n ROLL!!!
For more info visit: facebook.com/DeathinParadiseband