A Q&A with Concrete Prairie
Bruised Americana, Wiltshire-based…
How did you get the title of your latest release, and what does it mean to you?
We went with a self-titled debut as it kind of "sets your stall out" and lets the listener know what you're about and what your key influences are. I think it was important for us to try and gather the disparate sonic influences we have as a band and represent them on our maiden body of work.
Who produced the release – what did they bring to it? If you produced it yourselves what do enjoy most about producing your own material?
John Reynolds (Sinead O'Connor, Damien Dempsey, Robert Plant). His influence on us was bordering on the magical. The songs were written before he came on board but he had a real penchant for pushing us in the studio and helping us realise and create certain "moments" within a song, when to hold back, feel and emotion etc. His experience rubbed off on us to a point where I think we can say we are all better humans for having recorded with him – rather than as "musicians". He's pretty much seen it all in terms of living and the music industry; as a band, we have so much time for that. We'd love to do a second record with him!
What do you want the listener to take away from listening to your music?
We want them to connect with the songs and really feel them. There's an element of hope and escape in our music, with potentially dour subjects at times riding on an upbeat melody. We hope that helps the listener find some salve among the sadness.
How does a track normally come together? Can you tell us something about the process?
Usually our lead songwriter Joe will turn up with the bones of a song – chords, melody, lyrics. The arrangement, counter melodies, riffs and ideas will then be bounced about by the band in a rehearsal room. Then it's trial and error till we come up with something we all like and serves the mood of the track.
What band/artists have influenced you the most since you started this project, and why?
Cherry Ghost – Joe's favourite band/writer
The Waterboys – that British folk sound they do so well
Lost Dog Street Band – lots of depth lyrically and timeless outlaw country we love, to avoid things getting cheesy
First Aid Kit – we get so lost in their harmonies
Treetop Flyers – friends of ours who we feel are leading the way in the UK Americana scene
What countries would you like to tour? Are there any standout venues you'd like to play in?
I think Ireland/America would be great for us to play in terms of people digging our sound, having a good time and revelling in the subject matters.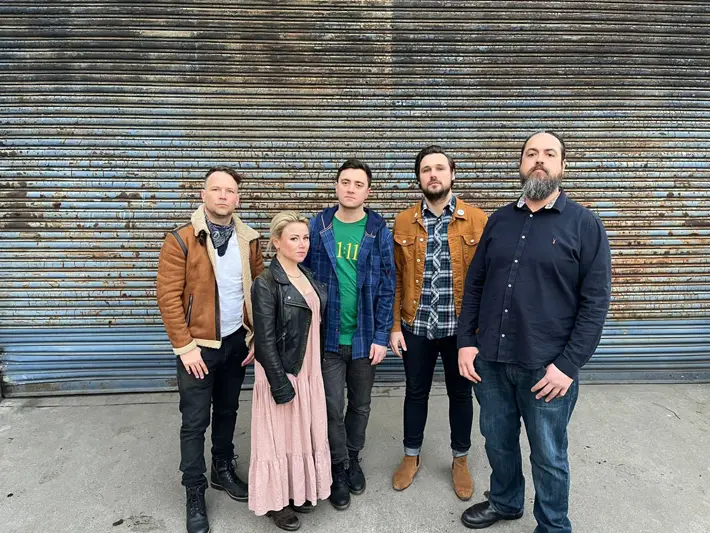 If you could pick one track for our readers to listen to in order to get a taste of your music, what would you pick, and why?
'Bury My Blues'. It's got a heavy lyrical theme but is set to an upbeat melody and is probably the shortest, catchiest song on the record – which can mean the difference in an age of streaming, algorithms and short attention spans.
What ambitions do you have for your career?
Definitely to connect with as many people as possible; we feel the songs and their themes could really chime with people given the way the world is at the moment. To play as many shows as possible. Write great songs.
Finally, as you leave the stage, what are your parting words?
"Thank you for listening, we've been Concrete Prairie and you've been amazing! Come chat to us after, we don't bite!" We are acutely aware that time, money and attention is very precious in this modern world and we feel that audiences love to feel that appreciation from the band so we trade in kindness and always encourage a bit of human interaction post-performance.
For more info visit: facebook.com/concreteprairie