Tremors (1990) – Film Review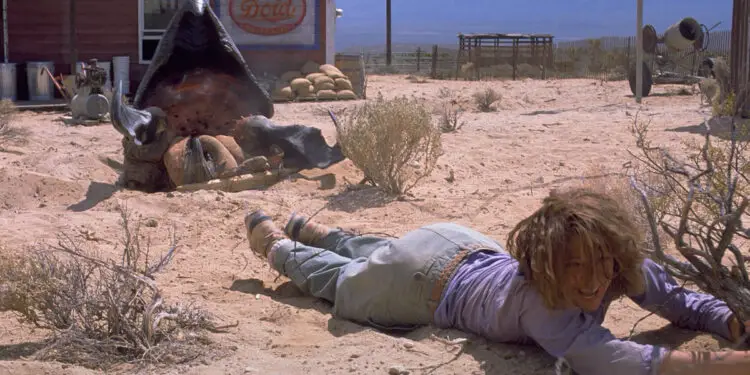 Director: Ron Underwood
Cast: Kevin Bacon, Fred Ward, Finn Carter
Certificate: 15
by Sarah Morgan
It may have been a flop on its cinema release, but Tremors is the film that refused to die.
Had it been made 25 or so years earlier, it would have been a drive-in hit; it is unashamedly a throwback to the time when low-budget creature features reigned supreme. But tastes had changed by 1990 and it struggled to make a mark.
However, the movie began to gain a cult following from those who watched it on video or subsequent TV broadcasts. So much so, it's now big enough to sustain a convention, and has been followed by six sequels, including this year's Tremors: Shrieker Island, as well as a short-lived 2003 TV series.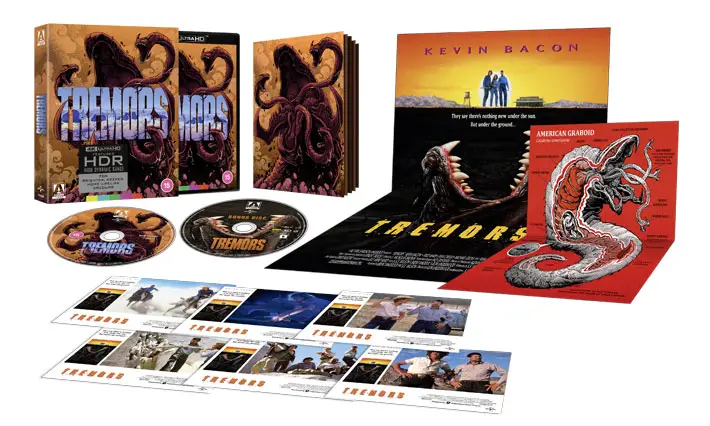 "Bonkers set-ups"
It's been some time since I last saw the movie, and wasn't sure I'd still be enamoured by its mix of horror and comedy, a style that's notoriously difficult to pull off. However, I'm pleased to say that Tremors is still a whole lot of fun.
Kevin Bacon and Fred Ward star as handymen Val and Earl whose attempts to wipe the dust of the small town of Perfection, Nevada off their shoes forever by moving to Bixby, the nearest large town, are scuppered by a bunch of huge, ravenous carnivorous worms known as graboids.
These creatures begin eating up the locals and, having been cut off from the rest of civilisation, it's up to Val, Earl and their fellow survivors to fight back – or face being eaten alive.
What ensues is a great tale of invention, gung-ho nonsense and bonkers set-ups that, somehow, work and keep viewers hooked throughout.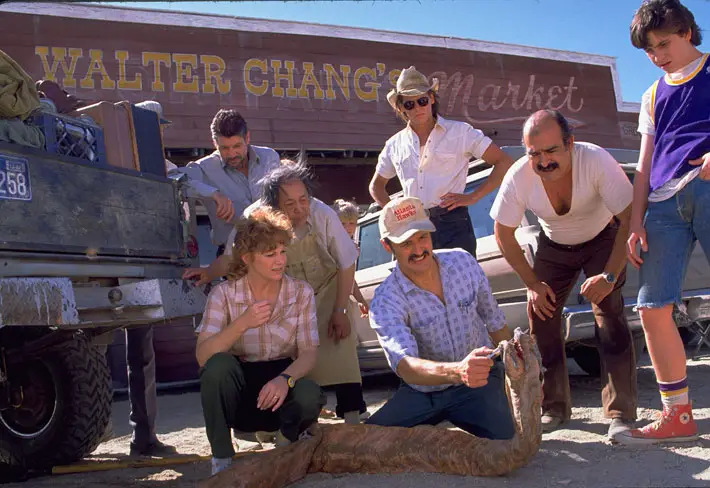 "Wonderfully cheesy"
No time is wasted trying to explain the graboids – nobody has ever seen or heard of them before, which means that, despite the ones featured here being killed off, more could strike at any time, thus providing the scope for many sequels.
Bacon, who was on a career slump at the time, is wonderfully cheesy here as the macho and impetuous Val, while Ward provides suitably grizzled support as his older best pal.
Special mention should also go to country music star Reba McEntire and Michael Gross who play a gun-toting survivalist couple crucial to the plot. Gross' character, Burt Gummer, proved so popular he's popped up in every sequel.
There are a plethora of special features included too, including a wonderfully revealing making-of featurette.
Special Features:
4K ULTRA HD BLU-RAY SPECIAL EDITION CONTENTS
• New 4K restoration from the original negative by Arrow Films, approved by director Ron Underwood and director of photography Alexander Gruszynski
• 60-page perfect-bound book featuring new writing by Kim Newman and Jonathan Melville and selected archive materials
• Large fold-out double-sided poster featuring original and newly commissioned artwork by Matt Frank
• Small fold-out double-sided poster featuring new Graboid X-ray art by Matt Frank
• Six double-sided, postcard-sized lobby card reproduction artcards
• Limited Edition packaging with reversible sleeve featuring original and newly commissioned artwork by Matt Frank
DISC 1 – FEATURE & EXTRAS (4K UHD BLU-RAY)
• 4K (2160p) UHD Blu-ray presentation in Dolby Vision (HDR10 compatible)
• Restored DTS-HD MA original theatrical 2.0 stereo, 4.0 surround, and remixed 5.1 surround audio options
• Optional English subtitles for the deaf and hard of hearing
• New audio commentary by director Ron Underwood and writers/producers Brent Maddock & S.S.Wilson
• New audio commentary by Jonathan Melville, author of Seeking Perfection: The Unofficial Guide to Tremors
• Making Perfection, a brand new documentary by Universal Pictures interviewing key cast and crew from the franchise (including Kevin Bacon, Michael Gross, Ariana Richards, Ron Underwood, Brent Maddock & S.S. Wilson, among many others) and revisiting the original locations
• The Truth About Tremors, a newly filmed interview with co-producer Nancy Roberts on the film's rocky road to the screen
• Bad Vibrations, a newly filmed interview with director of photography Alexander Gruszynski
• Aftershocks and Other Rumblings, newly filmed on-set stories from associate producer Ellen Collett
• Digging in the Dirt, a new featurette interviewing the crews behind the film's extensive visual effects
• Music for Graboids, a new featurette on the film's music with composers Ernest Troost and Robert Folk
• Pardon My French!, a newly assembled compilation of overdubs from the edited-for television version
• The Making of Tremors, an archive documentary from 1995 by Laurent Bouzereau, interviewing the filmmakers and special effects teams
• Creature Featurette, an archive compilation of on-set camcorder footage showing the making of the Graboids
• Electronic press kit featurette and interviews with Kevin Bacon, Michael Gross and Reba McEntire
• Deleted scenes, including the original opening scene
• Theatrical trailers, TV and radio spots for the original film as well as trailers for the entire Tremors franchise
• Comprehensive image galleries, including rare behind-the-scenes stills, storyboards and two different drafts of the screenplay
DISC 2 – INTERVIEWS & SHORT FILMS (BLU-RAY - LIMITED EDITION EXCLUSIVE)
• Extended hour-long interviews from Making Perfection with Ron Underwood, Brent Maddock, S.S.Wilson, Nancy Roberts and creature designer Alec Gillis
• Outtakes with optional introduction and commentary by S.S. Wilson
• Three early short films by the makers of Tremors, remastered in high definition, including S.S.Wilson's stop-motion horror/comedy classic Recorded Live (1975)
Tremors is released on 4K UHD Blu-ray by Arrow, £34.99