It Couldn't Happen Here (1987) – Film Review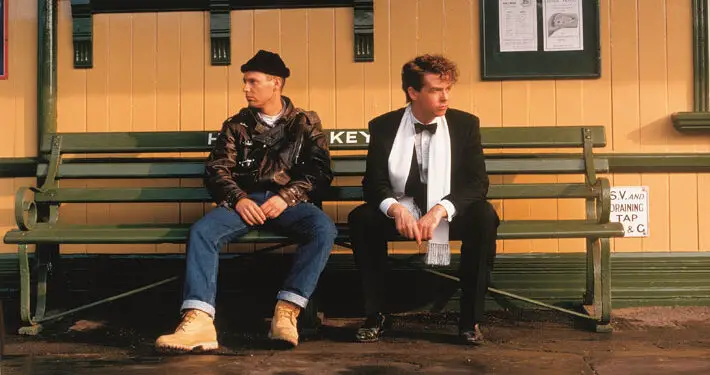 Director: Jack Bond
Cast: Neil Tennant, Chris Lowe, Joss Ackland
Certificate: 15
by Sarah Morgan
My mid-teenage years played out to a soundtrack of the Eurythmics, Madonna and the Pet Shop Boys. I had pictures of all three on my bedroom wall and knew their lyrics off by heart.
So when it was announced that Neil Tennant and Chris Lowe were going to star in their own movie, I could barely contain my excitement. Sadly, the resulting production, It Couldn't Happen Here, only received a brief run at my local fleapit, during a week when I was out of town.
For reasons I can't remember, I could never get a hold of a copy on video and then the film seemingly vanished for more than 30 years.
When the BFI revealed it was belatedly releasing it on DVD, I was both astonished and thrilled. Now, at last, I'd be able to see what I'd missed decades ago.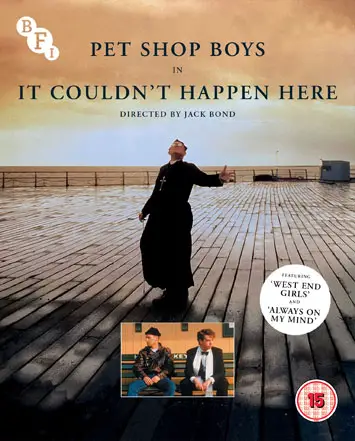 Unfortunately, the idea I had of the film in my head was far better than the reality. There's no real plot, just the sight of Tennant and Lowe wandering from bleak British town to bleak British town, briefly meeting bizarre characters who usually recite the lyrics to their songs or poems by the likes of Milton and Carroll.
"Some extraordinary images"
The duo were never ones for big on-stage gestures, and yet what seemed enigmatic on Top of the Pops becomes dull, lifeless and completely lacking in charisma within the context of the film. The only time they come to life is during performances of some of their songs."
They're surrounded by the likes of Barbara Windsor, Gareth Hunt and Joss Ackland, who appears to be the only person actually enjoying himself – his appearance in the back of a car during 'Always On My Mind' is a rare high point.
Having said all that, it's not all bad. Director Jack Bond captures some extraordinary images on screen that wouldn't look out of place in a David Lynch movie, if ever he made one based in British suburbia.
The disc's special features are more interesting than the film itself. There's a revealing and insightful interview with Bond as well as an in-depth career retrospective of choreographer Arlene Phillips, who claims the movie still stands up today. I'd suggest it never stood up, which is why it vanished for so long.
Interestingly, there's no interview with Tennant and Lowe. Do they wish It Couldn't Happen Here hadn't happened at all?
Special features
Presented in High Definition and Standard Definition
Limited edition 48-page digi-book includes a new interview with Neil Tennant of Pet Shop Boys and previously unseen excerpts from his personal production diary, as well as an introduction to the film by director Jack Bond and writing on the film by Anthony Nield, Jason Wood, Omer Ali, John Ramchandani, William Fowler and Vic Pratt
Comprehensive feature commentary by writer and director Jack Bond, art director James Dillon and lighting cameraman Simon Archer (2020)
West End Boy: Jack Bond (2020, 27 mins): the director discusses his eclectic career as a filmmaker and his enterprising approach to the making of It Couldn't Happen Here
It Can Happen Here: Arlene Phillips (2020, 26 mins): the renowned choreographer reflects upon a life in dance – and the trials and tribulations of working on It Couldn't Happen Here
Always on My Mind (1987, 5 mins): the full-length promotional video for Pet Shop Boys' acclaimed 'Christmas Number One' hit, featuring Joss Ackland
Actually: an unfilmed early version of the script for the film, included here in its entirety for the first time anywhere
As it Happened: image galleries, including the complete final version of the script, the director's shot lists, Pet Shop Boys reference lyric sheets and promotional materials for It Couldn't Happen Here
Original theatrical trailer (digitally reconstructed for this release)
It Couldn't Happen Here is released on Blu-ray by BFI, £24.99