I'm An Electric Lampshade (2021) – Film Review
Director: John Clayton Doyle
Cast: Doug McCorkle, Regina McCorkle, Cesar Valentino
By @Roger Crow
I'm not sure what a 'documentary-narrative hybrid' is, but I do know the star of this one, Doug McCorkle, is my new hero. He's a buttoned-up, mild-mannered corporate accountant whose life looks like something from The Office, the sublime American version.
After retiring at 60, Doug puts his marriage and life savings on the line to chase his wildest dream.What opens with an in-your-face visual assault on the senses soon becomes a look at his everyday life. And while he may not have the most scintillating job, his passion for life and trying new things is infectious.
Doug is one of the countless, balding sixtysomething guys who spends his life doing a good job, in this case for a company that values his worth with a bunch of folks who really like him. But like so many guys of a certain age, they think he just conforms to a stereotype. Reliable, trustworthy Doug. And he's all that, but under the surface is wild, daring, experimental Doug who wants to do crazy things rather than just crunch numbers. So he decides to record a song, and make a raunchy pop video, to the amazement of his fellow workers at his retirement party. The looks between one another say it all: Doug must have lost the plot.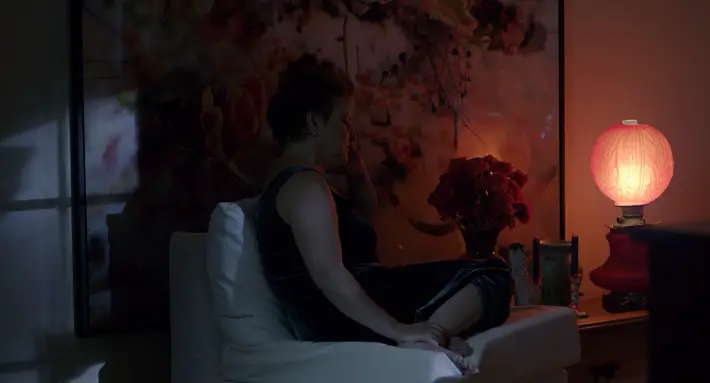 "Incredibly touching"
But office life tends to suppress artistic expression from that first day until the gold watch, which is a shame. The grey, sober conservative world of number crunching, or data inputting, doesn't have any room for people who think outside the box rather than count their days until they're put in one.
So thank heavens for Doug for reminding his co-workers, and us, that life is for taking chances. For recording random songs in which he claims to be an electric lampshade. Spoiler: he's not.
But the emotional thread running through the drama is Doug's relationship with his wife. It's incredibly touching.
However, just when you think you have a handle on the movie, things take a sharp left-hand turn.
With all odds stacked against him, Doug leaves his baffled but supportive wife Gina behind to set off on an international journey, in pursuit of his impossible dream.
Doug, looking like some man-baby and open to anything, is reborn as he meets an eclectic cast of characters including drag queens, intimidating coaches, and ghosts of his past who challenge Doug to check his privilege and face his deepest fears.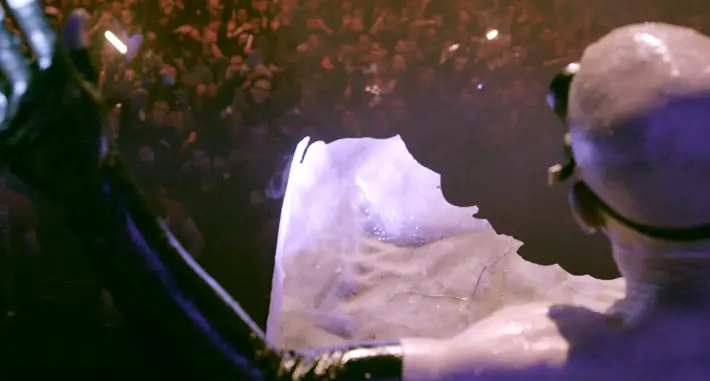 "Absorbing"
It's here that things become hyper stylised, and yes, there are moments of staged drama, but the whole thing is so well shot and edited that it proves absorbing.
Doug's mission is complicated by problems at home, where Gina is fighting her own battle with mental illness in his absence.
Tormented by guilt, self-doubt and the ridicule of his former peers, Doug's journey turns inward, taking the form of a surreal music video, culminating in a stunning live concert, filmed before thousands of punters in Mexico City.
Word of mouth should make this a huge hit on the film festival circuit, so do what you can to track it down.
Easily one of the best documentaries of the year.
Bravo Doug. Bravo.
I'm An Electric Lampshade had its European Premiere at Barnes Film Festival (18th June) as well as The Romford Film Festival (24th June) and Ignite Film Festival (29th June - 3rd July)